/ Source: The Associated Press
General Motors Corp. will eliminate 30,000 jobs and close nine North American assembly, stamping and powertrain plants by 2008 as part of an effort to get production in line with demand and position the world's biggest automaker to start making money again after absorbing nearly $4 billion in losses so far this year.
The announcement Monday by Rick Wagoner, GM's chairman and CEO, represents 5,000 more job cuts than the 25,000 that the automaker had previously indicated it planned to cut. United Auto Workers union leaders called the cuts "extremely disappointing, unfair and unfortunate."
The 30,000 job cuts represent about 9 percent of GM's global work force of about 325,000 people.
"The decisions we are announcing today were very difficult to reach because of their impact on our employees and the communities where we live and work," Wagoner told employees. "But these actions are necessary for GM to get its costs in line with our major global competitors. In short, they are an essential part of our plan to return our North American operations to profitability as soon as possible."
The plan will cut the number of vehicles GM is able to build in North America by about 1 million a year by the end of 2008. GM will be able to build about 4.2 million vehicles a year in North America, down 30 percent from 2002.
GM said assembly plants will close in Oklahoma City, Lansing, Mich., Doraville, Ga., and Ontario, Canada. GM also listed Spring Hill, Tenn., as a plant closing even though one production line will remain open there. A shift also will be removed at a plant in Moraine, Ohio.
"Personally, I've been speculating this would come down the pike for a while, and I've been trying to look for work elsewhere," said Bob Tyrrell, 45, who has worked the second shift at the Oklahoma City plant since 1979. "I didn't think it would be this quick or this drastic."
Mike O'Rourke, president of United Auto Workers Local 1853 in Spring Hill, said GM leaders need to change approaches to be successful. "They need to design cars that sell," O'Rourke said.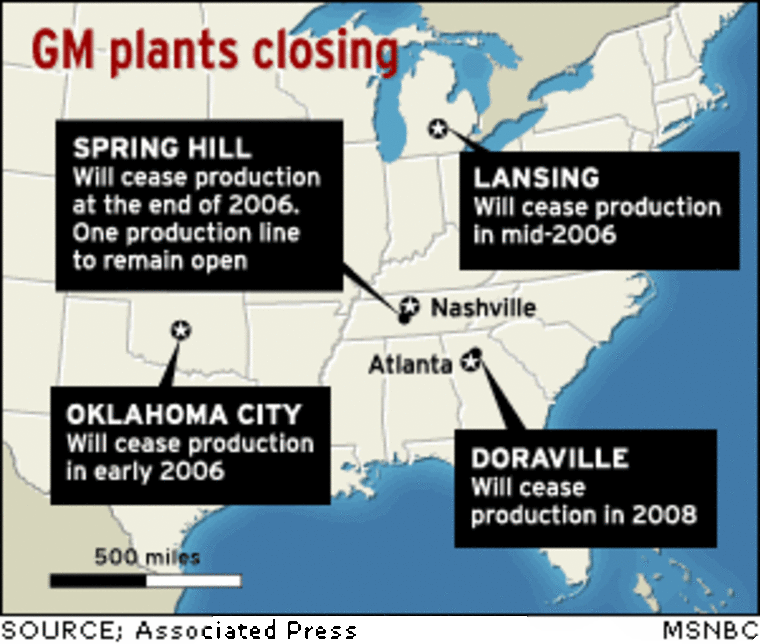 An engine facility in Flint, Mich., will close, along with a separate powertrain facility in Ontario and metal centers in Lansing and Pittsburgh.
Wagoner said GM also will close three service and parts operations facilities. They are in Ypsilanti, Mich., and Portland, Ore. One other site will to be announced later.
GM said the plan is to achieve $7 billion in cost reductions on a running rate basis by the end of 2006 — $1 billion above its previously indicated target.
Cuts are expected to come through attrition and early retirement programs
The company said it would take a "significant" restructuring charge in conjunction with the changes and any related early retirement program. Details of those charges would be released later, GM said.
Any early retirement program would require an agreement with its unions, which GM said it hopes to reach soon.
The United Auto Workers said workers will be protected by the union's job security agreements, which ensure they get pay and benefits even while they're laid off. The union also said GM's actions will make contract negotiations in 2007 much more difficult.
"Today's action by General Motors is not only extremely disappointing, unfair and unfortunate, it is devastating to many thousands of workers, their families and communities," UAW President Ron Gettelfinger and Vice President Richard Shoemaker said in a joint statement.
"Workers have no control over GM's capital investment, product development, design, marketing and advertising decisions. But, unfortunately, it is workers, their families and our communities that are being forced to suffer because of the failures of others."
Wagoner said last month the automaker would announce plant closures by the end of this year to get its capacity in line with U.S. demand. GM plants currently run at 85 percent of their capacity, lower than North American plants run by its Asian rivals. The plant closings aren't expected to be final until GM's current contract with the United Auto Workers expires in 2007.
GM has been crippled by high labor, pension, health care and materials costs as well as by sagging demand for sport utility vehicles, its longtime cash cows, and by bloated plant capacity. Its market share has been eroded by competition from Asian automakers led by Toyota Motor Corp. GM lost nearly $4 billion in the first nine months of the year.
The automaker could be facing a strike at Delphi Corp., its biggest parts supplier, which filed for bankruptcy protection last month. GM spun off Delphi in 1999 and could be liable for billions in pension costs for Delphi retirees.
GM also is under investigation by the U.S. Securities and Exchange Commission for accounting errors.
Last week, after the automaker's shares fell to their lowest level since 1987, Wagoner sent an e-mail to employees saying the company has a turnaround strategy in place and has no plans to file for bankruptcy. Wagoner repeated that Monday, and added that he continues to have the board's support and hasn't considered stepping down.
"I have given no thought to anything but turning the business around," Wagoner said. "I wasn't brought up to run and hide when things get tough"
Ford also cutting jobs
GM is not the only U.S. automaker faced with the need to cut costs.
Last week, Ford Motor Co. told employees it plans to eliminate about 4,000 white-collar jobs in North America early next year as part of a restructuring plan. Ford said the cuts will be made in part through attrition and elimination of some agency and contract positions.
The plans were outlined Friday in an e-mail to employees from Mark Fields, president for the Americas.
The cuts will be in addition to 2,750 North American salaried jobs that Ford earlier said it wanted to cut by the end of 2005. Ford started the year with about 35,000 salaried workers in North America.
Dearborn-based Ford reported a third-quarter loss of $284 million, including a loss of $1.2 billion before taxes in North America.