/ Source: TravelWorld International Magazine (NATJA)
The Quebec Winter Carnival, or Carnaval de Quebec, has been enchanting visitors for more than 50 years. When I visited last year, I was overwhelmed with the sheer joy and exuberance of the city's residents, and how enthusiastically they embraced the winter.
My weekend began Friday night at the festival's official opening ceremony, held just outside the fortified walls of the old city. An ice rink held thousands of revelers and we listened to live music being performed on an outdoor stage. After the show we turned our attention to the walls of the city for a fireworks show that illuminated the night sky with bursts of confetti-colors of red, green, purple and gold.
The next day I visited the carnival grounds, located on the Plains of Abraham. There I watched as families and festival-goers of all ages slid down hills of snow, played a human-sized foosball game, ice fished, snow-sculpted, and watched outdoor entertainment.
Mid-afternoon found me on the streets of Old Quebec. There I watched a dogsled race through town, providing me with a newfound sense of admiration for the dogs as they pulled sled and driver uphill and down, through narrow streets and hairpin turns, and back again to their starting point; all-the-while relentlessly wagging their tails - apparently oblivious to the cold, and the physical exertion required.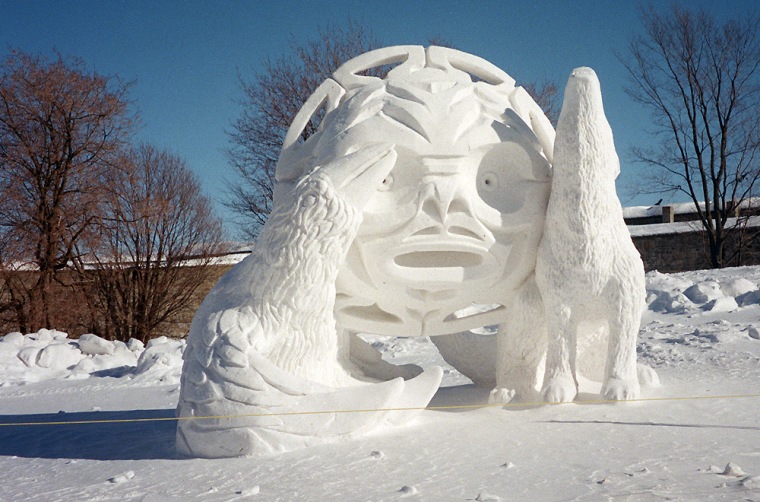 By evening, I'd been completely drawn into the spirit of the festival and made my way to the outdoor disco. You haven't really partied until you've danced in the snow to "I Will Survive" with hundreds of other complete strangers belting out the words simultaneously, while a myriad of lights dance across the backdrop of a frozen castle carved out of ice blocks.
My hotel for the festivities was the Quebec Hilton, located two blocks from the center of the action. Another option, further out of town but in keeping with the theme of winter's chill, is the Ice Hotel Canada. Although I didn't stay at the hotel I did take a tour. It definitely is a one-of-a-kind experience, and some couples have even chosen to be married in its chapel, then honeymoon overnight in a bag for two, set on a bed of ice draped with animal skins for added insulation.
For my money, I think it's a better bet to just visit the ice bar, which is a total blast, where your bartender serves drinks in hollowed-out, miniature blocks of ice. The drinks must be cupped in gloved hands. The cocktails are enjoyed while seated on a bench in front of your table, near the DJ stand - all completely carved from ice.
And if the notion dog sledding on your own gets your tail wagging, I'd recommend doing what I did: taking an introductory romp through Station Touristique Duchesnay, where you can take part in a dog sledding excursion through Aventure Inukshuk.
All in all, it is truly a joyous way to welcome the chill of winter. The festival begins Jan. 27, 2006, and is scheduled to run for 17 days.

IF YOU GO:

Quebec Hilton
Telephone: 418-647-2411

Ice Hotel
www.hoteldeglace.qc.ca/

Quebec's Winter Carnaval
www.carnaval.qc.ca/en/