/ Source: Caribbean Travel and Life
People have all kinds of reasons to go to the Caribbean. Often, they're provoked by something negative, like: Right now it's 20 degrees out and when I got home from work at 5 it was already dark and I slipped and fell in black slush that filled my shoes and soaked my hands so my fingers froze to the mailbox when I reached in to pull out the huge heating bill and I think my nose is running but I can't feel my face. I need to go to the Caribbean. We, however, prefer to think positively. So the following are 10 positively great reasons to get here right now.
1) Right now, just off the beach at Trunk Bay, St. John (www.stjohnusvi.com), a child is wading into the warm water and peeking under the surface for the first time. With her parents by her side and a mask as her window on the reef, the color and excitement of the tropical sea come alive. Schools of tiny fish swim in formation almost within touching distance while, down below, angels and butterflies flit above fairy-tale castles of coral. She laughs through her snorkel as a bloopy-eyed puffer waddles past. Hand in hand with mom and dad, she floats in the calm water while they teach her the names of the fish. It's bigger, brighter and more thrilling than any schoolbook or television nature show she's ever seen. — BF
Other great places to introduce the little ones to the underwater world: Chankanaab Park, Cozumel (www.islacozumel.com.mx); Sandbar, Grand Cayman (www.caymanislands.ky); Klein Bonaire (www.infobonaire.com).
2) Right now, twin cascades of pure mountain-stream water are raging down the rocky face of Trafalgar Falls — hundred-foot waves that never stop breaking. The very names of these companion flumes — Father and Mother — speak of the elemental life forces constantly bursting from the overgrown surface of evergreen Dominica (www.dominica.dm). Imagine yourself taking the waters of the pool at the base of Mother; let her wash all cares away. If you're feeling fit (and have a trusty guide), dare to climb up to Father's hot spring-fed pool. Bathe once more, this time in healing waters warmed by the earth's inner fire. Feel the intensely nurturing sensation of knowing that you are now very close to the Source. — DH
Three more places to join the rush of falling waters: Dunn's River Falls, Jamaica (www.visitjamaica.com); the canyons of Mount Pelée, Martinique (www.martinique.org); Diamond Falls, St. Lucia (www.stlucia.org).
From chic to rustic, expensive to affordable, tourists looking for some sun and sand can find what they're looking for in the Caribbean.
3) Right now, the sun is peeking over St. Barts' Colombier hills and into Villa Ladine's (www.stbarth.com) master bedroom. Thin bands of orange-flavored light play over the occupants. The breeze softly drifts through open windows as the couple ambles out to the infinity pool. They slip into the crisp blue water and float over to the edge to take in a view of endless ocean dotted with green islands. The most pressing decision they face is whether to have mimosas now or wait to open a bottle of wine for lunch — or will it be both? — ZS
Three more fabulous Caribbean villas: Turtle Beach, Provo, Turks and Caicos (www.wimco.com); Malatai Villa, Ocho Rios, Jamaica (www.sunvillas.com); Reef Bay View, St. John (www.destinationstjohn.com).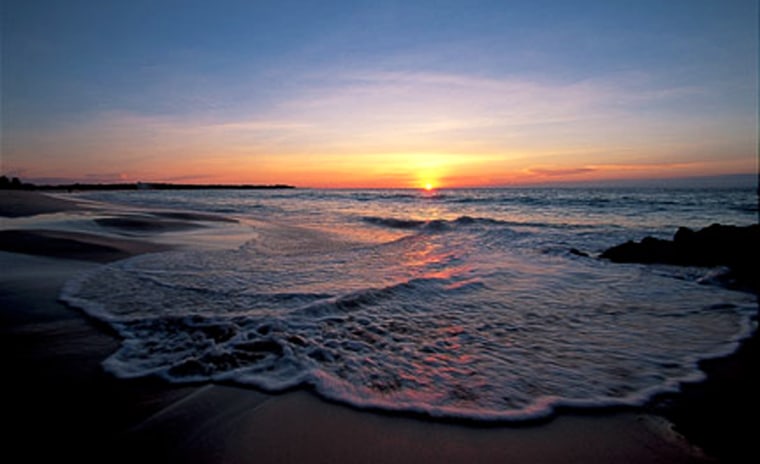 4) Right now, bonefish are leaving deep water and swimming up onto shallow flats all across the 350 islands and cays that make up Los Roques National Park (www.think-venezuela.net), 80 miles off Caracas. As the silvery fish nose along the bottom rooting for shrimp, their tail fins rise above the surface. A fisherman wading along the flat with a guide spots the tails and his heart begins to race. He lifts his fly rod, makes one false cast to get enough line into the air and then gently lays his homemade Crazy Charlie pattern in front of the largest fish. The angler tickles the line twice and wham! — the bone hits and the fight is on. Line burns off the reel as the ghost of the flats makes a blistering run and the fisherman hangs on, grinning from ear to ear. — BF
Other spectacular places to stalk bonefish: Andros Island, Bahamas (www.bahamas.com); Turneffe Atoll, Belize; Sian Ka'an, Mexican Caribbean (www.visitmexico.com).
5) Right now, a sparkling 65-foot catamaran is welcoming aboard an equally radiant couple from the beach in front their hotel on Grand Cayman's Seven Mile Beach. It's the sunset dinner cruise (www.redsail.com), and they're dressed for the occasion — looking fine in a tropical mode befitting the environs and their sun-kissed frame of mind after a morning of snorkeling and an afternoon massage followed by a lovers-on-vacation nap. The big cat sails straight into the setting sun, and nothing could be more fitting right now than a glass of champagne. The perfect day somehow improves in the glow of a candlelight dinner served at a table for 10. In the company of similarly blissed-out souls who encounter one another under heavenly conditions, it's like a spontaneous dinner party — sharing stories and laughs that ripple over the surface of the water, spreading good vibrations all the way to the horizon. — DH
Dinner is also being served at sea after sunset by boat excursion operators in: St. Martin (http://www.st-martin.org/); Barbados (www.barbados.org); and St. Thomas (www.usvi.net).
6) Right now, hikers are making their way along an overgrown trail on St. Martin. When they reach the top of a ridge, they're pouring sweat but giddy to see a perfect arc of sand, Baie de Petite Cayes, begin to unfurl below them. They've trekked for nearly an hour, but they know they're likely to be totally alone as they spread a romantic picnic lunch on the pristine sand. From atop a large black boulder, they have a stunning view of the exquisite sea grape-fringed beach washed by sapphire water and white-capped waves. Sailboats pass just offshore. The couple floats the last few yards down to the creamy white sand and cool, clear water. — ZS
Three other secluded beaches that are worth the walk: Colombier, St. Barts (www.st-barths.com); Reef Bay, St. John; Smuggler's Cove, Tortola (www.b-v-i.com).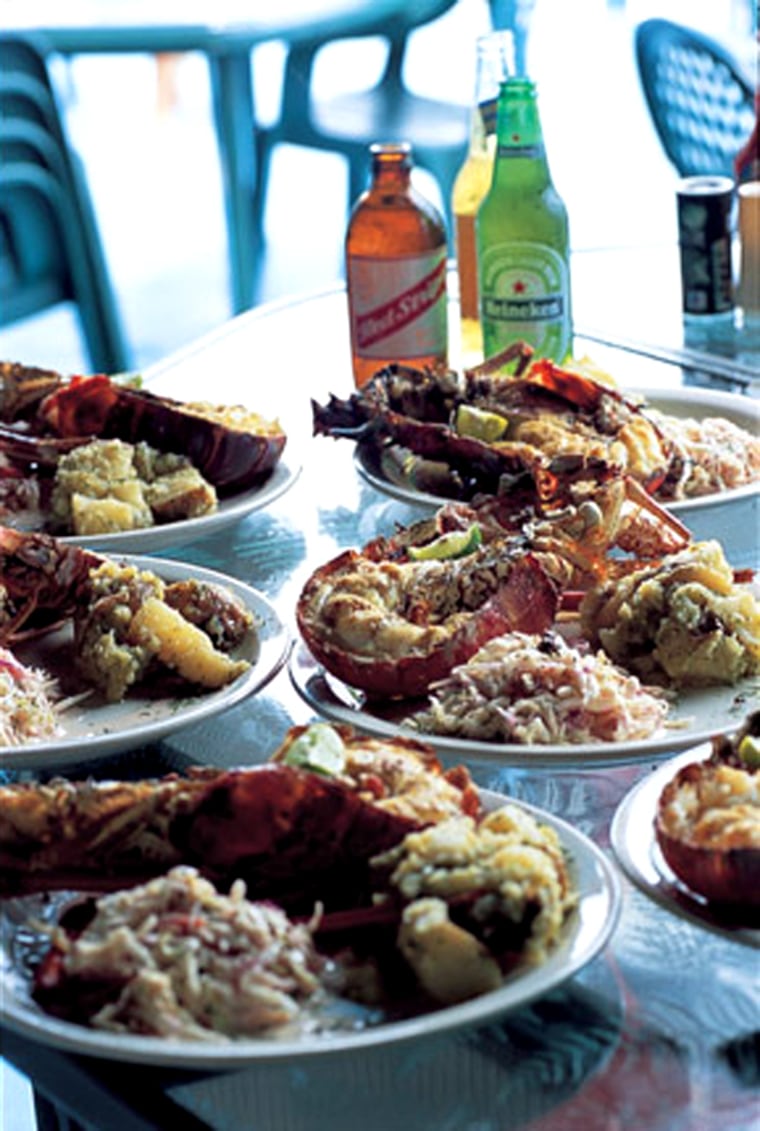 7) Right now, the sun is falling toward the water off Anguilla's Meads Bay (www.anguilla-vacation.com). Couples sit or stroll along the golden beach; guests gather at Malliouhana Hotel's Sunset Bar; a jogger ends his run at the rocks marking the north end of the bay. But as the sun becomes a fireball burning through the few wisps of cloud just above the horizon, everything stops. Conversation ceases, jaws drop and everyone stands still, their bare feet sinking into the sugar-soft sand as the gentle surf wraps around their ankles. Up and down the beach, there's a collective breathless moment as the red sun flattens against the sea and finally vanishes underwater. Just then a blink of lime-colored light appears. A cheer goes up from the bar, and strangers on the beach look to each other to confirm what they've just witnessed. — BF
More sunset stretches with endless sea views where you might see the green flash: Negril cliffs, Jamaica; Seven Mile Beach, Grand Cayman; Platinum Coast, Barbados.
8) Right now, windsurfers of every level, from newbies to highly ranked pros, are slicing across Bonaire's Lac Bay, riding the constant onshore breeze. The broad, shallow lagoon is so clear and so calm and the sandy bottom so white that the sun infuses the water with an electric aquamarine almost too bright to look into. Hot-doggers harnessed to neon sails punctuate their blistering runs with flips while instructors guide determined beginners onto big boards — the direction and reliability of the wind ensuring safe learning conditions and fast progress. — BF
Other spots with near-perfect conditions for those who ride the wind: Aruba; Cabrete, Dominican Republic (www.activecabarete.com); Isla Margarita, Venezuela (www.ilemargarita-venezuela.com).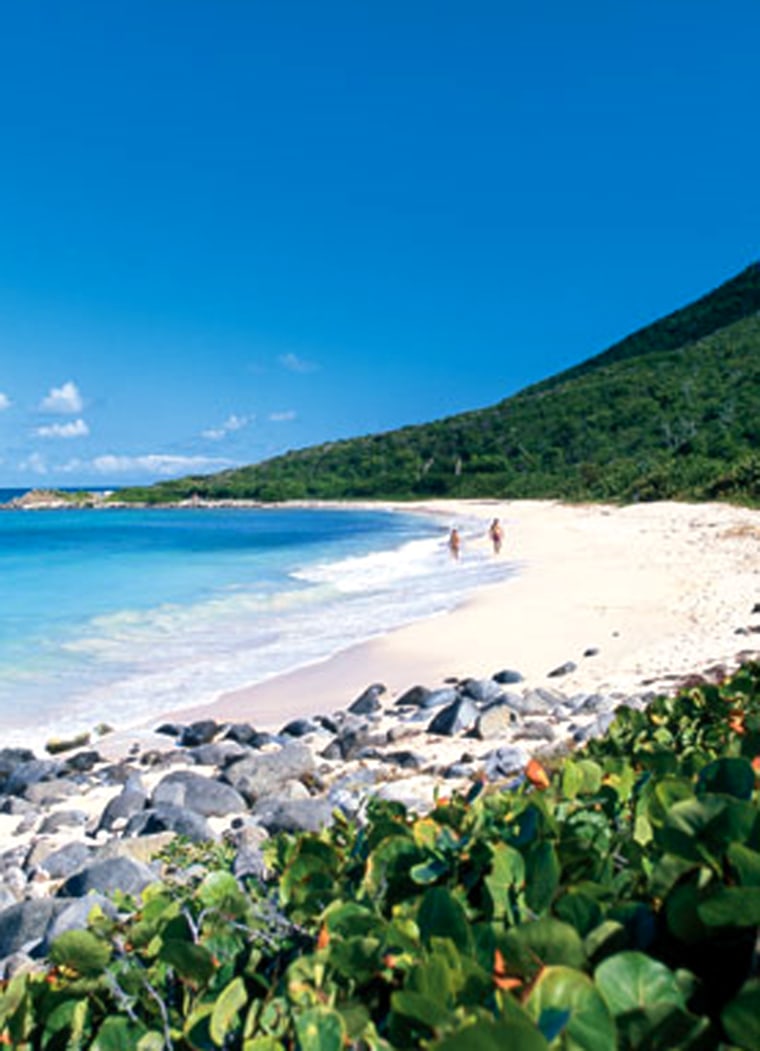 9) Right now, day-trippers have landed on Isla Saona off Bayahibe in the Dominican Republic (www.dominicanrepublic.com). Though it's before noon, drinks begin to flow and the music — the DR's ever-present merengue soundtrack — is cranked. Tour guides off the speedboats stop what they're doing and grab the nearest tourist, resolute that no one leave their country without learning how to do the national dance. The beat is infectious, and soon even the shyest visitors find themselves wandering down the palm-lined beach to join in the hip-wriggling fun. — BF
Other places for dancing barefoot in the sand: Cane Garden Bay, BVI (for reggae and fungi); Orient Beach, St. Martin (for Euro-beat: www.orientbeach.com); Negril's Seven Mile Beach (for reggae).
10) Right now, the captain of a chartered yacht in the British Virgin Islands is trying to decide how best to entertain his guests. They're a really nice group, three couples who've known each other forever — maybe he'll take them to that secret beach he promised his local friends he'd never take anyone to. Or he could give them a sporty day full of snorkeling, kayaking and windsurfing. Or maybe today should be a party day — crank up the blender early, then drop them off at the Willie T (www.williamthornton.com) and pick them up when happy hour has run its crazy course and his mate, the chef, has dinner ready. Maybe a half-day of open-water cruising out to Anegada would do the trick. He'd point them in the direction of a great beach and fresh grilled lobsters. As the smell of breakfast cooking rouses the guests from their cabins, the captain decides what to do: He'll leave it up to them to take their pick. — DH
Three other super sailing locales in which to charter a crewed yacht: the Grenadines (www.svgtourism.com); Antigua (www.antigua-barbuda.org); the Abacos.
is the magazine for anyone in search of the perfect tropical getaway. Each issue presents expert insider's advice on where to find the Caribbean's best beaches and attractions, its finest resorts and spas, liveliest beach bars and activities, and its friendliest people.