It is late December and snowing like crazy, but on the Amansala website the sun is shining brightly. Down in the virtual Yucatýn, on the coast near Tulum, guests are lounging under palm trees and sipping tropical drinks, doing sun salutations on a pristine strip of beach, dipping kayak paddles into glistening blue water--all part of the resort's six-day Bikini Boot Camp. The name is intimidating--mostly the word bikini. I'm fit, but I haven't felt comfortable wearing a two-piece in years.
But the promised means, a drill-sergeant fitness routine, to the lissome end, slipping confidently into a skimpy suit, sounds intriguing--and it just might kick those five pounds I put on power-eating Christmas cookies. I read on: "Bikini Boot Camp is all about feeling good about yourself and having fun while getting into great shape...fresh, healthy meals, and days filled with exercise and interesting excursions, make for a perfect way to get your body bikini-ready."
The price is a reasonable $1,842, which includes meals, three spa treatments, and the excursions, among them touring the Mayan ruins in Tulum. Compare that to $5,700 for a week at Canyon Ranch or $3,000 at spa value Rancho la Puerta. And you get in-the-know bragging rights: Open just three years, Amansala is already a darling of the New York fashion photography crowd, who use it for magazine shoots. "Okay, I'm in," I say to myself and book.
Apparently, a lot of other people have the same thought. Amansala co-owner Melissa Perlman writes back that the early-February week I picked "is really, really full, and we only have a room with shared bath available...really nice, just not as deluxe." I peed under the stars with 14 other climbers when I tackled Kilimanjaro, so how bad can sharing a bathroom with one other guest be? The night before I leave, as I'm tossing T-shirts and shorts into a duffel, I come upon a purple polka-dot bikini I bought ten years ago. When in Rome... I shrug and pack it.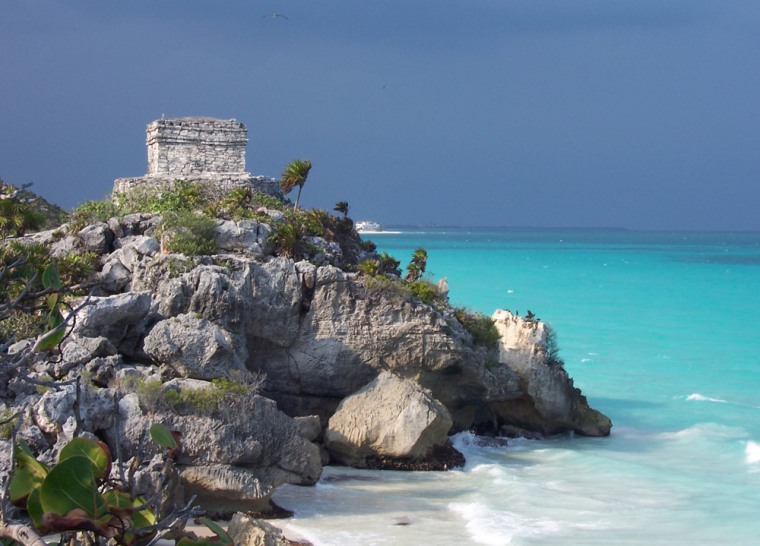 Standing in the immigration line at Cancýn International Airport, I fall into conversation with a couple who own a time-share. "You're going down to Tulum?" the man asks me. "Hope you packed plenty of DEET. The mosquitoes are as big as Buicks." This is news to me, but not to my three companions on the 90-minute shuttle ride to Amansala. Susan and Greg, a lawyer and endodontist, respectively, were turned on to Amansala by their son, who just wrapped a photo shoot there. Amy is a 30-something mother of four taking her first-ever vacation alone. Although she looks like she was born on a StairMaster and is a veteran of luxury spas and five-star resorts, Amy says she doesn't work out. She's here to get started on a program.
Amansala is on a hippie-dippy stretch of coast, where resorts are limited to 15 rooms, yoga retreats abound, people practice tai chi on the beach, and everybody's off the grid. (Power is supplied by solar panels, with backup generators kicking in on cloudy days.) It's a delightfully untrafficked backwater of talcum-soft sand and bright blue sea. The only high-profile landowner, Colombian drug lord Pablo Escobar, is long gone, his place a decaying hulk of outsize concrete buildings under moldering thatch.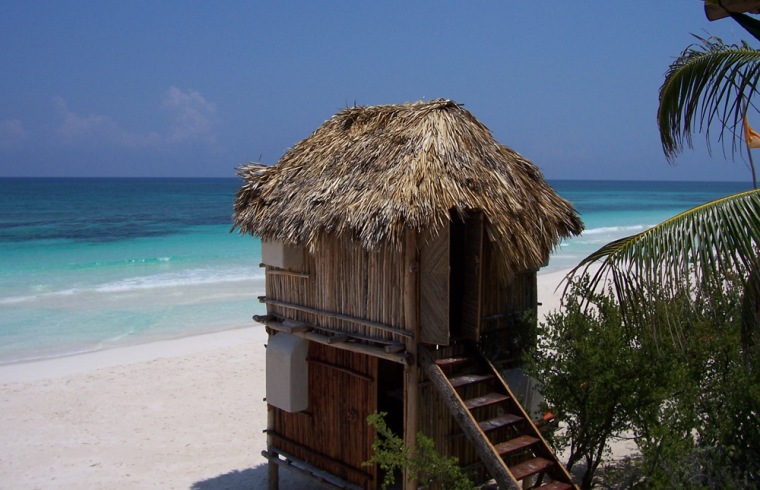 The reception staff at Amansala is gorgeous, enough to make me turn tail: Melissa has not only curly brown hair, a deep tan, and brilliant white teeth but also a flaunt-worthy belly, which she's doing with a brightly colored tube top and pretty skirt. At her side is an equally beautiful, even tauter woman, Erika Halweil, a visiting yoga instructor with the body to prove it.
Given the flat rate, I'm surprised by the short straw-long straw division of rooms. The four on the beach are the pick of the litter: duplexes with stucco walls and cement floors inlaid with tiles in swirling star-shaped designs. The eight others with private baths are nice--Robinson Crusoe nice. Then it's a long step down to the shared-bath rooms, where I'm staying. I'll charitably describe mine as humble: two mosquito-netted double beds separated by built-in concrete shelving, with the only wall adornment a mirror. The bright orange fabric tacked up over a window doesn't quite keep the occupant from being seen from the open-air reception area, and when they say "shared bath," they mean it. A small hut with two toilets, two showers, and a single outdoor sink serves not only a half-dozen guests but also the resort staff, as well as the workers who are converting the second floor of the dining room into a yoga studio and guest room.
And now Melissa informs me that I'll have a roommate for three nights of my stay. "That wasn't part of the deal," I retort. "I'm a terrible insomniac, and I promise you, nobody wants to room with me." She says she'll see what she can do.
At dinner I hear the sad tale of Veronica, who was awakened at 11:30 one night and told she had to switch rooms: A pair of guests, whose reservations had been lost by the hotel, had just arrived. I also meet Debbie, who is leaving four days early. She has a modest but cute palapa with a big window from which you can spy a speck of beach, but she says, "I thought sharing a bathroom meant next to the room, not across the resort." On the other hand, Amy, who was also advised she'd be sharing a bath, has bagged a room with a private bath. I retreat to my room and talk myself down off the ledge by remembering the amazing vacations that began nightmarishly. (And it works: The next day, Melissa offers me Debbie's palapa. It's tiny, but it's all mine, and that night my new kicked-back life kicks in: For the first time in ages, I sleep through the night.)
That first evening, we sit in a circle by candlelight in the thatch-roof yoga hut and introduce ourselves. There are 22 of us, all women except Greg. It's a lean crowd, yet most say they've come to jump-start a fitness plan. Nobody mentions losing weight. The most memorable line is delivered by Melissa, who says, "We're not the Four Seasons," as a way of encouraging us to roll with the punches if the power goes out or the food, based on what's available locally, isn't what we want. "We're going to push you to the edge of your comfort zone because that's when you grow." (Given my room, I'm already there, I think.)
The next morning, I'm awake before daybreak, so I throw a fleece over my nightgown and go down to the beach to watch the sunrise. One of the resort's three lovable Mexican mutts comes and lays her muzzle in my lap. A brisk offshore breeze is keeping the mosquitoes at bay, and as I watch the dawn paint a vivid pink band above the horizon and below a brilliant white crescent moon, my spirits brighten, too.
In truth, the setting is bewitching, a Gilligan's Island clutch of half-timbered, thatch-roof palapas framing a palm-shaded courtyard. Strung with hammocks and dotted with comfy low-slung wooden beach chairs, the courtyard is a refuge from the rooms: Everyone brings a book, falls into conversation, and never reads a page. The massage huts are on the beach, and wave-whoosh is the rubdown soundtrack. At night, oil torches on stakes and chunky candles light the way to the rooms.
Our days quickly settle into a pleasant routine: yoga on the beach, then a breakfast of fresh fruit, yogurt, amaranth, and eggs. (The food at all three meals is delicious--so good that I don't mind the menu's repetitiveness.) A fitness class or an excursion fills in the morning, while the afternoon is largely free for massages, journal writing, or basking in the sun. There's a yoga, Pilates, or belly dancing class before dinner and sometimes a tribal drumming one after, taught by Melissa's brother.
Three treatments are included in the weekly rate: two massages, plus the group Mayan mud ritual on the last day (more on that later). About the half-dozen massage therapists, I hear nothing but praise. I have a competent rubdown from an Israeli who lives in a tent ten minutes down the beach. Another day, Chandree, a reiki practitioner, chants and hums her way through an excellent treatment. Later, she tracks me down to recommend some stretches for a mobility limitation she detected in my shoulder. I also book a facial, administered by one of the fitness instructors, who grew up in Sweden giving and receiving facials regularly. It's mild (no extractions) and pleasant.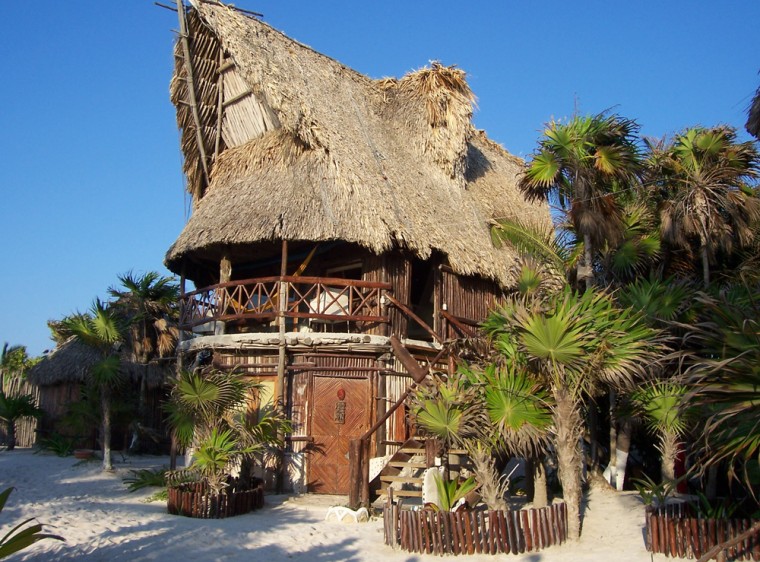 In the first morning yoga class, Erika sets the tone for the week. When she can't keep her tank top rolled up to demonstrate a pranayama (breathing) technique, she simply peels it off. Easy for her: She's 27 and a dead ringer for Katharine Ross in The Graduate. But a couple of hours later, when I wander back down to the beach, I find that half our group has followed suit, their pasty-white breasts lined up like so many fried eggs on a short-order grill. At 53, I am way past the sell-by date for this, but infected by the camaraderie and finding comfort in the seclusion of our beach, I mutter, "No fool like an old fool" and shuck off my top, too.
This presents a dilemma for Greg, who wants to be part of the group but doesn't want to intrude on our little show. However, when he sees how casual we all are about being topless, he joins us. (This is the only thing about Bikini Boot Camp that will make my husband ready to enlist.)
As the week winds on, our real goals begin to emerge. One woman has just quit smoking and hopes this week away will help make it stick, while another is going cold turkey on sleeping pills. One is contemplating ending her marriage; another's divorce became final a month ago. There's surprisingly little talk of husbands or kids; this week is ours, and we revel in it. Among the beach reading, I spot His Needs, Her Needs: Building an Affair-Proof Marriage and He's Not That into You. Despite all the baggage, this is an extraordinary group of women, every last one articulate and interesting. There is no bad seat at dinner.
On Wednesday at lunch, Melissa comes up to Amy and says brightly, "This is your room change day." An arriving couple has taken over one of the oceanfront rooms, setting off a domino effect that sends Janelle into Amy's room, Amy into a tiny concrete single where Melissa's brother usually lives, and Melissa's brother into who knows where. Amy's new digs are nearly windowless and right by the parking lot. Dumbfounded, she doesn't even put up a fight. (According to Melissa, Amansala has since streamlined its reservations process so this "almost never" happens.)
It's not a good day for Molly, either, who dumps her mountain bike on the rutted, sandy road to the kayaking lagoon, breaking a bone in her hand. She's bummed but doesn't miss a beat--or a single class the rest of the week. She goes home with best wishes from all of us penned on her cast.
If Melissa is tone-deaf to guests who are unhappy with the room shuffle, it's probably because she wouldn't mind staying in any of them herself. A longtime world traveler and backpacker--"I've traveled in Thailand and Bali and India, lots of off-the-map places"--she took vacations in a little cabana without electricity on this beach for eight years before she thought of opening a resort. The idea came to her after September 11, "when I saw people so stressed, running around New York." Her first concept was a referral service, called Spiritual Spa, but eventually she decided to open "a place where you can eat healthy, that has style but is still adventurous. At home you're identified by how many people kiss your butt, where you get your hair cut, what car you drive. Here it's not about what you're wearing or what you do but who you are." With a business partner, Erica Gragg, who now splits her time between Amansala and San Francisco, she launched Amansala in 2002.
"Aman means 'peace,' and sala means 'water' in Sanskrit," Melissa says, adding that she's defended the name against the other Aman, which tried to prevent her from using it. "I trademarked it here in Mexico, and anyway, nobody could come here thinking we're that Aman. One night there costs what a week here does."
It's that tantalizing phrase "Bikini Boot Camp" that ignited Amansala's success. In the winter the resort can be fully booked three months ahead, and its beachcomber interpretation of shabby chic has even begun to draw a celebrity crowd. My group is crushed to find that we missed Jude Law by a week. Past celebs include Benicio del Toro, Armand Assante, Linda Evangelista, and Cindy Crawford, although I doubt any of them were given my room. Now Melissa is expanding her vision: She just bought another property a 15-minute walk down the beach and is working on a book, Bikini Boot Camp: The Mind, Body & Spirit Workout.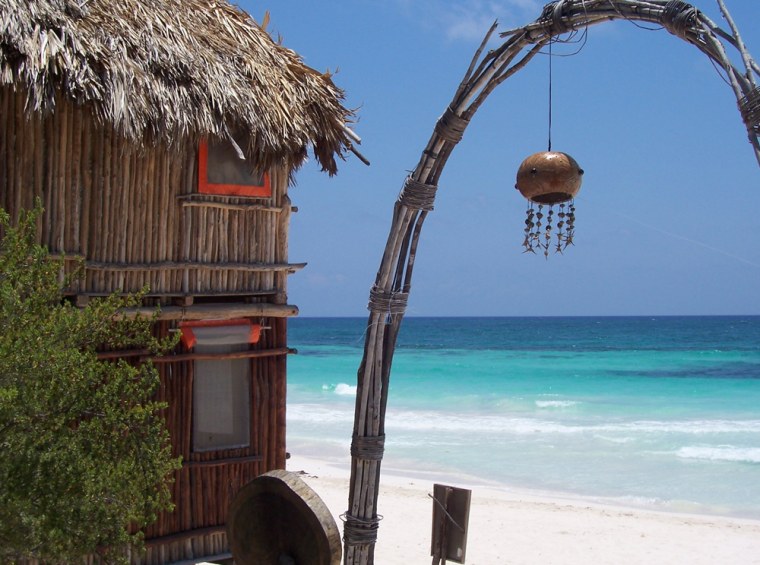 The fact that the term boot camp is stretching it--the regimen is more stretching than hard-core exercise--hasn't seemed to get in the way of Amansala. The daily routine--sun salutations on the beach, a 16-mile flat-terrain bike ride, 30 minutes of paddling, a late-afternoon Pilates class, with a cardio class called Beach Express tossed in occasionally--wouldn't impress the ex-marine who ran a real boot camp class at Canyon Ranch and had me begging for mercy. Here the fitness classes are well taught--and Erika, who taught most of the yoga classes, is fantastic--but they're not nearly as challenging as some I've taken at resort spas. And the excursions are leisurely.
Of course, unless all you need is a tan, you can't get your body bikini-ready in a week. Nonetheless, Amansala could try a lot harder to live up to its name.
Yet despite the scatterbrained management, the subpar rooms, and the absence of boot camp, everyone in my group (including me) ends up feeling Amansala is an extraordinary experience. Most say they will come back. "I wouldn't have missed this for anything," says Greg. I measure my immersion at the Cancýn airport, where I learn that Camilla and Charles are getting hitched and Carly Fiorina and Hewlett-Packard are getting unhitched. It finally dawns on me how totally, gloriously out of touch I have been.
On the final morning, wearing only bikini bottoms, we slather a golden mixture of local mud, honey, and olive oil all over each other. Then, as we stand together at the edge of the ocean, Melissa leads us in guided imagery--and the occasional beach walker does a cartoon double take. If our bodies were better, this could be a casting call for the Bond girl role in Goldfinger; as it is, we look like Jim Jones's flock just before the Kool-Aid was handed out. When the mud is dry and crackling, we all run into the water to wash it off.
On the flight home, going over the week, I recall a metaphor Melissa used when she was guiding a meditation. "It's like a monkey swinging through a jungle. You have to let go to go forward." Somehow I feel I've done that--and I think everyone else does, too. And I'm so relaxed, confident, and happy that I don't really care how I look in that bikini I brought. Maybe that is the point.
Enlisting in Bikini Boot Camp
To see the love-hate relationship guests have with Amansala, you need only cruise tripadvisor.com, where the rants and raves run 50-50, with nothing in between. "I have visited Amansala many times and found it a magical place," coos one guest. Under the title "Worst Vacation Ever," another weighs in: "The luxurious touches mentioned on the website were absent, but the mosquitoes were plentiful." If you decide to go, book far in advance and ask for an oceanfront room. "Guests can request a room," says Amansala co-owner Erica Gragg, "but it's on a first come, first served basis." Also confirm that you won't be in one of the shared-bath rooms, and make sure the resort isn't hosting a wedding or photo shoot during your stay.
Rates: A six-night Bikini Boot Camp session runs $1,842, which includes 10 percent tax and 7 percent service charge; the only extras are your bar bill and massage tips. There's a $650 surcharge for a single room. Airport transfers are $125 each way or $215 round-trip. But don't pay in advance; you may be able to share a ride and split the fare.

Phone: 011-52-984-1000-805

Website: www.amansala.com
SUSAN CRANDELL has bungee jumped, skydived, and climbed Kilimanjaro, none of which was as forbidding as going topless at 53.
*The information in this article was accurate at the time it was published on 9/1/05.