It's probably an item at or near the top of many people's Christmas wish list.  Call it a MP3 player or a portable music device -– this year thousands of these little devices will find their way holiday stockings and gift boxes.
A few years back the "in" gift was a Walkman cassette player.  Then came portable CD machines.  Then players to handle computer-based music files.  I still have my first MP3 device -- it's one with a measly 128KB of storage and I was able to store 12-to-15 songs on it before I ran out of room.
Today, 512KB-to-1 or even 2GB is the norm for very small flash memory devices, and 4-60 GB for the larger capacity hard drive models.
When you talk about portable music, you have to begin and end with Apple's line of iPods.  From the tiny Shuffle (512KB o 1GB models) to the elegantly thin Nano (2 or 4 GB) up to and including the newly improved audio/video iPods (30 or 60 GB), Apple has something for everyone -– and for nearly every pocketbook.
The Shuffle ($99-$129) is flash memory based.  It has no screen to read.  You just load your music (as many as 120 or 240 songs) and hit play.  Some people have told me that the Shuffle sounds best of all the iPod models, although that has to do with the earphones.  I'll have more to say about that in a minute.
The other flash memory based model, the Nano ($199-$249) is amazingly small and thin.  It can hold as many as 500 to 1,000 songs depending on the model you choose.  It comes in either the famous iPod white or newer black enclosure.  Sound quality is also very good.
The new "full-sized" iPods (30GB is $299 – 60GB is $399) do video as well as audio.  The top-of-the-line 60GB device can hold as many as 15,000 music files or 150 hours of video.  My friend Lew let me see his brand new 60GB iPod and see a video he had bought on iTunes.  I was very impressed with the video quality.
There are other terrific portable audio/video devices out there as well.  I really like the Archos AV 500 that I tested recently.  It comes in a 30GB model (up to 130 hours of video for $499.95) and a 100GB one (up to 400 hours for $699.95).  I particularly love the sharp 4-inch screen. 
You don't buy programming for the Archos -- you record from your cable or satellite feeds or DVDs.  The Archos can do this because they it doesn't record digitally. It allows you to make analog recordings of your favorite programs — just like using a VCR — via composite or S-video outputs. That means there's no digital rights management software to get in the way.
There's even a video camera attachment ($199.95) so you can make your own movies. Archos also markets the AV700 with a 7-inch diagonal widescreen screen.  The 40GB retails for $599.95 and the 100GB model lists for $799.95.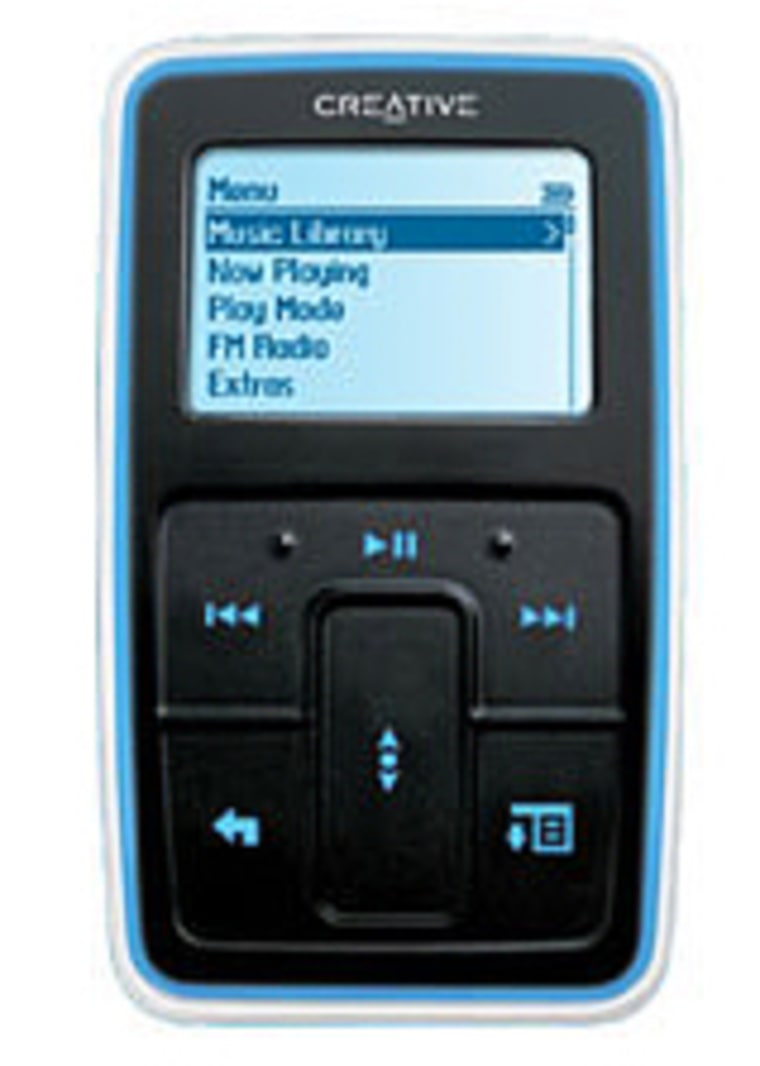 As for other MP3 player favorites, you should also look at Creative's extensive line of modes -– especially their Zen Micro music player.  It comes in three configurations: the 4GB hard drive model lists for $179.99, the 5GB for $199.99 and the 6GB from $229.99.  The 5GB model is currently marketed with a bunch of extra accessories (a belt clip, sand, power adapter and pouch).
In addition to a great sounding music player, the Zen Micro also has a FM tuner (for listening and recording) as well as a voice recorder and removable/replaceable rechargeable battery.  It also comes in ten colors!
For sheer beauty, you should look at Bang & Olufsen's drop-dead-gorgeous BeoSound2 MP3 player.  It's small, round and very sexy.  Then again, you pay for your thrills.  The BeoSound2 is priced at a whopping $460.  (Exclusivity is expensive.)  It comes with B&O's terrific sounding headphones but the SD memory card is extra (512MB sell for $160).  Premium cases are also extra.
Finally, whatever player you decide on – audio or video – you should think about adding a premium set of earphones.  The ones that come with iPods and the like could and should be trashed.

Instead, buy your self a pair of Shure earphones.  They have a line of terrific sounding ear speakers that will allow you to get the most from your portable music.  From the E2c ($99) to the E3c ($179), the E4c ($299) or the top-of-the-line E5c with separate woofers and tweeters in each ear ($499) you'll be making a great improvement to any of the above devices.  Highly recommended.