/ Source: Special to MSNBC
Upon returning from the mall this holiday season, parents may want to tear open the FLY pentop computer they just bought for their 'tween and use it themselves. This hot-selling gizmo from Leapfrog is essentially a talking computer pen that brings writing and sketches to life. Which means moms and dads can use it first to draw a calculator to total their purchases, then a keyboard to play the blues.
"Some of these high-tech toys can be pricey," says educational toy expert Stevanne "Dr. Toy" Auerbach. With that in mind, she says, look for gadgets that have a wide range of uses and lasting playability. They'll offer the best value over time.
Among her favorites are a series of robot kits from Owi, available at http://www.robotikitsdirect.com/. The basic assembly process teaches parent and child robotics fundamentals such as sensing and locomotion. The latest addition to the line, the Jungle Robot ($20, ages 10 and up), can cross a string hand-over-hand or walk along the ground. When the robot stops, you cry "wake up" to get it moving again.
The LEGO Mindstorms (www.legomindstorms.com) line takes robot building a step further, offering older teens (ages 12 and up) a chance to design their own with kits ranging from $200 to $240. The series was built in part on work done in the lab of Mitchel Resnick, an associate professor of learning research at MIT. Resnick says parents should "be on the lookout for toys that engage kids [and] give them the opportunity to express themselves."
Leapfrog's FLY (ages 8 to 14, $100), for example has educational functions such as teaching basic reading, writing and math skills. But it will also play music based on the drawings made with the pen.
Here are some more science-tech toys that deftly wrap learning in a ball of fun:
For budding poets (ages 3 to 6), check out the Write and Learn Smartboard ($35) from Vtech (http://www.vtechkids.com/). With a pencil-like stylus in hand, kids learn to draw letters and numbers on a magnetic writing area as the Smartboard displays what's written on a screen. Silly sounds of encouragement keep the scribes hard at work.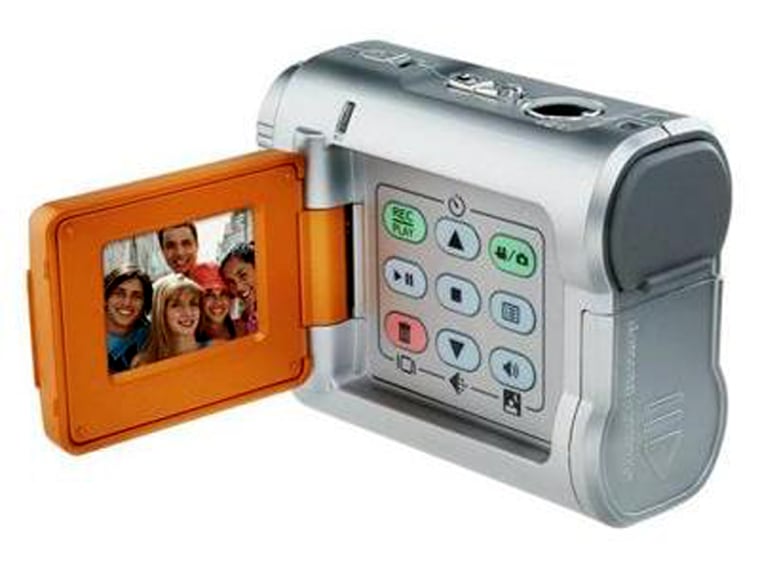 Older kids (6 to 11) can turn to Vtech's adult-looking Nitro Notebook ($50). It comes packed with 80 arcade-style learning games designed to teach skills from math to Spanish. Interchangeable cartridges provide bonus games and activities.
Rather make movies? Start with the VCamNow ($80, ages 6 to 12), a handheld video camera with a flip-out preview screen from Hasbro (http://www.hasbro.com/). Kids can shoot digital movies and take pictures. Connect the camera to a computer to edit scenes or plug it into a TV and view the action on a big screen.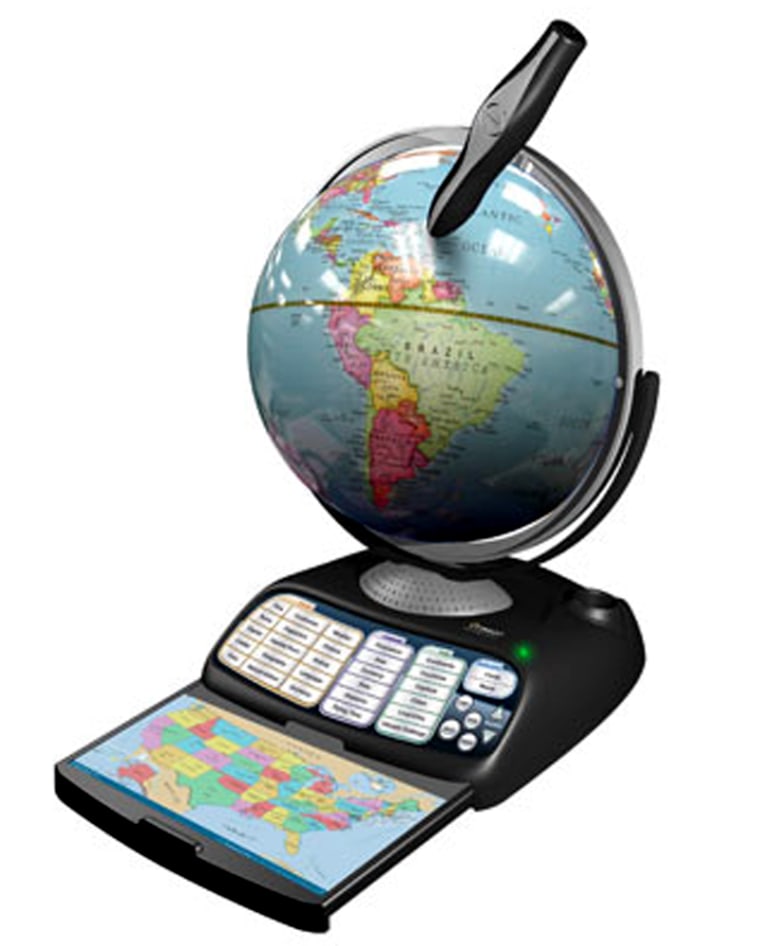 The SmartGlobe ($130, ages 5 and up) from Oregon Scientific confines wanderlust to the home. Periodic connection to a PC and the Internet keeps the globe up-to-date with a world of information. Touch the wireless pointer on any country to learn about capital cities, geography, languages, history, and more. Multiplayer games can accommodate up to four people.
To understand the science behind all these gizmos, start with The Way Things Work ($25, ages 10 and up), a new board game from International Playthings inspired by David Macaulay's best-selling book. The game teaches young Einsteins the mechanics of gears, levers, scales and other moving parts.
For alternative energy gurus, try the Fuel Cell Car and Experiment Kit ($150, ages 12 and up) from Thames and Kosmos (www.thamesandkosmos.com). Tinkerers build a car powered by one of the most important technologies of the 21st century.
The Young Scientists Club (www.theyoungscientistsclub.com) gives kids a leg up at school. Akin to a magazine subscription, club members regularly receive science kits ($30 each) in the mail. The 36 kits are designed for ages 4 to 12 and build on each other. Younger scientists start with the first kit, Recycling. Older members go straight to Volcanoes - #6, Minerals - #7, or Bacteria and Fungi - #10.
If none of the above appeal, what about a trip back to the time of dinosaurs? Check out the Triassic Triops (www.triops.com) ($10, ages 6 and up) to learn about diapause — the suspension of life — and grow an ancient, miniature cousin of crabs, lobsters and shrimp.