/ Source: The Associated Press
Secretary of State Condoleezza Rice is prepared to address European doubts about U.S. practices in the war on terror during a gathering of NATO countries, her spokesman says.
Complaints that the United States has overstepped its bounds and may have practiced or condoned torture have dogged Rice through a four-nation tour this week.
"She's fully prepared to have a good discussion," State Department spokesman Sean McCormack said Wednesday.
Rice was attending the NATO meeting Thursday, a day after seeking to clarify U.S. policy on the use of harsh interrogation methods.
No direct answers
Rice has refused to answer directly whether the United States keeps terrorist suspects in detention centers that violate European legal and human rights guarantees. She assured German Chancellor Angela Merkel on Tuesday that the United States would work to rectify any mistakes it has made in its war on terror.
Reports of secret prisons have roiled Europe for a month. Rice has asserted that the United States acts within the law and tried to argue that the Europeans are safer because of tough U.S. tactics.
Sustained criticism in the media and open skepticism from some European leaders indicate that the issue isn't going away.
Watchdog wants satellite images
Before Rice arrived in Brussels, Europe's leading human rights watchdog group said it hoped to be able to see satellite images of sites in Romania and Poland as part of its investigation into alleged secret CIA prisons and air transport of terrorists in Europe.
A top Council of Europe official said the body had been granted permission to look at images in the archives of the European Union's main satellite center, as well as log books held by the EU's air safety organization.
Rene van der Linden, chairman of the Parliamentary Assembly of the Council of Europe, also said America's war on terror was not a real war.
"There is ... a difference of opinion between Condoleezza Rice and the Council of Europe, because the law of war doesn't exist. We have international conventions. We are fully in favor of fight against terrorism, but we have to be aware that certain cases can not be accepted," van der Linden said.
The Strasbourg, France-based Council of Europe is the guardian of the European Convention on Human Rights, a legally binding treaty signed by all 46 council members.
The council itself has no direct jurisdiction over any country, but can exercise political pressure.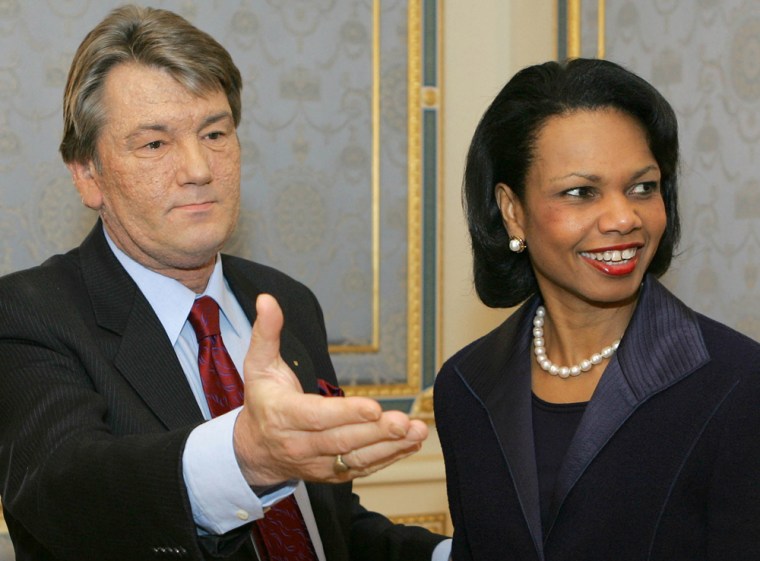 The parliamentary assembly has asked Swiss lawmaker Dick Marty to investigate the CIA's reported transfers of prisoners through European airports to secret detention centers. Poland and Romania have been identified by the New York-based Human Rights Watch as sites of possible CIA secret prisons, but both countries have repeatedly denied any involvement.
Also Wednesday, the U.N. human rights chief warned that the global ban on torture was becoming a casualty of the "war on terror," singling out reported U.S. practices of sending terrorist suspects to other countries and holding prisoners in secret detention.
Louise Arbour's comments sparked an immediate rebuke from U.S. Ambassador John Bolton, who said it was "inappropriate and illegitimate for an international civil servant to second-guess the conduct that we're engaged in the war on terror, with nothing more as evidence than what she reads in the newspapers."
Dutch Foreign Minister Ben Bot said he would raise the CIA allegations with Rice during the NATO gathering.
"I hope we all will — all the ministers — and I'm sure she will give good and clear answers," he told reporters.