The Cory Maye case, involving a no-knock raid gone horribly wrong, continues to get a lot of attention around the blogosphere.
Blogger Radley Balko, who's been on top of this from the first, has a of what's known, and also corrects some misapprehensions from around the blogosphere.  His post is a must-read, especially if you work for Mississippi Governor Haley Barbour, who has the power to investigate and, if necessary, fix this.
Meanwhile, a number of people wonder why the Tookie Williams case has gotten so much more attention than the case of a quite-likely innocent man on death row.  I can only speculate: Williams was from Los Angeles, where celebrities abound, and his case gave media folks who wanted to put California Governor Arnold Schwarzenegger in a tight spot an opportunity.  Also, Cory Maye was defending his home and family with a handgun, something the celebrity media types tend not to favor.  (Plus, there's no .)
Whatever the reasons, Cory Maye hasn't gotten the attention his case deserves.  I hope that will change.
Haley Barbour, call your office
A man faces a death sentence in Mississippi because of a no-knock raid that appears to have gone tragically wrong.  But the criminal justice system hasn't done such a great job of sorting things out.
Blogger Radley Balko is on the case.  Here's his initial :
As the raid on Smith commenced, some officers - including Jones -- went around to what they thought was a side door to Smith's residence, looking for a larger stash of drugs. The door was actually a door to Maye's home.  Maye was home alone with his young daughter, and asleep, when one member of the SWAT team broke down the outside door.  Jones, who wasn't armed, charged in, and made his way to Maye's bedroom.  Because police believed Maye's side of the duplex was still part of Smith's residence, they never announced themselves. Maye, fearing for his life and the safety of his daughter, fired at Jones, hitting him in the abdomen, just below his bulletproof vest. Jones died a short time later.Maye had no criminal record, and wasn't the target of the search warrant. Police initially concluded they had found no drugs in Maye's side of the duplex. Then, mysteriously, police later announced they'd found "traces" of marijuana and cocaine. I talked to the attorney who represented Maye at trial. She said that to her knowledge, police had found one smoked marijuana cigarette in Maye's apartment. Regardless, since Maye wasn't the subject of the search, whether or not he had misdemeanor amounts of drugs in his possession isn't really irrelevant. What's relevant is whether or not he reasonably believed his life was in danger. Seems pretty clear to me that that would be a reasonable assumption.
Yes, that's how it ought to be.  Balko has a with this observation:
Put yourself in Maye's shoes.  You have no criminal record. You've done nothing wrong. In the middle of the night, in a bad neighborhood, you awake to find someone attempting to break down your door. The door flies open, and a man in black paramilitary gear comes storming into your bedroom, where your infant daughter also happens to be sleeping.Not only is that set of circumstances "reasonable ground" to think that someone is about to do you "great personal injury," and that you're in "imminent danger" of said personal injury being accomplished, you'd be crazy not to take quick action to defend yourself.The SWAT team was in Maye's home illegally.  And they failed to exercise due dilligence in obtaining the search warrant, given that they were obviously unaware that the target of the warrant was a duplex with a second residence.  These are facts.
If the facts are as Balko reports, this has been a terrible injustice.  Mississippi Governor Haley Barbour ought to take a look at it.
In the meantime, Balko has been looking further into the case.  Here's an he did with the prosecutor, and you should just visit his and keep scrolling for updates.
Especially if your name is Haley Barbour!
• December 8, 2005 |
Can I call 'em, or what?
So I noted the Democrats' , and now even the Democrats are worried.  The Washington Post :
Strong antiwar comments in recent days by House Minority Leader Nancy Pelosi and Democratic National Committee Chairman Howard Dean have opened anew a party rift over Iraq, with some lawmakers warning that the leaders' rhetorical blasts could harm efforts to win control of Congress next year....Democratic Congressional Campaign Committee Chairman Rahm Emanuel (Ill.) and Rep. Steny H. Hoyer (Md.), the second-ranking House Democratic leader, have told colleagues that Pelosi's recent endorsement of a speedy withdrawal, combined with her claim that more than half of House Democrats support her position, could backfire on the party, congressional sources said.These sources said the two leaders have expressed worry that Pelosi is playing into Bush's hands by suggesting Democrats are the party of a quick pullout -- an unpopular position in many of the most competitive House races.
Well, yes.  And it's not only bad for the Democrats' prospects, it's also bad for the country.  Nice to see that people are at least noting the first aspect.
Meanwhile, I also that Venezuela's Hugo Chavez, fresh from his dubious election victory, would wind up as a "President for life."  And, in fact, look what :
New deputies elected to Venezuela's National Assembly, to be sworn in January, will legislate to keep President Hugo Chavez in office until 2030, National Assembly President Nicolas Maduro said on Tuesday. The legislation would be revolutionary and would ensure that Chavez remains in power not just till 2021, but till 2030, Maduro said at a ceremony celebrating the victory of pro-government deputies in Sunday's elections.
Just call him Fidel, Jr.  Only with oil.
• |
General Motors and lousy beer
General Motors' CEO Rick Wagoner, had a in the Wall Street Journal yesterday, blaming G.M.'s problems on, well, pretty much everybody except G.M.'s management.
I talked about this with a friend the other day.  He's no foreign-car snob: He drives a Dodge Ram pickup.  But he said that he'd had it with lousy G.M. products, and probably would never go back.
General Motors finds itself in the same position as Schlitz beer.  Once a top brand, Schlitz gradually lowered the quality of its product, through a series of individually imperceptible cost-cutting moves, until one day consumers woke up and said, "This beer tastes lousy," and abandoned it.  The brand has never recovered, despite a couple of campaigns aimed at telling consumers (in more polite terms), "Hey, we don't taste like watered-down horse pee anymore!"
I actually had a Schlitz not long ago (there are a few a places in Knoxville that still have it on draft) and it wasn't bad.  But the brand is still sidelined by shortsighted penny-pinching.
What can G.M. do?  Cars like the might help -- cars that, unlike the vast, vast majority of General Motors' stable, actually look good.  If the Solstice turns out to be reasonably reliable (as its competitor the Mazda Miata is), it'll help, too.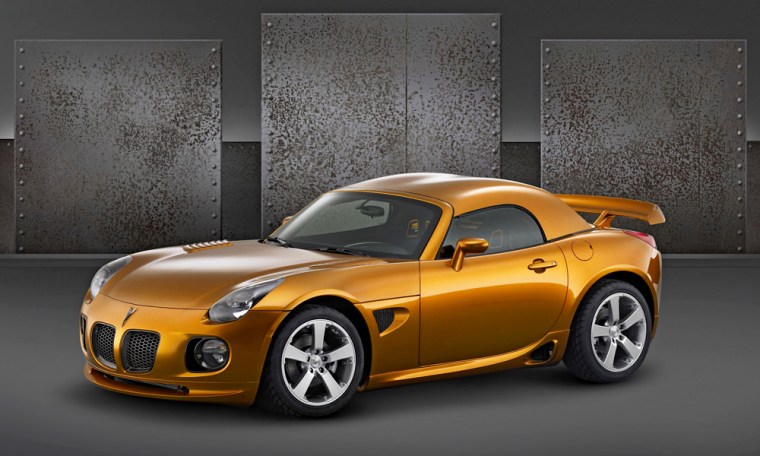 But once consumers lose faith in a car company, getting it back isn't easy. Wagoner should be worrying about that, not calling for restrictions on imports of Japanese cars.
• |
Democrats in disarray
Okay, my earlier of bipartisan consensus was a tad, um, optimistic -- even though of Republican and Democratic congressmen seemed to support the theory, too.
But all it took was a speech by President Bush to lay bare the Democrats' divisions.  He spoke on the war at the Naval Academy, and almost immediately the Democrats split again.
Howard Dean says .  So we might as well vote Democrat!  So much for those claims that the Dems weren't for a cut-and-run strategy.  Dean's the DNC chair, so he speaks for the Democrats,
Er, maybe not.  The Democratic leadership is :
House Democratic leader Nancy Pelosi says it's time for U.S. troops to start coming home from Iraq.  Her top lieutenant, Rep. Steny Hoyer, says a precipitous pullout could be disastrous.
And Democratic politicians don't just disagree with each other.  Mickey Kaus notes that Rep. Murtha over the course of a single interview.
The Republicans have a lot of problems.  Given a halfway palatable alternative, I would have supported a Democrat last time.  But the Democrats are far too incoherent, if not outright irresponsible, on national security to trust.  And every time they seem to have their act together, it falls apart again.  Too bad.
• |
Venezuela's dubious elections
Venezuela held elections today, but the turnout seems to have been rather small.
Hugo Chavez is nonetheless :
Chavez allies said the win would boost their power to amend the constitution -- like scrapping limits on presidents running for more than two terms -- and introduce reforms that opponents fear will increase the left-winger's power in the world's No. 5 oil exporting nation.Electoral authorities did not present the final tally on Monday as expected, but three main parties supporting Chavez said they had secured 141 out of 167 seats in the new legislature.  The final result may be announced on Tuesday.Only one-fourth of eligible voters took part in Sunday's vote, the National Electoral Council said.
My prediction:  Chavez will soon be a president-for-life.
Many Venezuelan bloggers reported on the elections, and the turnout was apparently low.  Blogger Miguel Octavio drove around, , and reported:
We went all over the city, from Petare to Caricuao, Catia and downtown.  The picture is the same everywhere, huge abstention all over place.  Turnout is much lower than in August and I mean MUCH lower even in Chavista areas.  We saw at least 15 voting centers, maybe three in middle class areas, the rest in lower middle class to poor areas and in only two centers did we see any movement.  By movement I mean more than three or four people that looked like they were going in or out of voting.  And I mean looked like, I can't tell if they really were.  We did see two centers in middle class neighborhoods where one could see there were only the two guards that are protecting each center.  That's it.  Nobody else!
You can read a roundup of Venezuelan blogger coverage .  And there are reasons to worry that Hugo Chavez -- who looks like a Castro wannabe, and who is getting closer to -- may shape up to be trouble in the future.  Stay tuned.