/ Source: The Associated Press
A man accused of beating his stepdaughter tried Tuesday to convince skeptical justices on the state's highest court that he should have a say in whether the comatose 11-year-old is removed from life support.
Jason Strickland, who could face a murder charge if Haleigh Poutre dies, wants the seven-member Supreme Judicial Court to overturn a juvenile court judge's decision that he has no parental rights over the girl, who is now in state custody.
"Without intervention from this court, this child will die," said John Egan, one of Strickland's lawyers.
Haleigh's mother, Allison Avrett, gave up her parental rights when she let her sister Holli adopt Haleigh in 2000. Avrett says her daughter should not suffer anymore.
"They say the most she might ever do is open her eyes," said Avrett, a 29-year-old stay-at-home mom with two other children. "I don't want her to sit there longer than she needs to."
Haleigh was hospitalized in September with severe brain injuries. Police say her stepfather and his wife Holli kicked her and beat her nearly to death with a baseball bat.
Less than two weeks after the couple were charged, Holli Strickland — the girl's aunt and adoptive mother — was found dead alongside her grandmother in a possible murder-suicide.
A juvenile court judge had granted a request from the state Department of Social Services in September to disconnect Haleigh's ventilator and feeding tube.
Jason Strickland, a 31-year-old auto mechanic, is trying to fight that ruling by arguing he should be designated as the girl's de facto parent because he lived with her for four years.
But that argument didn't fly with some of the justices. "That's not going to do it," Chief Justice Margaret Marshall said, saying the stepfather has no legal standing in the case.
Justice John Greaney expressed concern about putting the girl in the custody of her alleged abuser.
The justices did not indicate when they would issue a ruling.
Girl shuffled between homes
In 1998, Haleigh's mother, Avrett, moved to Virginia to live with her boyfriend. A few months later, Avrett sent Haleigh back to Massachusetts to spend the summer with her sister Holli and Avrett's former husband, Jonathan Poutre.
Within a few weeks of her daughter's return to Massachusetts, the Department of Social Services took custody of Haleigh and began investigating allegations she was abused by Avrett's boyfriend in Virginia. A DSS spokeswoman refused to comment because of privacy issues.
Avrett said her boyfriend was ultimately cleared. But by then, the Department of Social Services had placed Haleigh in permanent foster care with Holli and Jonathan Poutre. By her own admission, Avrett was not doing everything she could to regain custody.
"I stopped all contact for a while with DSS, my sister and Haleigh," Avrett said. "I couldn't handle the stress, so I took myself out of the situation. I needed a break from it."
Avrett broke up with her boyfriend and married another man in 1999. A year later — after what Avrett said had been several years of strong recommendation by the social services department — she agreed to let her older sister formally adopt Haleigh.
Holli had a degree in child care and had been Avrett's role model growing up. The arrangement was OK for Avrett, who was content to have frequent visits with Haleigh and still felt involved in her life.
"We were always a close family," Avrett said.
But Avrett said things started to change after her sister divorced Jonathan Poutre and married Jason Strickland.
"When Jason came into the picture, we started seeing less of Haleigh," she said.
Lawyer: No one fighting for girl's life
Strickland's lawyers say the state has pushed for removal of Haleigh's life support, but no one has argued that the girl should live.
"There should always be someone who will argue for life," Egan said.
Virginia Peel, a lawyer for DSS, which has legal custody of the girl, said Haleigh's doctors have agreed she will not come out of her vegetative state.
"This is not about the right to life," Peel said. "This is about the circumstance under which this person is allowed to die."
Both of Haleigh's doctors agree she should be removed from the ventilator, but they are split over whether her feeding tube should be disconnected.
They have said that with her feeding tube alone, Haleigh could live as long as two months.
Without any life support assistance, she would die much sooner, the doctors said.
Egan said Strickland should be allowed to have another doctor examine the girl, but Peel said that isn't necessary.
"When you have consistent medical opinions, why do you have to find a doctor who might — who might — challenge that," she said.
Self-inflicted injuries?
According to court documents filed by Strickland's lawyer, Haleigh had been hospitalized during the past three years for self-inflicted injuries. The girl's alleged tendency to hurt herself is a cornerstone of Strickland's defense.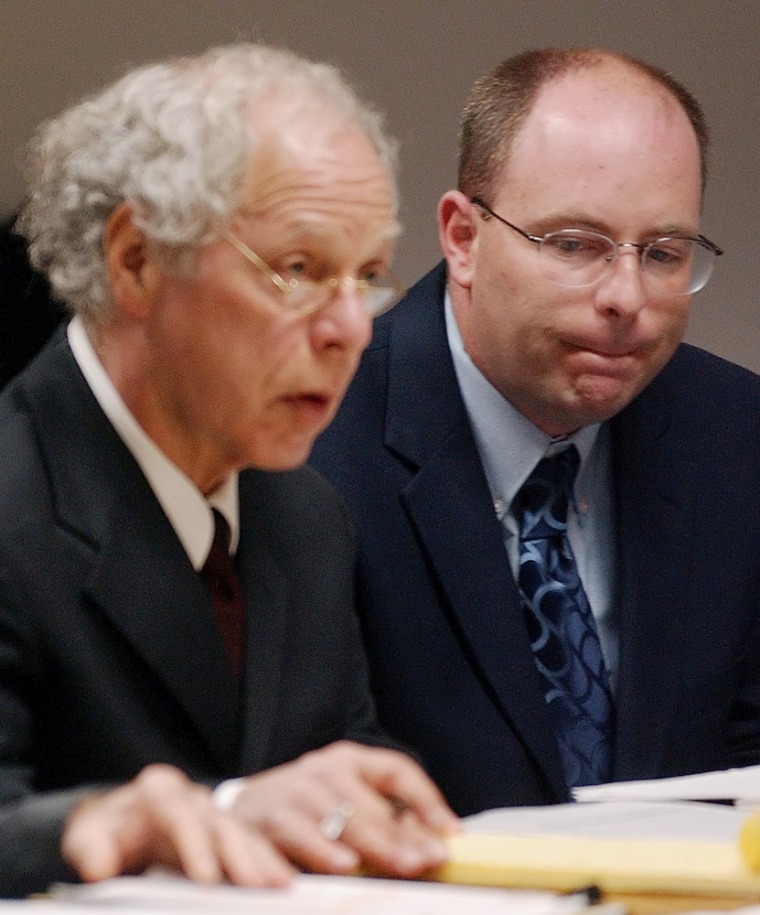 But Alicia Weiss, a baby sitter for Haleigh, testified at a hearing in Strickland's criminal case that she saw Holli Strickland kick the girl down the stairs repeatedly and hit her with a baseball bat. She said she also saw Jason Strickland hit the girl twice with an open hand and once with a plastic stick.
Although he has not been accused of dealing any particular blows to the child, court documents accuse Strickland of watching as his wife abused Haleigh.
His lawyer has insisted his client isn't motivated by the chance he could be charged with murder if the girl dies.
"We should be coming down on the side of life as opposed to death," Egan said.