/ Source: The Associated Press
More than 150 nations agreed early Saturday to launch formal talks on mandatory post-2012 reductions in greenhouse gases — talks that will exclude an unwilling United States.
For its part the Bush administration, which rejects the emissions cutbacks of the current Kyoto Protocol, accepted only a watered-down proposal to enter an exploratory global "dialogue" on future steps to combat climate change. That proposal specifically rules out "negotiations leading to new commitments."
The parallel tracks represented a mixed result for the pivotal two-week conference, doing little to close the climate gap between Washington on one side, and Europe, Japan and other supporters of the Kyoto Protocol on the other.
"These countries are willing to take the leadership," Swiss delegate Bruno Oberle said of the Kyoto nations. "But they are not able to solve the problem. We need the support of the United States — but also of the big emerging countries," a reference to China and other poorer industrializing nations not obligated under Kyoto.
But the Canadian conference president, Environment Minister Stephane Dion, said the decisions taken here amounted to "a map for the future, the Montreal Action Plan, the MAP."
Confronting the threat
The Montreal meeting was the first of the annual climate conferences since the Kyoto Protocol took effect last February, mandating specific cutbacks in emissions of carbon dioxide and five other gases by 2012 in 35 industrialized countries.
A broad scientific consensus agrees that these gases accumulating in the atmosphere, byproducts of automobile engines, power plants and other fossil fuel-burning industries, contributed significantly to the past century's global temperature rise of 1 degree Fahrenheit.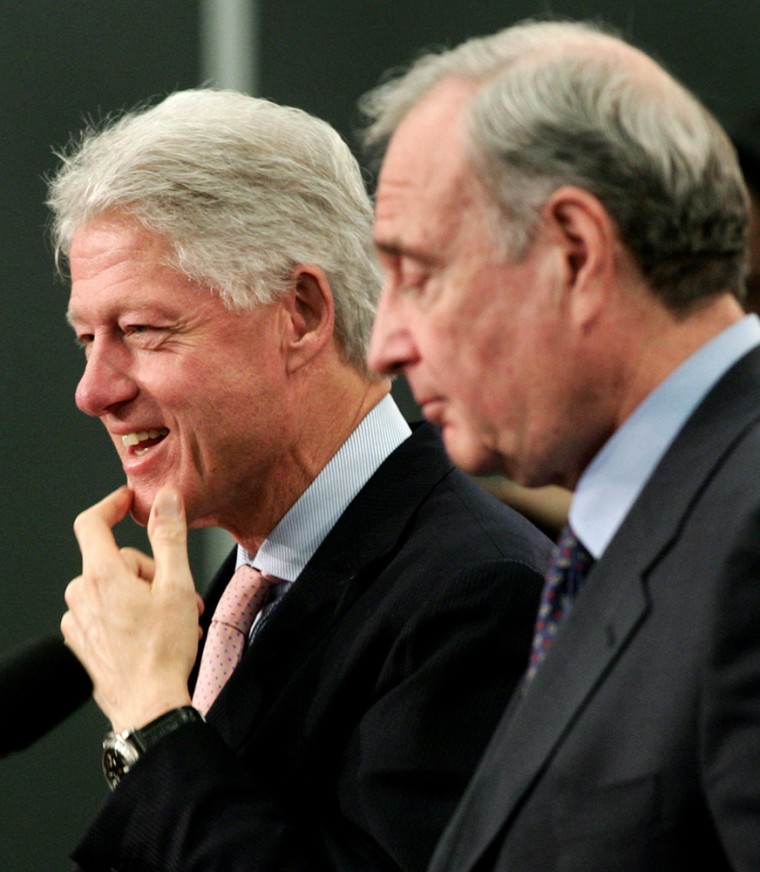 Continued warming is melting glaciers worldwide, shrinking the Arctic ice cap and heating up the oceans, raising sea levels, scientists say. They predict major climate disruptions in coming decades.
Former President Clinton, a Kyoto supporter, appeared at the Montreal meeting on its final day and urged nations to unite to confront the threat.
The United States is the world's biggest greenhouse-gas emitter, and Clinton's vice president, Al Gore, was instrumental in negotiating the treaty protocol initialed in 1997 in Kyoto, Japan — a pact the Senate subsequently refused to ratify.
When Bush rejected Kyoto outright after taking office in 2001, he said its mandatory energy cuts would harm the U.S. economy, and he complained that major developing countries were not covered.
The protocol's language required its 157 member nations at this point to begin talks on deeper emissions cuts for the next phase, which begins when Kyoto expires in 2012.