/ Source: The Associated Press
A powerful earthquake shook Papua New Guinea early Monday, but there were no reports of damage or injuries, a disaster official in the country said.
The quake had an initial magnitude of 6.5 and struck at 12:20 a.m. local time in the New Britain region of Papua New Guinea, the U.S. Geological Survey said.
It was estimated to have been at a depth of six miles, it said. The region is 395 miles northeast of Papua New Guinea's capital, Port Moresby, and 1,440 miles north of Brisbane, Australia.
There were no immediate reports of damage or a tsunami, said Martin Mose, assistant director for community and government liaison at Papua New Guinea's National Disaster Management Office.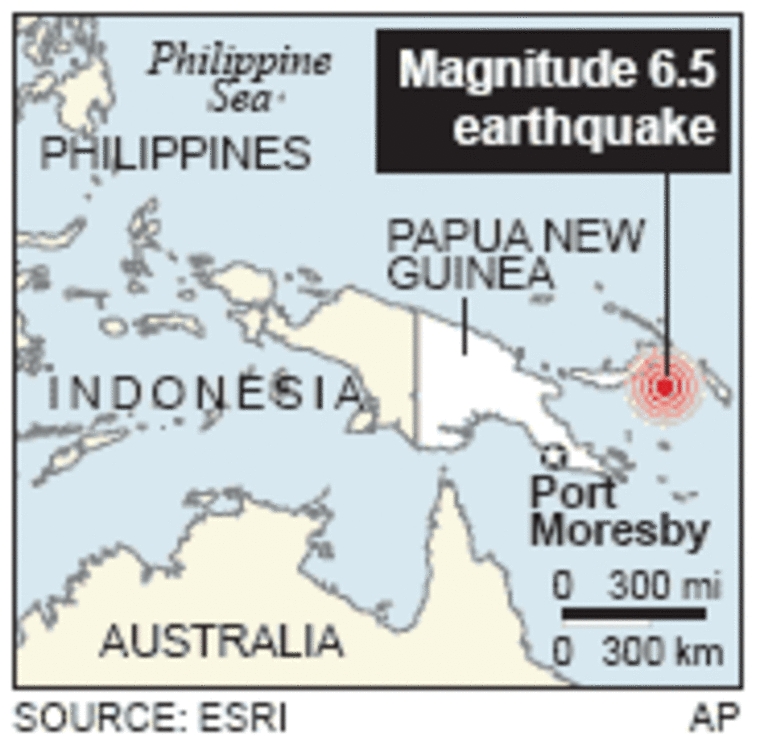 On Thursday, a magnitude 6.1 earthquake hit the northern coast of Papua New Guinea, but there were no reported injuries.
In 1998, a tsunami caused by an undersea earthquake killed at least 2,000 people when it struck the north coast of Papua New Guinea's main island, wiping out dozens of coastal villages in the impoverished nation of 5 million people.