/ Source: The Associated Press
Crips gang co-founder Stanley Tookie Williams maintained his innocence until his death, even when an admission of guilt might have spared him execution for killing four people.
His supporters, too, promised to continue their efforts to prove his innocence, even after the courts and Gov. Arnold Schwarzenegger rejected a flurry of last-ditch appeals.
"The state of California just killed an innocent man," Williams' supporters shouted in unison outside the death chamber just after he was pronounced dead at 12:35 a.m. Tuesday.
Also among the spectators was Lora Owens, stepmother of one of the four people Williams was convicted of killing. "I believe it was a just punishment long overdue," she told ABC's "Good Morning America."
The case had become one of the nation's biggest death-row cause celebres in decades, with Hollywood stars and capital punishment foes arguing that Williams, 51, had made amends in prison by writing children's books about the dangers of gangs.
Outrage in Europe
It also drew fierce criticism in Europe, where politicians in Schwarzenegger's native Austria called for his name to be removed from a sports stadium in his hometown.
"Schwarzenegger has a lot of muscles, but apparently not much heart," said Julien Dray, spokesman for the Socialist Party in France, where the death penalty was abolished in 1981.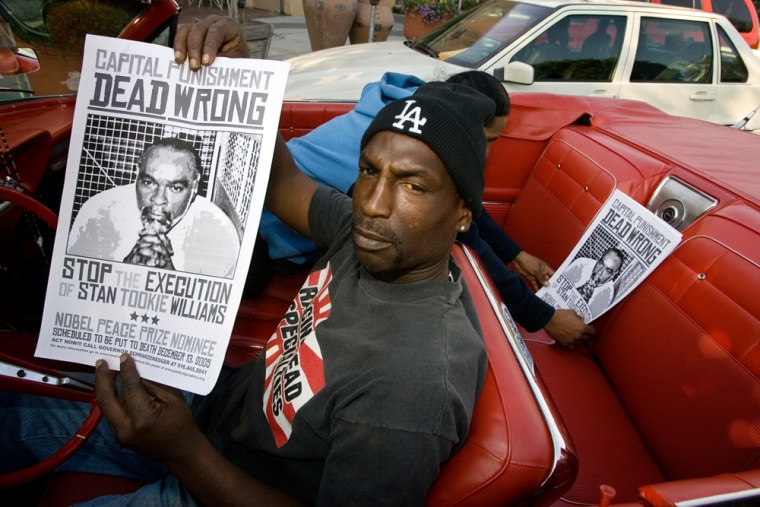 Williams became the 12th person executed in California since lawmakers reinstated the death penalty in 1977.
Both state and federal courts had refused to intervene. At midday Monday, Schwarzenegger denied Williams' request for clemency, saying "without an apology and atonement for these senseless and brutal killings, there can be no redemption."
Schwarzenegger said the evidence of Williams' guilt was "strong and compelling." Witnesses at Williams' trial said he boasted about the killings, saying: "You should have heard the way he sounded when I shot him."
Williams was led into the death chamber at midnight, shackled and handcuffed. He declined to give a formal final statement.
Trouble inserting needle
He seemed frustrated by the time it took officials to insert the intravenous lines into his muscular arms. About 15 minutes after the process began, it sounded as if he asked one of the men struggling with a needle: "You doing that right?"
It took nearly a half-hour to prepare Williams for execution. Then he appeared to stop breathing just moments after a prison official read the death warrant.
After watching her longtime friend die, Barbara Becnel told the crowd of hundreds of protesters gathered outside San Quentin prison's gates that she would prove Williams' innocence and that Schwarzenegger was a "cold-blooded murderer."
She said Williams "was brave and strong and he was everything we believed him to be."
'Cold-blooded murder'
"Tonight is planned, efficient, calculated, antiseptic, cold-blooded murder and I think everyone who is here is here to try to enlist the morality and soul of this country," said Joan Baez, who sang "Swing Low, Sweet Chariot."
However, others were at San Quentin to honor the memory of Williams' victims: store clerk Albert Owens, 26, and motel owners Yen-I Yang, 76 and Tsai-Shai Yang, 63, and their daughter, Ye-Chen Lin, 43.
Debbie Lynch said Williams didn't deserve to be spared because he did not admit his crimes.
"If he admitted to it, the governor might have had a reason to spare his life," said Lynch, 52, of Milpitas.
Williams founded the Crips gang with a friend in 1971. Authorities say the gang is responsible for hundreds of deaths, many of them in battles with the rival Bloods for turf and control of the drug trade.
Whatever luck Williams found on the streets avoiding the law ended in 1979 after the four were killed in a pair of armed robberies that were connected to him and his pump-action shotgun.
Prepared to die
Williams never wavered from his claim of innocence and said he refused to confess to crimes he did not commit, even if doing so would save his life. He said he had redeemed himself while in prison and apologized for starting the Crips.
"There is no part of me that existed then that exists now," Williams said recently during several hours of interviews with The Associated Press. He said that while he wanted to live and continue his work with children, he was prepared to die.
"I haven't had a lot of joy in my life. But in here," he says, pointing to his heart, "I'm happy. I am peaceful in here. I am joyful in here."
The author of children's books was nominated several times for Nobel prizes. He regularly spoke by telephone to students, teachers and community groups about brokering peace in a violent world. His supporters say he saved hundreds of young people's lives.
Albert Owens' stepmother, Lora, was among the outspoken advocates for Williams' execution.
"(Williams) chose to shoot Albert in the back twice. He didn't do anything do deserve it. He begged for his life," she said during a recent interview. "He shot him not once, but twice in the back. ... I believe Williams needs to get the punishment he was given when he was tried and sentenced."