Virgin Galactic on Tuesday began lifting the veil on its vision to send tourists on flights from the desert to the black sky of space — starting out from California's Mojave Desert as early as 2008, then shifting its base of operations to a $225 million spaceport near New Mexico's White Sands Missile Range by 2010.
During a London news conference, Virgin officials said the company would lease facilities at New Mexico's Southwest Regional Spaceport for a 20-year term, with annual payments of $1 million for the first five years. After that time, the payments would be "scaled to the success" of the operation, Virgin Galactic spokeswoman Jackie McQuillan told MSNBC.com.
"Without doubt there will be other space tourist businesses using the New Mexico spaceport," McQuillan said. Several other space companies — including another British-based rocket firm, Starchaser Industries — already have announced plans to launch from the future spaceport at Upham, N.M., 45 miles (72 kilometers) north of Las Cruces.
Work has not yet begun on the 27-square-mile site, but New Mexico officials have laid out the timeline for the obtaining of a federal spaceport license during 2006, the start of construction in 2007 and completion in late 2009 or early 2010.
New Mexico's financing plan, as well as various designs for the spaceport, are to be revealed at a Santa Fe news briefing on Wednesday, with New Mexico Gov. Bill Richardson and Virgin Group chairman Richard Branson in attendance.
Closely watched
Virgin Galactic is the most closely watched player in the infant suborbital tourist industry — partly because of Branson's high-profile backing, and partly because the company's fleet of five spaceships will use the technology pioneered last year by the SpaceShipOne rocket plane, the first privately developed craft to reach the fringe of outer space.
Like SpaceShipOne, Virgin's rocket plane would be brought to high altitude by a carrier airplane, then dropped into the air for launch to heights greater than 62 miles (100 kilometers). Passengers would experience a few minutes of weightlessness, see a curving Earth beneath a black sky, and feel several G's of acceleration. The flight would serve as the climax of a $200,000 tour package.
Virgin says more than 38,000 people from 126 countries already have registered their interest in buying a ticket, and up to 100 "Founders" have committed to paying the full $200,000 fare upfront for the first available seats.
In a company statement, Virgin Galactic President Will Whitehorn said several factors made the New Mexico site "an ideal operations base": steady climate, wide-open airspace, low population density, high altitude and stunning scenery.
"Our team was highly impressed by the professionalism and the competitive pitch the state and its advisers developed," Whitehorn said. "We look forward to working together to make the 'Final Frontier' a reality for tens of thousands of pioneering space tourists."
What about California?
The "SpaceShipTwo" planes are currently being developed by SpaceShipOne designer Burt Rutan and his team at Scaled Composites, based at Mojave, Calif. The schedule calls for Virgin's commercial flights to begin in late 2008 or early 2009 at the Mojave Airport, which has already won its federal spaceport license and served as the base for SpaceShipOne's flights.
Mojave Airport manager Stuart Witt told MSNBC.com that he applauded Richardson's efforts in "achieving critical mass for the state of New Mexico and making this a state agenda." But Witt also said Mojave intended to stay in the competition for commercial space dollars.
"Mojave's in this business," he said. "We're not leaving this business."
He pointed out that Mojave was the home base for Scaled Composites as well as XCOR Aerospace, the only other company to win a federal launch license for manned suborbital spaceflight.
"We must utilize the next three to five years and a 30- to 50-flight test program to demonstrate the compatibility of operating airports with suborbital space vehicles, at least the ones that are licensed to fly at Mojave," he said.
Witt said there would be enough room in the space tourism market for Mojave as well as New Mexico's site and others as well. Among the other locales being contemplated for passenger spaceflights are Oklahoma, Florida, Texas and Ontario.
Looking far, far ahead
During Tuesday's news conference, Virgin Galactic highlighted a couple of its future customers, including British advertising guru Trevor Beattie. The Associated Press quoted Beattie as saying he wasn't concerned about the safety of the launch.
"My only concern is that the longer they leave the launch, the more likely we all are to be hit by a bus," Beattie joked.
Virgin Galactic also unveiled a spaceport concept suggested by French designer Philippe Starck, another paid-up passenger-to-be. The concept, which called for most of the facilities to be built underground, was highlighted by New Mexico Economic Development Secretary Rick Homans. However, Virgin's McQuillan said the concept was merely one of several possibilities.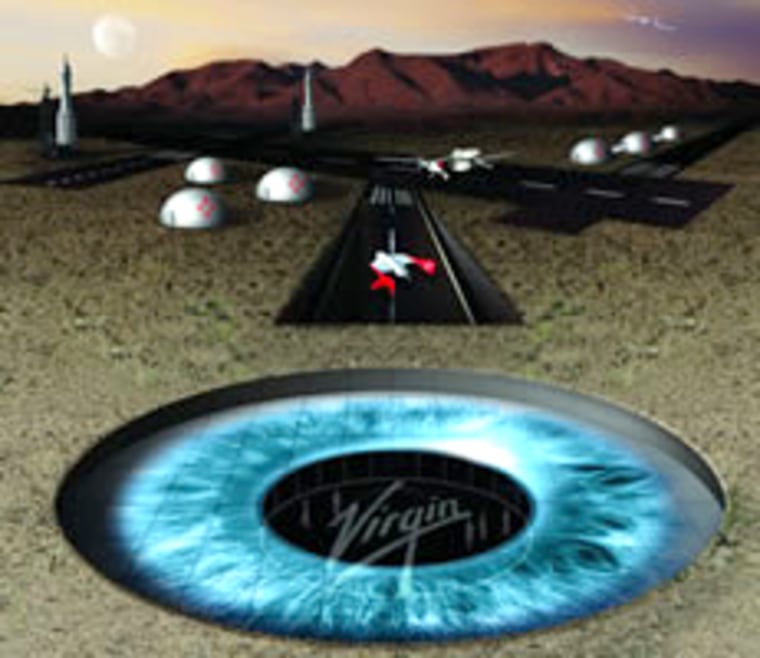 In conjunction with GBH Design Ltd., Starck contributed a new "visual identity" for Virgin Galactic as well: a logo incorporating the iris and pupil of a human eye, with the corporate Virgin script at the center. "When I look at the logo I am reminded of childlike awe," Branson said in a written statement. "I believe it represents all those who will watch and be a part of the growth of this amazing new commercial aviation sector."
McQuillan said she expected that the New Mexico spaceport would be designed to accommodate orbital trips as well as the suborbital flights currently planned.
"Without doubt they are looking at this as a long, long, long-term facility that New Mexico will provide," she told MSNBC.com. "Our plan at Virgin Galactic is that we will start with suborbital, and then move to orbital."