New Mexico's plan to build a $225 million spaceport calls for the state Legislature to contribute $100 million in new money over the next three years — the "cornerstone" of an effort that could open up outer space to thousands of paying customers over the next decade, Gov. Bill Richardson said Wednesday.
The balance would come from state funding already approved, as well as federal and local funds, said Rick Homans, New Mexico's economic development secretary. New Mexico's political leaders said the investment would bring a return in the form of thousands of new jobs as well as heightened prestige.
"What we are calling the second space age will open up a wide range of commercial opportunities, including point-to-point cargo delivery, with personal and business travel," Richardson said, during a Santa Fe news briefing that provided New Mexico's perspective on the ambitious spaceport plan.
Work has not yet begun on the proposed 27-square-mile site, which is on state-owned lands near the White Sands Missile Range, 45 miles (72 kilometers) north of Las Cruces. However, New Mexico officials have laid out a timeline for the obtaining of a federal spaceport license during 2006 and the start of construction in 2007.
The "anchor tenant" of the 27-square-mile facility is to be Virgin Galactic, which intends to offer suborbital spaceflights starting in late 2008 or early 2009. The very first flights will take off from Mojave Airport in the California desert, but Virgin will move its base of operations to New Mexico after the new Southwest Regional Spaceport is finished, in late 2009 or early 2010.
Homans said Virgin Galactic would take out a 20-year lease on facilities at the spaceport. The company would pay $1 million a year for the first five years, then the payment and user fees would rise with the aim of paying off the spaceport cost over the remaining 15 years, Homans said.
Virgin Galactic spokeswoman Jackie McQuillan had a slightly different view, telling MSNBC.com that payments after the first five years would be "scaled to the success" of spaceflight operations. Virgin Galactic's president, Will Whitehorn, said Wednesday that the detailed terms of the lease still had to be negotiated.
Closely watched player
Virgin Galactic is the most closely watched player in the infant suborbital tourist industry — partly because it's backed by the Virgin Group's flamboyant billionaire chairman, Richard Branson; and partly because the company's fleet of five spaceships will use the technology pioneered last year by the SpaceShipOne rocket plane, the first privately developed craft to reach the fringe of outer space.
Branson took a marathon flight from Australia to be in New Mexico for Wednesday's briefing.
"Of all the projects that I've worked on in my life, of all the businesses I've started, this is by far the most exciting," he said. "This business will mark a milestone in world history, and it will launch a new space industry — a private space industry, driven by innovators and entrepreneurs and new technologies and bold thinkers."
Many of the details surrounding the plan came out on Tuesday during a Virgin Galactic briefing in London. However, Wednesday's briefing in Santa Fe provided new information about the state's financing plan.
As outlined by Richardson and Homans, the key piece of the puzzle is the $100 million in capital outlays yet to be appropriated by the state Legislature. During the briefing, House Speaker Ray Lujan and Senate President Pro Tem Ben Altamirano voiced their support for the spaceport. "We're excited to be part of the project," Altamirano said. "It's like a Christmas present to all of New Mexico."
Homans said the project would take advantage of an additional $35 million already set aside by the Legislature for upgrading transportation and runways. He said New Mexico's congressional delegation would seek federal backing as well, because the project would benefit the nation as well as the state of New Mexico.
The spaceport could someday become the base for commercial flights into orbit, with space hotels and private research facilities as destinations, he said. "Development of this private industry in New Mexico will allow NASA and other international government space agencies to focus their efforts on exploring the further reaches of space, including manned travel to Mars and beyond," Richardson said.
Homans said New Mexico's financing plan also depends on revenue from a new gross-receipts tax that would have to be enacted by local governments in southern New Mexico. The local tax could generate $10 million to $12 million a year, he said.
"That piece still has to be worked out, depending on what kind of support comes from southern New Mexico. ... We've got more work to do there," Homans said.
Underground facilities?
Virgin Galactic's Whitehorn said the current concept for the New Mexico spaceport called for building most of the facilities underground, to preserve the desert landscape as well as to save water and energy. One artistic rendering showed electricity-generating solar arrays built in the shape of Virgin Galactic's new iris-shaped logo.
If geological problems ruled out going underground, "this same design can be highly efficient above ground as well," Whitehorn said.
Alex Tai, Virgin Galactic's director of operations, emphasized that the concepts were still subject to change. "We have no concrete ideas, we just know that we want to do something beautiful," he told reporters.
Whitehorn said up to three flights a day would take off from the New Mexico facility.
The Virgin spaceship system would be a scaled-up version of the White Knight carrier airplane and SpaceShipOne rocket plane designed by Burt Rutan and his team at Scaled Composites in Mojave, Calif. "SpaceShipTwo" is currently being developed in Mojave, and eventually Scaled Composites will deliver five of the spacecraft under the terms of a partnership with Virgin.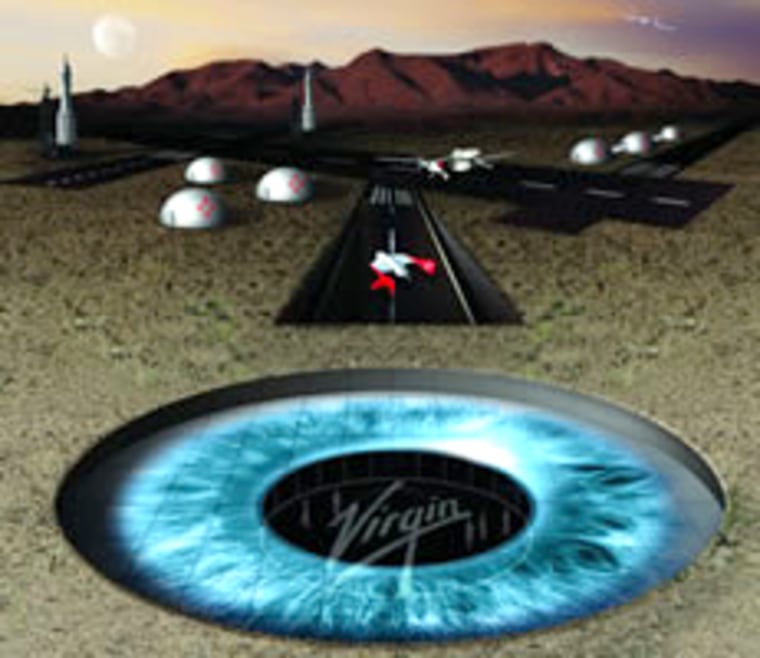 Like SpaceShipOne, Virgin's rocket plane would be brought to high altitude by the carrier airplane, then dropped into the air for launch to heights greater than 62 miles (100 kilometers). Passengers would experience a few minutes of weightlessness, see a curving Earth beneath a black sky, and feel several G's of acceleration. The flight would serve as the climax of a $200,000 tour package.
Virgin says more than 38,000 people from 126 countries already have registered their interest in buying a ticket, and up to 100 "Founders" have committed to paying the full $200,000 fare upfront for the first available seats. One of those Founders, actress Victoria Principal, said during the Santa Fe briefing that her flight would be "a dream come true."
"We're on the era of a new form of transportation and a way of life that we've never known before," she said, "so I'm very proud and very thrilled to be a part of this, and I hope to share my space journey with you."
Why New Mexico?
Whitehorn said his company passed over other potential spaceport sites — including Mojave Airport — in part because of New Mexico's favorable climate, open airspace and low population density. The New Mexico site is projected to have weather suitable for launch on up to 340 days out of the year, Whitehorn said. In contrast, Mojave's winds and the airspace needs of nearby Edwards Air Force Base might interfere with Virgin's operations, he said.
The fact that few people live around the New Mexico spaceport site means there will be less risk to the "uninvolved public" — which should be reassuring to regulators as well as insurance providers, Whitehorn said.
Whitehorn said Mojave would continue to serve as Virgin Galactic's test and development center, because of Scaled Composites' role in building the planes as well as the Mojave area's decades-long prominence in flight testing.
In a statement, Scaled Composites congratulated Virgin Galactic and New Mexico on the new deal. "The new industry's expected volume will require multiple sites," Scaled Composites said, "and New Mexico's planned space-dedicated facility will be a key element in building this expanding business."
Mojave Airport manager Stuart Witt also paid tribute to New Mexico and Richardson's efforts. But Witt told MSNBC.com that his facility — which received its federal spaceport designation more than a year ago — would remain competitive in the commercial space race. On the issue of Mojave's winds, he pointed out that not one of SpaceShipOne's test flights had to be scrubbed due to weather.
"Mojave's in this business," he said. "We're not leaving this business."