/ Source: The Associated Press
Donor fatigue? Not this year. Even after the outpouring of donations for the Indian Ocean tsunami and Hurricane Katrina, holiday giving is robust this season and 2005 could well set an overall record, U.S. charity officials are reporting.
"It seems to be a phenomenal year," said Stacy Palmer, editor of the Chronicle of Philanthropy. "Donor fatigue is something not many charities are seeing."
By any measure, it's been a year of immense challenges for relief groups, and donors have responded. The year began with Americans pitching in to help faraway victims of the tsunami; those private gifts added up to $1.6 billion. Later came Katrina, the nation's worst natural disaster of modern times, prompting donations that are nearing the $3 billion mark.
Some charities feared their holiday season fundraising would suffer as donors decided they had given enough. Thus far, however, end-of-year giving is generally strong, although some local charities remain worried because they have more needy people to serve.
Some food banks are hurting
Indeed, in contrast to financial donors, food-bank donations at some larger U.S. cities has been down sharply, with food bank officials faced with the dire scenario of less food available, and more people who need it.
In Lansing, Mich., for example, more than 2,200 residents have applied to get donated toys and groceries this season — up 20 percent from last year. And the local Salvation Army branch had to turn away hundreds of families after exhausting a fund to help pay utility bills.
"People have been incredibly generous," said John Keightley, a spokesman for Catholic Charities USA. "But as we hit the giving season, our local agencies are nervous whether they're going to meet their goals. We're all challenged to stretch, to think about people who don't have enough."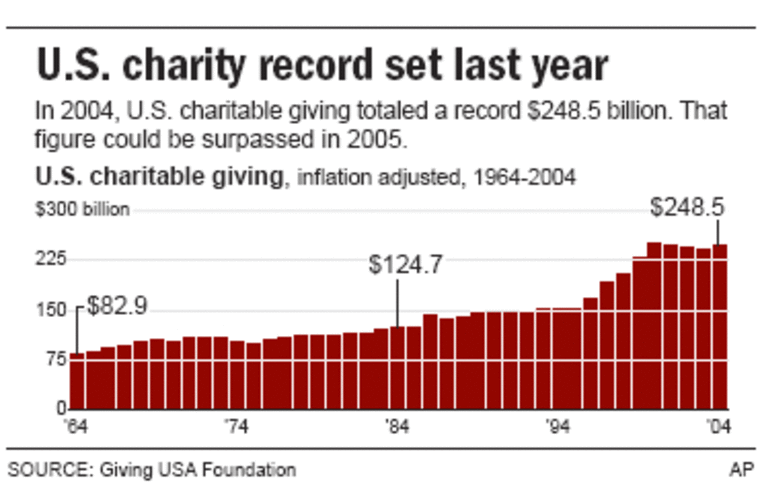 In Omaha, Neb., the Salvation Army branch says it is running slightly ahead of last year's pace in seeking a record $2.2 million for its holiday campaign — coincidentally the same amount the Army raised in Omaha in response to Katrina. The holiday funds assist hometown poor with heating bills, and provide them with mittens and winter hats.
"We had some donors say they couldn't afford to give as much at the end of year because of Katrina, but we also have new donors because of it — who saw we were doing good work," said spokeswoman Susan Eustice.
Hurricane relief outpaced other appeals
The Salvation Army was among several national charities raising more in response to this year's hurricanes than for any previous disaster — $295 million compared to $86 million after the Sept. 11, 2001, terrorist attacks. Catholic Charities has received $133 million for hurricane relief, compared to $32 million for Sept. 11.
All such figures were dwarfed by the hurricane relief fund of the American Red Cross, which has surpassed $1.8 billion — a record for any U.S. charity for a specific disaster campaign.
Kathleen Loehr, a vice president of development for the Red Cross, said Wednesday that some of the charity's chapters in hurricane-hit areas were facing shortfalls in regular donations, but the rest of the 826 chapters were reporting strong year-end giving. Overall figures were not yet available, she said.
Red Cross under fire
With the Katrina funds came extra responsibilities for the Red Cross, and criticism over aspects of its response.
On Tuesday, Red Cross President Marsha Evans announced her resignation because of conflicts with the board of governors, and participants at a congressional hearing questioned whether the charity's special status to lead disaster responses should be maintained.
Such criticism "is difficult to swallow," said Kate Forbes of Phoenix, national chair of volunteers for the Red Cross. "At the same time, we're very proud of the volunteers who left their homes to help people they might never see again. They were as anxious to help as if it had been their neighbor across the street."
In 2004, U.S. charitable giving — including gifts to churches, schools and health organizations — totaled a record $248.5 billion, according to the Giving USA Foundation.
The foundation's vice chair, Dell Martin, said the record could be broken in 2005.
"If you look historically at years with disasters and catastrophes, giving hasn't fallen," she said. "Americans have shown that when there's something extraordinary, they step up to the plate."
Tax break for big donors may be helping
The total also could be boosted by a special one-time tax break for major donors enacted by Congress in Katrina's wake. Charitable deductions normally can't exceed 50 percent of a donor's adjusted gross income; this year, donors can deduct gifts up to 100 percent of adjusted income.
"We're definitely hearing of sizable individual gifts that wouldn't have come otherwise," Martin said.
By nature, though, charity experts are cautious.
"This year could be a record year," said the Chronicle of Philanthropy's Stacy Palmer. "Then the question is how does 2006 go? Will we see people who made million-dollar gifts to get the tax break maybe not so willing to give next year?"