Not everyone needs or wants a $400 portable music device. That's particularly true if you're looking for something to let you listen to your tunes while you work out. Fortunately, there are plenty of lightweight MP3 players that will let you sweat to the oldies without sweating a big price.
Another bonus: These music players use flash memory chips to store your music instead of a hard drive. That means no moving parts — which means that if you trip on the treadmill and your player goes flying, it's a lot less likely to break.
For the most part, the main differences between a $50 flash player and a $100 one are how much memory is built inside and maybe a feature or two. The more memory the more music you can store. As for features, that depends on what is offered and what you really need.
Want to get the most bang for the buck?  Think about the RCA Lyra. It's small and cute, with a very readable LCD display.  Inside there is only 256 MB of memory but you can always add more storage with an optional SD/MMC card. It comes with a USB cable, sports armband, headphones and a battery.
Best part is the price. I saw it at one national retailer for $59.99 and a $20 mail-in rebate, a total of $39.95. Hard to beat.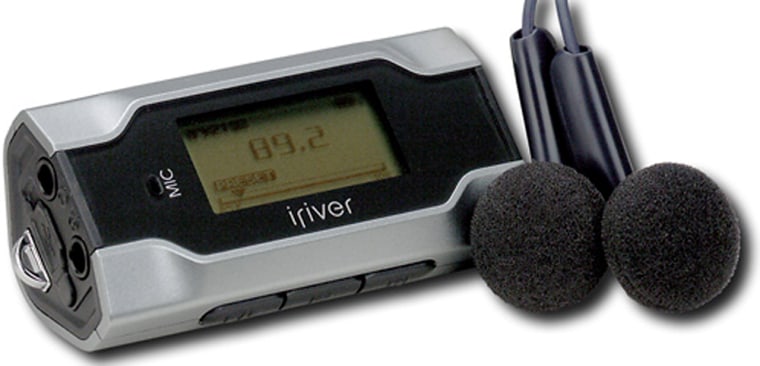 The next step up are players with about double the built-in memory and near double the price. The iRiver T30 has 512MB of memory — aboutt 120 songs or 8 hours worth of music (although very compressed files can sound hollow and usually leave a lot to be desired). It also has an FM tuner and a built-in microphone to make live recordings (for instance in the classroom.) The single AAA battery is said to last as long as 19 hours. The iRiver has been discounted by some online retailers to $65 after rebates.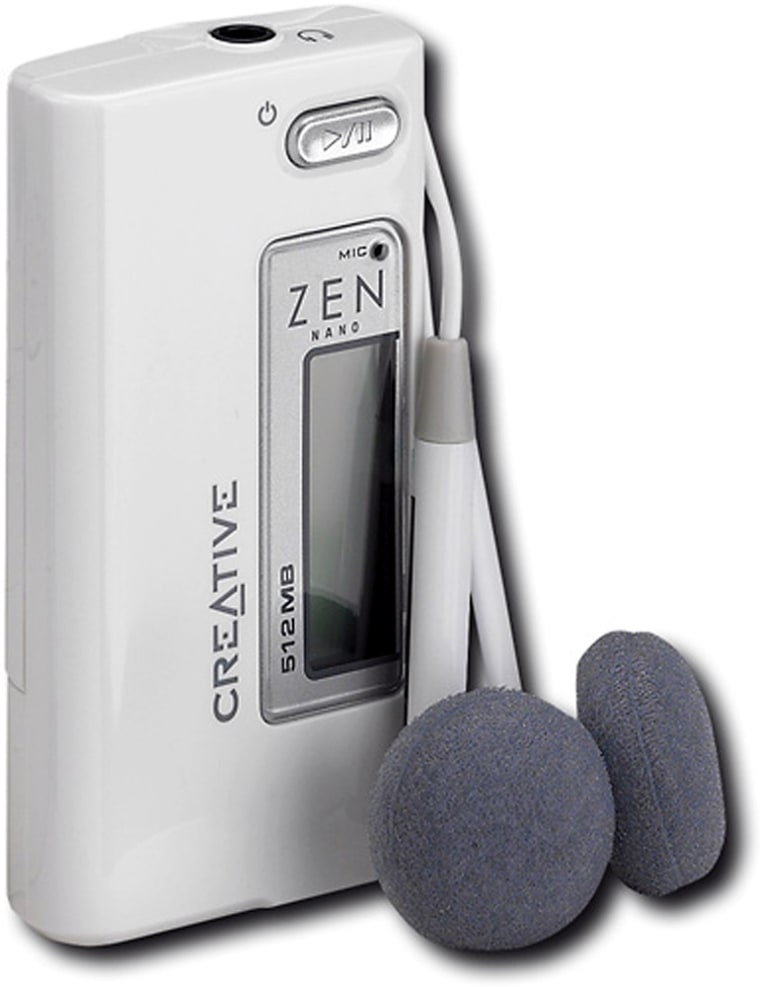 In the next most expensive group there are a lot of entries to choose from, all hovering around the hundred dollar mark. 
One such device is Curative's Zen Nano. Small (2.5 inches long), thin and lightweight (2.2 ounces), the Zen Nano is a favorite of many users.  There's 512MB of memory inside and Creative claims their 512 MB will hold as many as 256 songs — a lot more than iRiver' 512 MB. Again, however, I ask you to please not overcompress your music. 
The Zen Nano supports MP3 and WMA (Windows Media) files. It currently sells for around $100. I've seen it on sale from one national retailer for $10 less.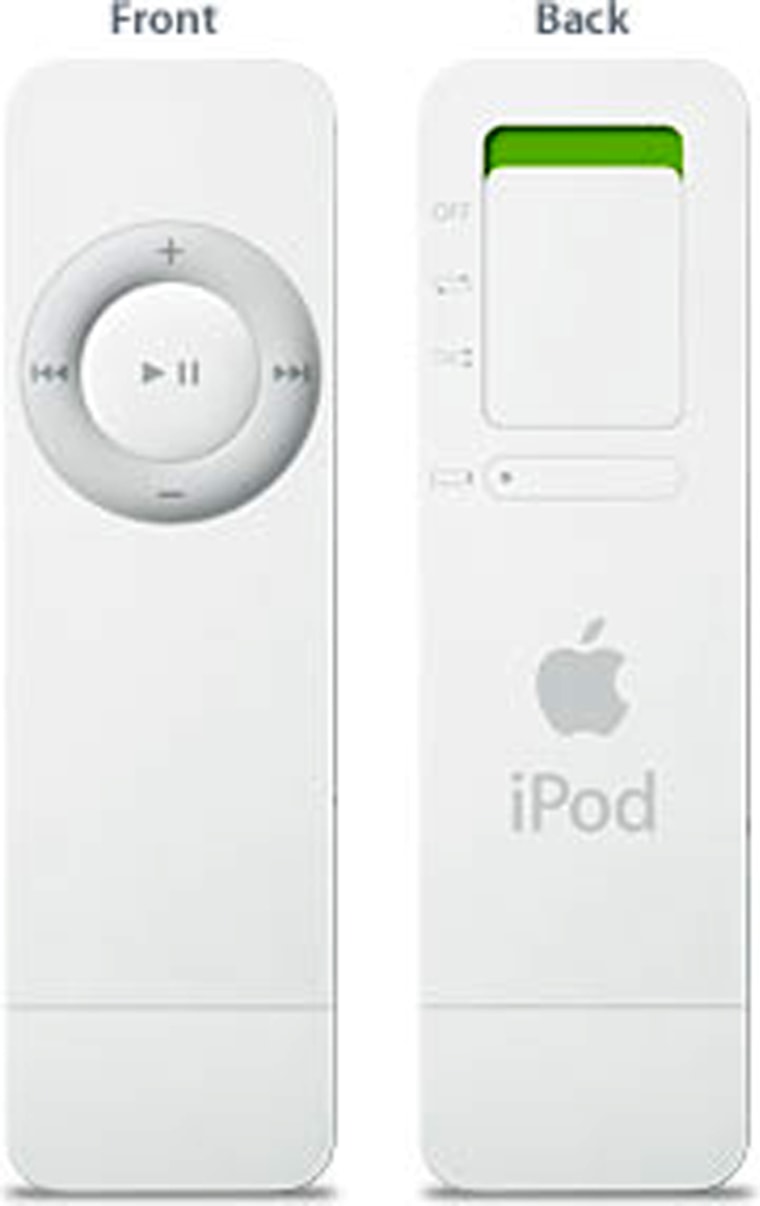 At the same price point is Apple's iPod Shuffle. Very small and thin, the $99 Shuffle also has 512MB of storage. But to keep it tiny (less than one ounce) Apple left out a visual display. You have to guess/remember what's on your Shuffle — and in what order. On the other hand, most people just turn their music on and let 'er rip, so a display might not be necessary.
Apple says its 512MB Shuffle holds 120 songs. A better value is the 1GB version, which is very well priced at $129. Don't expect to find discounts on Apple products, though.
Any portable music player will sound better with a good set of headphones.  Think of upgrading to a premium ear speaker, such as Shure's E2c ($99); it sounds so much better than what you get for free with your portable player.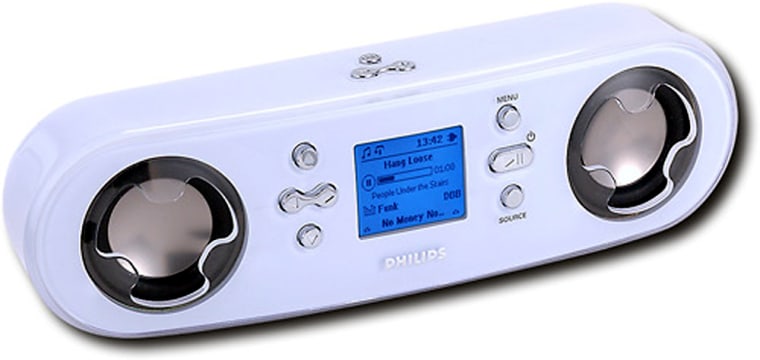 Finally, if you hate earphones how about an MP3 player with speakers? Philips makes a 256MB flash player/FM radio boom box-type device with a 5-line display, a built-in rechargeable lithium-ion battery (up to 10 hours of playback), and a built-in alarm clock with sleep timer, an AC/DC adapter and a set of stereo speakers. It's called the ShoqBox and you can find it for just under $100 on the Web and at retail stores.