• |
What were the stories that users clicked on most on Dateline online? We've compiled the top 10 most-clicked pages of 2005.
Click here to see what was most-clicked on MSNBC.com.
Happy New Year from all of us here at Dateline.
• |
Top rated story!
Our "Dateline" story on people's memories of slain Beatle John Lennon was the Top Rated feature on MSNBC.com this year! Rounding out the top 25, "Children of War in Uganda."
Click here to see more of MSNBC.com's top rated features.
• December 30, 2005 |
Tonight, two Dateline-Court TV exclusives: Little boy lost
A child named Jacob was just two weeks old when he vanished, taken from his home in the middle of the day. His mother says it was an accident, but prosecutors say it was murder.
The search for the missing baby and the truth will take two trials, some extraordinary twists and turns, and raise the question, even now: Has justice been done? Dateline's Hoda Kotb reports.
Also, another Dateline-Court TV exclusive: Death in the heartland
It's a legal thriller right out of John Grisham, in a small-town right out of Norman Rockwell: A valuable piece of land pit neighbor against neighbor. They met in a dramatic showdown at dawn where one farmer died-- a killing that rocked a rural community in Iowa.
Then came the showdown in court. Dateline's John Larson has the story.
Join us for a special Dateline Friday at 8 p.m./7 C. 
• |
Fighting cancer... and an ID thief (Susan Leibowitz, Dateline producer)
Eric Drew was the victim of identity theft while fighting cancer. This story is the rare TV news report that is about a lot of things:  it's about cancer; it's about identity theft; it's about charity and what the giver gets out of giving… and it's about determination.  It's also about credit cards and how easily they're given out. It's about the vulnerability of being a hospital patient… really it's about a guy named Eric Drew — who fought his cancer and fought a bad guy who was stealing from him.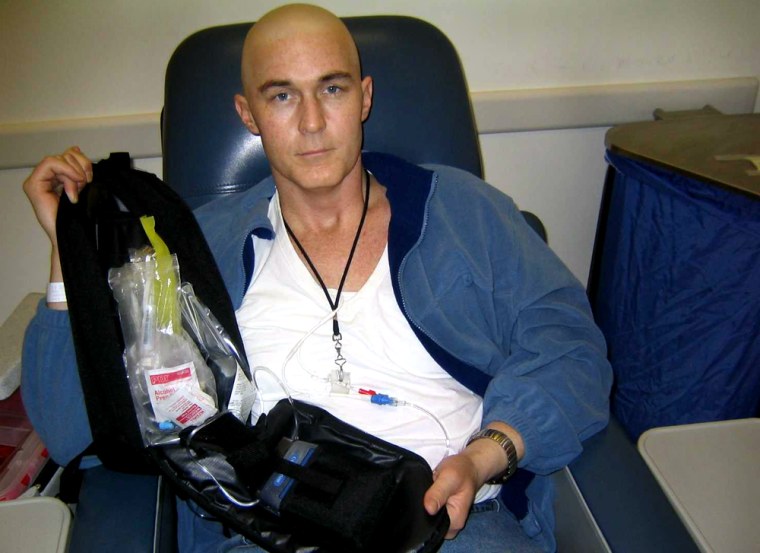 I'm very excited that this story is running. I don't want to give away too much of the story here as Josh Mankiewicz and I spent a lot of time putting the thing together for television.  But here's some background on how the story came together, as well as a few interesting tidbits that didn't make air:
A few days after I saw a tiny wire story about a guy with cancer who had his identity stolen, I found myself on a plane to Minneapolis to meet him. When I first met Eric, he was still quite sick. In fact, if any of us in the Dateline crew had had even a slight cold, we would not have been allowed into the leukemia ward. People with leukemia have no resistance to illness and a cold can even become deadly.  I popped a lot of vitamin C, just in case.
We shot for a couple of hours at the leukemia ward of the University of Minnesota Medical Center, Fairview.  That b-roll (footage, as opposed to an interview) of Eric from that day is the only footage we actually had of him at the hospital and that was his last day in the hospital.  Paul Venus, the editor, used nearly every inch of that hospital b-roll.
In television, you can't tell a story without pictures, but usually we don't know about the story until things have already happened. For example, a firefighter makes a daring rescue, we want to tell the story of that hero even though we weren't at the rescue. In this case, Eric got sick about a year before my first phone call.   Paul, the editor, put a special effect on the video of Eric in that hospital bed to clue in the audience that the video of him is somewhat representational… so when we see him in a bed and we say, he checked into Stanford University Medical Center, the video looks grainy and sepia-toned to indicated this ISN'T specifically at that moment.  You tell me if that "keying – in" really keys you in!  It's better than stick-drawings (though that could be entertaining with a less serious topic.)
Paul tells me the cameraman deserves a gold star. Paul does as well for helping communicate with limited images the struggle of fighting a terrible disease and identity theft at the same time.
In Eric's story, one thing I found really interesting is that when he started to receive notices and phone calls from credit companies wanting to confirm that he'd asked for a new credit card, Eric called right away and told them he didn't order them. Yet, except for Capital One, the credit card companies wouldn't suspend the cards or investigate what was going on without a written affidavit — which Eric wasn't up to doing.
Why not just be extra cautious? The credit card companies wouldn't answer that question when Dateline called, but one credit card security expert told me that hospital patients, in general, get no sympathy from credit card companies. He told me that saying, "I have cancer. I'm in a hospital bed," actually makes the credit card companies more suspect, because in this country people with cancer often go broke and don't pay off their cards.  It was quite a statement about the state of health care in America…. and fodder for another story (alas not this one).
We hope you tune in to Dateline, Dec. 25, 7 p.m. and let us know what you think.
E-mail Dateline@MSNBC.com.
• December 23, 2005 |
Hospital ID theft: How to protect yourself (Bob Sullivan, Red Tape Chronicles on MSNBC.com)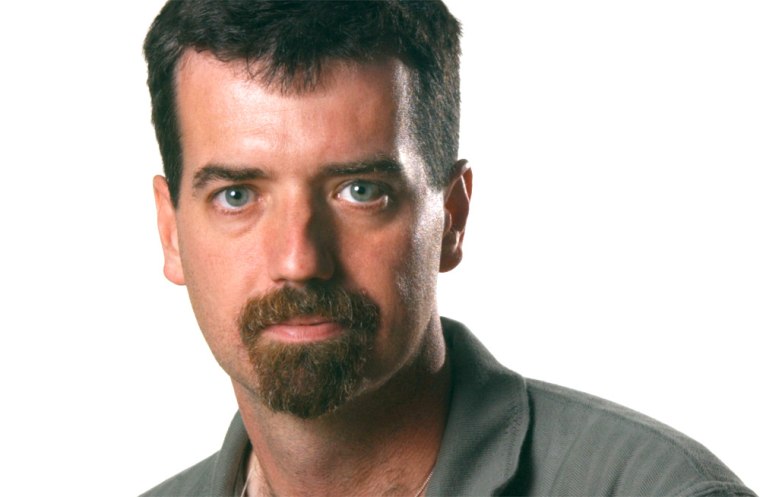 It is an almost unthinkable crime, to steal from the sick and dying.  And yet we all know it happens. I remember as a child hearing my parents discuss leaving a family member at home during funerals, to ward off any would-be burglars.  Burglars, they said, read the obituaries, too — and know exactly when the entire family will be busy elsewhere.
So it should not be surprising that identity criminals target the dying or the dead. Still, it's hard to imagine until you see it for yourself.  On Christmas night, you will. Dateline NBC will tell the incredible story of a man sick with a terrible form of leukemia, a man literally days from his death — and the repulsive crime he suffered while enduring everything else that comes with cancer.  Eric Drew's identity was stolen by a hospital worker. While Drew was gasping for life, his imposter was living it up on fraudulent credit cards.  After all, the criminal must have thought, Drew was hardly in a position to complain.
This might not seem like happy holiday material, the story of this despicable deed, but au contraire. Dateline's Josh Mankiewicz will take you on a redeeming tale of hope, persistence and eventually, justice.  I won't give away too much, but you'll be amazed at how this time, the good guys come out on top.
But when you watch, you will no doubt be wondering: Could this happen to me? The answer is, quite clearly, yes.
Dateline airs Sunday, 7 p.m./6 C.
• |
Fake firefighter caught (Ann Curry, Dateline anchor)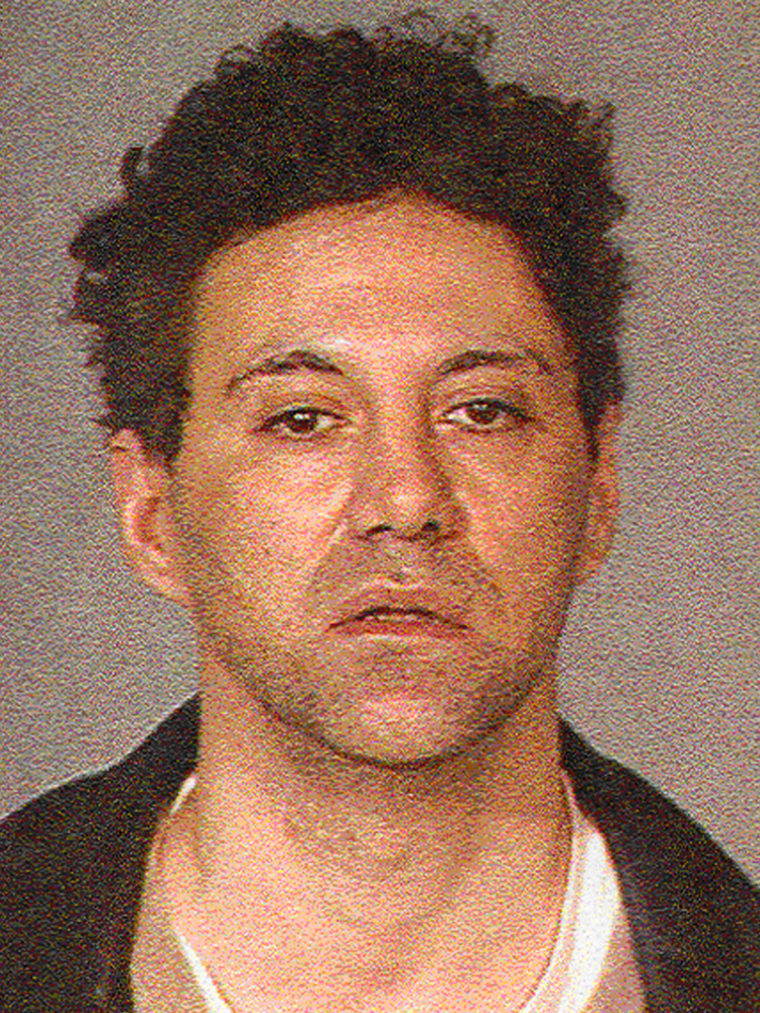 Earlier this month, we told you about the nationwide manhunt for Peter Braunstein, a man suspected of carrying out a highly scripted sex attack on Halloween night.
Police say Braunstein set a fire in the New York apartment building of a woman he'd targeted, then presented himself as a rescuer.  Police say Braunstein held his victim captive for hours, tying her up and tormenting her.
On Friday, after a six-week manhunt, Braunstein was captured in Tennessee. Police say when officers approached him, he stabbed himself in the neck. 
He remains in the hospital but is expected to be well enough to appear at his scheduled arraignment Monday in Memphis.
Police say Braunstein is expected to be charged with kidnapping and sexual abuse.
• |
A new mom at 57 years old
In November 2004, three days shy of her 57th birthday, Aleta St. James gave birth to twins — a boy and a girl — at Mount Sinai Medical Center in New York City.
Being the oldest American mom to have children, Aleta says, "Even though I'm of a certain age, and there are some people who might think that this is selfish, or that I'm crazy... well, I'm a little bit crazy. I have never lived in a box.  If you have a dream and you want to accomplish it, don't listen to other people's negativity and limitations... you can really manifest the most incredible things."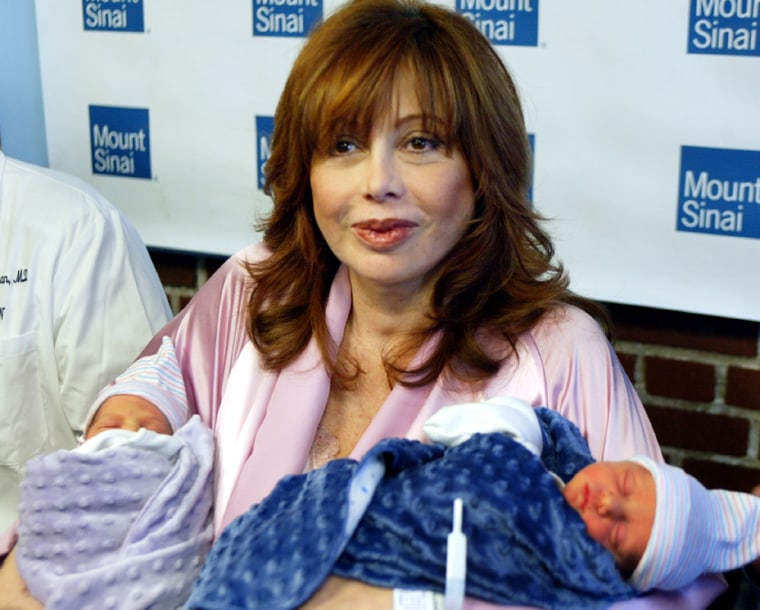 Some people have questioned Aleta's decision. For example, Dr. Arthur Caplan, a prominent bioethicist wrote "If you talk to children of older parents, most will tell you that they worry quite a bit about whether their parents would live to see them graduate from high school. Is it really the case... that it's never too late and that you are never too old to parent?"
"The doctors to whom she paid more than $25,000 for the treatments that resulted in her pregnancy apparently did not think she was too old. And her family, as well as a gaggle of reporters, deemed her upbeat answer (in addition to her healing work, St. James is a motivational speaker) a more-than-sufficient response. Her father, who is well into his 80s, said that he now has two big reasons to want to keep on living.
It is hard to even raise this question without seeming like a moral busybody. What right does anyone have to challenge the reproductive decisions of another person? But... if decisions as important as when to have children are not open to ethical comment and discussion, then what is worthy of ethical analysis?"
On Sunday, Dateline airs Katie Couric's interview with Aleta to discuss her incredible focus and determination to have children in her 50s.
Below, watch web-exclusive video clips of Curtis Sliwa, Aleta St. James' brother. Sliwa is a New York radio personality who founded the crime-fighting group the Guardian Angels.
Also below is a video clip from the twins' first birthdays. Gian and Francesca Sliwa celebrated at My Gym, a children's play center.

Katie Couric's interview with Aleta St. James airs Sunday, Dec. 18, 7 p.m. on 'Dateline.'
I had my only child at 23, which is as I believe a perfect age. Would I still have done it if I was 43? No way. 33, maybe. 57? My thoughts wouldn't be raising a child, but planning retirement and time for myself. Maybe if I had the urge to be a mom that bad and have something to nurture, I'd get a dog. I had my only child at 23, which is as I believe a perfect age. --Leah Senarighi, Duluth, Minn.
I strongly agree that if a couple decided to attempt to raise a child at a point in the life cycle whether the age is 21 or 57 given the desire and technological advances of modern medicine may GOD bless them. People should be applauded for this great blessing. No one should be scutinized of there decision to conceive.Truly, later we will not to be able to drive at 65. Why? I say go for it!!!! --Jerome Shoemaker Sr., Savannah, Ga.
Since fatherhood is not limited by age, motherhood should depend on a woman's decision. Young women die, get sick, etc. No-one limits their rights to motherhood. --Christine, Miami, Fla.
As a woman gets older and wise, she is better prepared to raise a healthy, educated and confident child. There are no guarantees in life; having a young mother does not mean a person will have her for a long time. If a woman is healthy both physically and emotionally as well as financially, she is much better prepared for motherhood than a younger woman. It is no one's business to question people's decision about when to have children, or whether a person should or should not. --Ana, Louisville, KY
Thankfully I have 5 wonderful grandchildren and I feel young at 50. But its not easy taking care of them for a few hours at my age as it was to raise my own 30 years ago. You just don't have the same amount of energy. Babies are for the young to raise...57 is a great age to be a grandparent and enjoy them while mom and dad raise them. --Kathy Somerville, Painesville Twp. Ohio
I am 28, my mom just turned 50 and dad turns 49 in December, I know that someday I may be without my mom or dad but I have to say at least they were not so selfish as to only give me 20 or so years of their lives. We may only have to accept legal responsibility for our children for 18 years but I think there is so many more years of a parents knowledge, love, help, and support that a parent should feel an obligation to be there for — or better stated, a desire to be there for. --Laurie, East Wenatchee, Wa.
I say to each his/her own, she seems happy. She may not live to see the twins graduate from High School, but I'm sure she has prepared for their future in the event that she is not around. --Erica M, Los Angeles, Calif.
Aleta is proof positive that she can have a baby at 56/57 years old, but she had to have a lot of medical criteria going her way to be able to get pregnant and carry these 2 babies thru full term. There are reports from other parts of the world of a mother that had her last healthy baby at 62 years old a few years ago; I think she lived in South America. Women who want to have babies late in their reproductive cycles should do so with their doctor's help and advice, and must be able to be in very good health with no serious health issues to hinder their progression of the growth of the babies that they will be carrying for 9 months. I'm not able to have any more kids because of problems I had in my last pregnancy in 1992, so I applaud all of these moms in their 40s and 50s that have decided to take that bold step of having a baby! --Chari Mercier, 53 years old, St. Pete, Fla.
Our educated, career-oriented women want it ALL...the career and high-income, savings, and then a baby once they feel secure enough that funds for house-hold help will be available so they can return to their career in a few years to pay for college. I have a close example. I think it's great, and do question the expensive ob care our pregnant women over 35 get versus a few minutes off of field work for women of similar ages around the world. Good luck to all of our older moms. --GG, Pa.