The shopping mall Santa Claus has long been a holiday tradition as retailers seek to connect with the inner child in all of us. But a Los Angeles mall has decided to give Jolly Old St. Nick a macho makeover that puts a little more sizzle into the season — offering us the opportunity to impart our Christmas wishes to a "Hunky Santa."
Yes, it appears Santa has finally realized his rotund appearance was in need of some improvement, and after some well-spent time at the North Pole gym, he has traded in his belly full of jelly for six-pack abs and bulging biceps.
Shopping mecca Beverly Center says Hunky Santa is posing for photos this week but only in the evenings — an old-school Father Christmas is available during the day for youngsters who may find the buff version a bit icky.
And while we imagine Valley Girls everywhere have visions of Hunky Santas dancing in their heads, why do they get to have all the fun? How about a sexy Santa spouse — they could call her a "Ho Ho Hottie." Or maybe not.
Not-so bad ideas
After you've sent your Christmas list to Santa, hunky or not, you are probably left with the thorny issue of what to get for your loyal canine companion this holiday season. A Virginia-based entrepreneur has the answer: The "Poop Tent."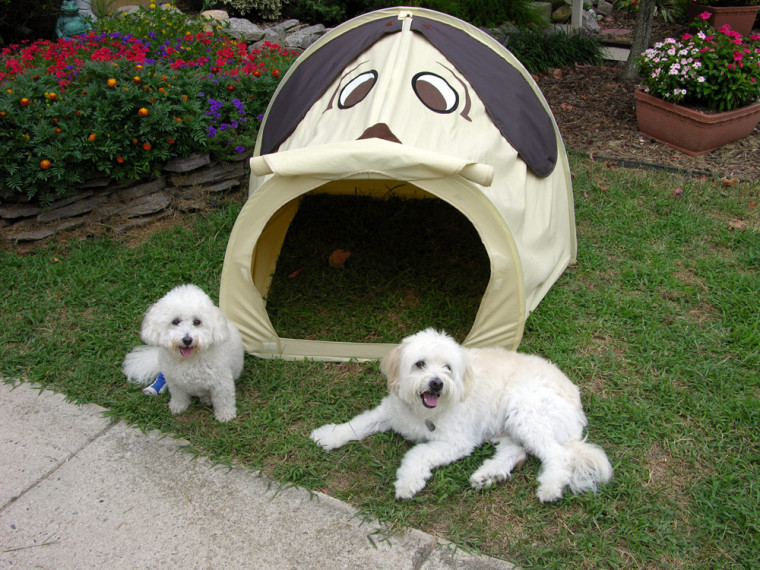 We also assume animal lovers are heartened by the news that Internet auctioneer eBay has canceled plans to allow live pets to be sold on its Web site after receiving thousands of angry e-mails from users.
The San Jose, Calif.-based company has long banned the sale of live animals (except fish and snails), but officials said this week they were scrapping plans to create a separate category that would have featured free ads for animal shelters and paid ads from breeders.An eBay spokesperson said users were worried that the listings would encourage "puppy mills," where animals are sometimes bred in unsanitary conditions, and that it would be difficult to differentiate between legitimate animal shelters and unsavory sources.No word if FedEx also pushed back on shipping Spot in a box.