Anyone who sits down to try and figure out where energy prices are headed in 2006 (and you can play along at home) eventually comes up against the same questions. Will the global economy keep on humming along, with developing countries like China and India continuing to see rapid growth? And can energy suppliers keep expanding capacity fast enough to keep up with demand?
With global demand showing no signs of slowing, it appears that the era of "cheap" oil is over. A report this month from the U.S. Energy Department forecast that oil prices will stay above $50 a barrel for the foreseeable future — a marked change from projections a year ago that prices would fall to the $30 range by 2025.
Now, with most energy markets stretched tight, even a little crimp in supplies could bring another big jump in prices.
Mother Nature offered a stark reminder of that in 2005 after back-to-back hurricanes in the Gulf of Mexico knocked out production of oil, natural gas and gasoline for months. Though refiners have repaired most of the damage, by year-end roughly a quarter of all oil and natural gas production in the Gulf of Mexico remained shut down.  
The good news is that — as short-term supply interruptions eased toward the end of the year — prices came down just as quickly as they rose.
After running flat-out to meet demand (refiners hit a peak of 98 percent of production capacity in July), the storm knocked out 30 percent of U.S. production as of late September. Those outages produced a painful spike in pump prices — the average price of regular gas jumped to more than $3 a gallon in early September. It would take nearly three months to repair the damage and restore production to 90 percent of refining capacity. (Some refining capacity is still off line, accounting for a shortage of nearly 1 million barrels a day.)
To make up the shortfall, European governments released gasoline stockpiles, and overseas refiners diverted shipments to the United States. As that wave of supply hit the U.S. market, the price spike faded. By December, pump prices had fallen by 30 percent.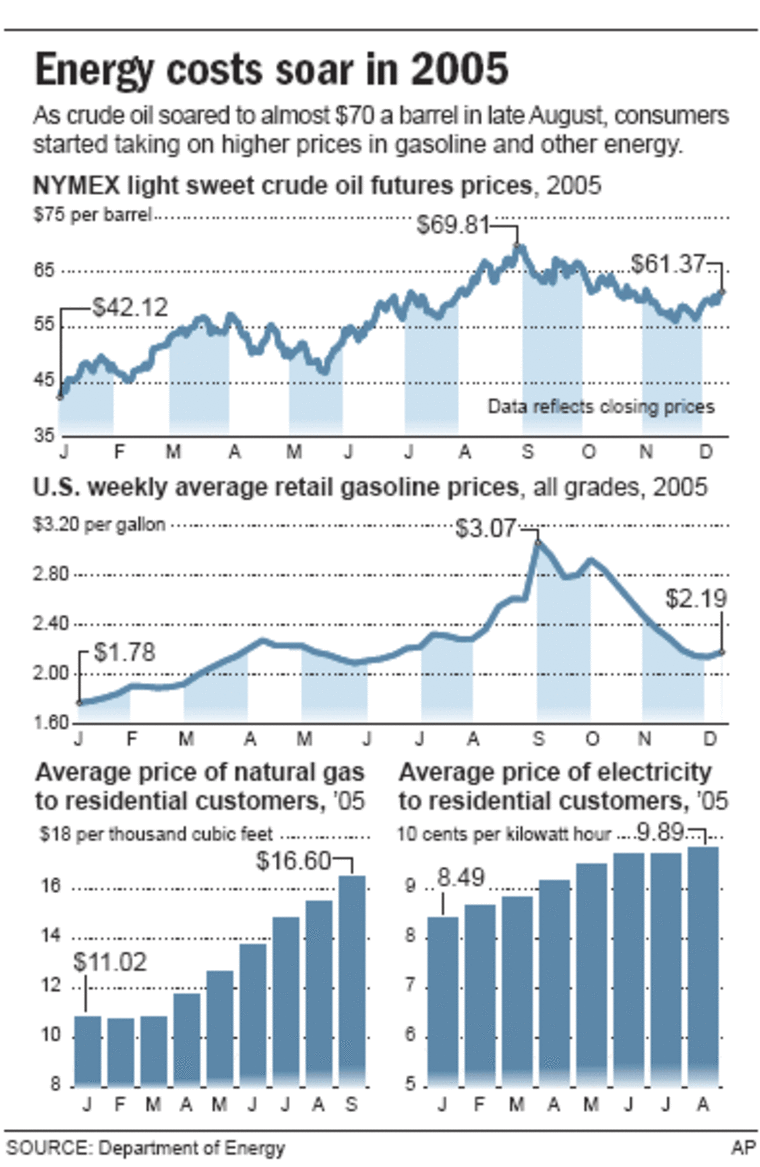 Steady as she goes
So where are prices headed from here? A lot depends on whether the economy — both at home and abroad — keeps humming along as smoothly as it did in 2005. The last big pullback in oil prices — after a major recession swept through Asia in 1998 and cut global growth rates nearly in half — sent crude crashing to a low of $10 a barrel.
At the moment, the outlook is steady-as-she-goes. According to International Monetary Fund, the global economy is expected to grow by about 4.3 percent next year, a bit higher than the 3.6 percent average growth over the past 15 years. If those trends hold up, global oil demand will hit 85 million barrels per day in 2006, and producers will have to find another 1.8 million barrels a day to keep up, according to the latest forecast from the International Energy Agency.
Analysts are divided on whether oil producers can increase capacity that fast.
"Global growth in demand is projected to outpace that of capacity by at least a 2-to-1 margin during 2006-2007," according to a recent research report by Morgan Stanley. "The global petroleum industry is working harder than ever … with much more advanced technology and significant financial incentives, but it is unable to generate significant growth in output."
The Morgan Stanley report forecasts an average crude price of a little over $50 a barrel in 2006, with OPEC producers adding another 1.2 million barrels per day to global capacity. But the report said non-OPEC supply is expected to rise by just 100,000 to 200,000 barrels a day next year — the lowest rate since 1993. 
Some experts take a more optimistic view. Higher prices have spurred investment in new capacity around the world, and projects now under way will bring substantial new supplies on line that "will comfortably meet volatile and expanding demand in the next five years and beyond," according to a report earlier this year from Cambridge Energy Research Associates. But the report conceded that "major, unpredictable political or natural disruptions would present a problem for supply."
Natural gas bottlenecks
Prices of natural gas have also moved higher as strong economic growth continues to boost demand faster than supplies have increased. Unlike oil, which can be shipped relatively easily around the world, the bulk of natural gas imports arrive via pipeline from Canada. So when hurricanes knocked out virtually all natural gas production from the Gulf of Mexico, supplies got even tighter and prices began rising.
Natural gas prices also have jumped because many industrial users can switch from oil to natural gas. As a result, rising oil prices tend to put upward pressure on natural gas prices as well.
Strong global demand is increasing interest in liquefied natural gas, or LNG, which involves cooling and compressing natural gas for shipment by tanker. But there are few LNG terminals now operating in the United States. That has created supply bottlenecks, especially in the Northeast where demand is high and LNG facilities are sparse.
About the only break American consumers have been getting comes when they turn on the lights: Electric power prices have crept up relatively slowly in recent years. Though most new power plants are built to burn natural gas to meet clear air requirements, about half the nation's electric power is still generated by coal-fired plants. And the price of coal, which remains abundant in the United States, has remained fairly stable. But the recent surge in natural gas prices will likley begin showing up in monthly electric bills next year, as state utility regulators approve rate increases to cover the added cost of fuel.
And because oil and natural gas supplies are expected to remain extremely tight in 2006, consumers will remain vulnerable to even a small hiccup in production of these fossil fuels, whether from natural disaster or terrorist attack. 
Conservation
Oil and gas producers make up only half of the supply-demand equation. A lot depends on how consumers respond to a run-up in prices. So far, the jump in energy prices hasn't hurt the  economy — or seriously stoked inflation — as much as the oil shocks of the 1970s. Some economists believe that's because gains in efficiency and productivity over the past three decades have left the U.S. economy less vulnerable to higher energy prices.
And there are early signs that consumers may respond to higher prices by conserving fuel — which helps ease the supply squeeze just as much as finding new oil. When pump prices spiked in September, demand fell below 2004 levels as drivers figured out how to get by with less. As prices backed off, demand picked up again. But auto makers reported big drops in sales of sport utility vehicles in November — a sign that consumers may be making changes that will bring longer-term energy savings.
"These things take time," said Stephen P. Brown, an economist at the Federal Reserve Bank in Dallas. "Quite often, people mistake the amount of time it takes to adjust to prices as evidence of society not responding."