By now Indian fisherman Kolandavelu should be back at sea and he should be caring for his four-month-old daughter, who was born after four of his five children perished in the killer waves of last year's tsunami.
Instead, the 39-year-old man heads for the village liquor shop before noon almost every day, a reluctant father wallowing in the symptoms of a mystery illness he thinks was caused by the waves that hit his village on India's southeastern coast.
And while he won't admit it, aid workers say he is also unhappy that his newborn -- like his only surviving child -- is a girl, a common cause for worry in rural India where daughters are considered a burden because of the huge dowry needed for marriage.
When Reuters first spoke to Kolandavelu and his wife Lakshmi just after the disaster, Lakshmi refused to believe that 12-year-old Sukanya, Gunasheelan, 7, Guna, 5, and Subhash, 2, were dead, buried in a mass grave.
Three months later, the tragedy had sunk in and the depressed, frail woman had stopped eating and was in hospital.
Lakshmi was so devastated that for months she failed to realize that she had conceived before the tsunami and was pregnant with her sixth child.
Rina's birth in September has brought a smile to her face despite tough living conditions in the temporary shelters.
"She has brought hope and change," said Lakshmi as she cradled an underweight Rina in her arms. "I still can't forget the dead children but the memories are not so frequent now."
Complaints
While Lakshmi takes comfort in her baby, Kolandavelu finds solace in the bottle, nursing his sorrows and an ailment that seems to be psychosomatic, health workers say.
"My skin starts burning if I step out in the sun or go to sea. So how can I return to work," asks Kolandavelu, pointing at the waves a few steps from his palm frond hut on the beach.
"I drink to avoid feeling sad. Sometimes it helps, but when I drink too much the sadness gets worse," said the illiterate man, who lives off the hefty compensation he got from the government for his dead children.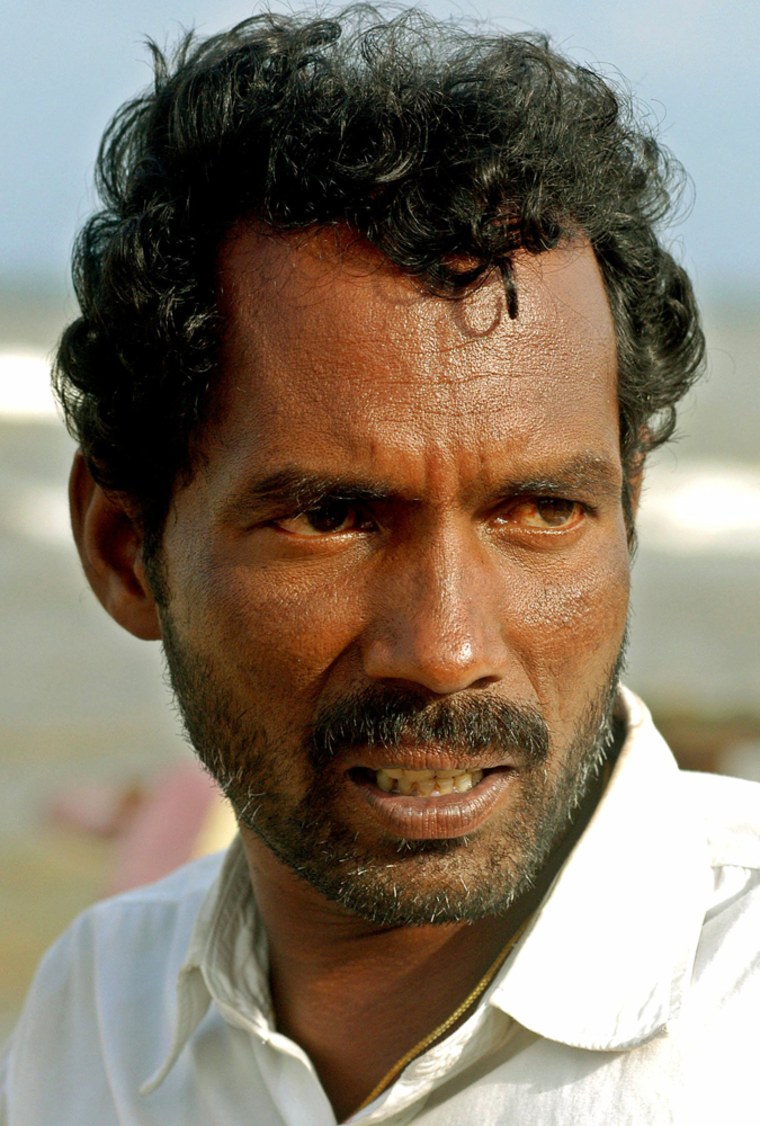 Kolandavelu's problem is not unique, psychiatrists and aid workers said.
Although a majority of the survivors have overcome the immediate trauma of last December's tsunami, many have yet to deal with the emotional debris even as they rebuild their lives.
"In the initial phase, nearly 90 percent of the survivors were affected psychologically," said Dr K. Sekar, a community psychiatrist at India's National Institute of Mental Health and Neuro Sciences
"Many of them get back to normalcy by using their natural coping mechanisms. But by the end of the year, we still have 40-45 percent suffering because they are using negative coping mechanisms," said Sekar, who heads an Indian government program for the psycho-social rehabilitation of survivors.
Torrential rains, floods and a threat of storms since October in India's tsunami-hit regions have triggered fresh fears of new disasters and losses among victims, he said.
It's a struggle thousands of victims are familiar with in Indonesia, the country worst hit by the tsunami.
Homes and livelihood
An estimated 45 percent of survivors there continue to suffer from problems such as depression and anxiety and a small percentage among them have been diagnosed to have stress disorders, post-traumatic experiences and even schizophrenia.
Mental health experts in Thailand said receiving new homes and opportunities to return to work are the best treatment for survivors. While Thailand has been the fastest to move on this, the magnitude of the task in countries like Indonesia, Sri Lanka and India has meant slow progress.
For these countries, the challenge at the end of the first year is to move on from providing trauma care and address long-term psychosocial rehabilitation, experts said.
But before they can do that, there is an urgent need to strengthen the mental healthcare system in these countries.
"The problem we are facing now is lack of capacity, facilities and human resources to cure mental problems," said Dr. Albert Maramis, WHO mental health specialist for Indonesia.
In southern India, of the estimated 300 voluntary groups who provided trauma care in the first three months after the tsunami, there are barely three or four local agencies left in each district dealing with psychosocial issues, said Dr. Sekar.
"Psychosocial rehabilitation is labor intensive and cost intensive compared to what is done in the first three months," said Sekar. "In the end, it's the local agencies and government bodies who have to deal with the problem."