/ Source: The Associated Press
A leading meteorologist, who warned a tsunami could strike Thailand seven years before one hit, said Tuesday that coastal hotels and resorts are still unprepared for another killer wave.
"At the moment, they (hotels) do not even have a map or instructions to tell the guests what do" in a tsunami, Smith Thammasaroj said Tuesday, a day after thousands of Thais and foreigners gathered on beaches to mourn the dead from the tragedy last Dec. 26.
He said tourist facilities along the Thai coast, where the tsunami killed nearly 5,400, have not yet hooked into the well-functioning National Disaster Warning Center -- which would give them quick notice of an approaching tsunami or other disaster.
Smith, the center's deputy director, headed Thailand's meteorological department when he was accused of scare-mongering after he warned in 1998 that the country's southwest coast could face a deadly tsunami.
Criticized then for causing panic and jeopardizing the critical tourist industry around the tropical resort island of Phuket, Smith retired under a shadow. He was rapidly returned to government service when his prediction proved accurate.
"Hotels are investing billions of baht (Thailand's currency) to rebuild, but they don't want to spend some 500,000 baht (approximately $12,200) more to buy a small warning system and link into the government system to warn their guests," Smith said, adding that there was no legal requirement for them to do so.
'I'll just run'
However, some hotels said they have made preparations.
"We've done rehearsals. We've practiced. We have fliers. We have signage and information in each hotel room to inform the guests," said Asnee Kankaew, resident manager of the Holiday Inn Resort Phuket.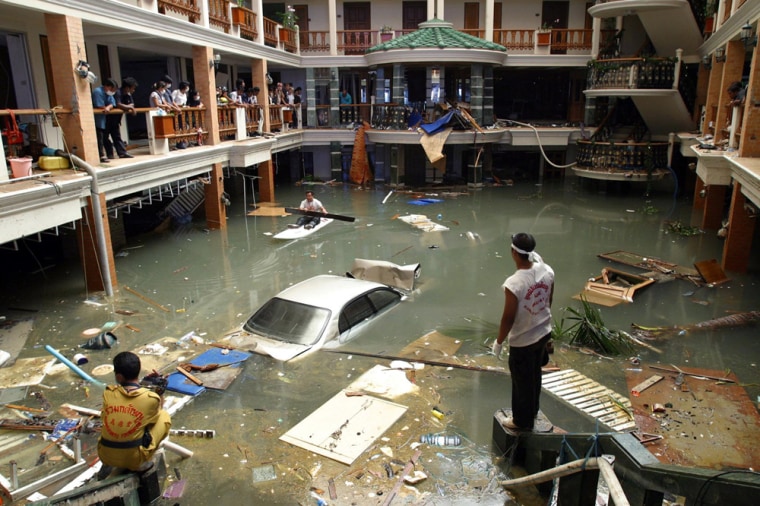 The tsunami destroyed the first floor of the hotel on Phuket's popular Patong Beach, and some guests died.
At Patong's Baan Boa Resort, employee Amaraporn Krataijan, 39, said nobody had come around for a lesson on how to react or help tourists if a tsunami hits.
"I won't know what to do," she said. "Well, if I see people run, I'll just run and follow them."
A co-worker, Ladda Khonkayan, 30, said she'd heard televised public advice about what to do if she hears the warning sirens on the beach.
"I'm ready," she said confidently. "I have to be ready. I have no choice. I'll just run."
Warning system in rooms
Some foreign tourists on nearby Phi Phi said in mid-December that they'd heard a siren but had no idea what it was or what to do, since they'd received no instructions.
An early warning system, which is directed from the national center and has been installed on some beaches, had gone off accidentally.
"The government installing a system is a waste if the public still does not have knowledge about the system, and there is no party assigned to educate people on how the system works," Smith said. "Several hotel guests have complained to me that they have seen no map, no signs, not even a brochure on what to do if a tsunami occurs. People who sleep in the rooms will not hear the warning from sirens if the hotel has not installed a warning system in their rooms," Smith said.