/ Source: The Associated Press
Embattled lobbyist Jack Abramoff pleaded guilty Tuesday to federal charges of conspiracy, tax evasion and mail fraud, agreeing to cooperate in an influence-peddling investigation that threatens powerful members of Congress.
In a heavily scripted court appearance, Abramoff agreed with U.S. District Court Judge Ellen Huvelle when she said he had engaged in a conspiracy involving "corruption of public officials." The lobbyist also agreed when she said he and others had engaged in a scheme to provide campaign contributions, trips and other items "in exchange for certain official acts."
"Words will not ever be able to express my sorrow and my profound regret for all my actions and mistakes," Abramoff said, addressing the judge. "I hope I can merit forgiveness from the Almighty and those I've wronged or caused to suffer."
To each of the three charges, Abramoff said, "I plead guilty, your honor." Huvelle and lawyers in the case said Abramoff had agreed to make an estimated $25 million in restitution to his victims and pay $1.7 million to the Internal Revenue Service for taxes he evaded. As is typically the case in such pleadings, what happened in the courtroom Tuesday was arranged in advance between lawyers for the defendant and the prosecutors.
"All of my remaining days, I will feel tremendous sadness and regret for my conduct and for what I have done," Abramoff told the court.
Up to 20 lawmakers under investigation
According to the plea agreement, prosecutors will recommend a sentence of 9½ to 11 years, providing he cooperates with federal prosecutors in a wide-ranging corruption investigation that is believed to be focusing on as many as 20 members of Congress and aides.
Assistant Attorney General Alice S. Fisher said the Justice Department will pursue the investigation "wherever it goes."
"We're going to expend the resources to make sure people know that government is not for sale," she said at a news conference.
Abramoff's travels with former House Majority Leader Tom DeLay are already under criminal investigation. The lobbyist's interactions with the Texas Republican's congressional office frequently came around the time of campaign donations, golf outings or other trips provided or arranged by Abramoff for DeLay and other lawmakers. In all, DeLay received at least $57,000 in political contributions from Abramoff, his lobbying associates or his tribal clients between 2001 and 2004.
In a turnabout, House Speaker Dennis Hastert, R-Ill., joined the roster of politicians on Tuesday announcing plans to donate Abramoff's campaign contributions to charity. According to NBC News, those charities have not yet been identified.
Hastert received almost $69,000 from Abramoff and his associates, NBC News reported on Tuesday.
Court papers released Tuesday also detailed lavish gifts and contributions that Abramoff gave an unnamed House member, identified elsewhere as Rep. Bob Ney, R-Ohio, chairman of the House Administration Committee, in return for Ney's agreement to use his office to aid Abramoff clients.
Ney denies involvement
In a statement Tuesday, Ney said, "At the time I dealt with Jack Abramoff, I obviously did not know, and had no way of knowing, the self-serving and fraudulent nature of Abramoff's activities."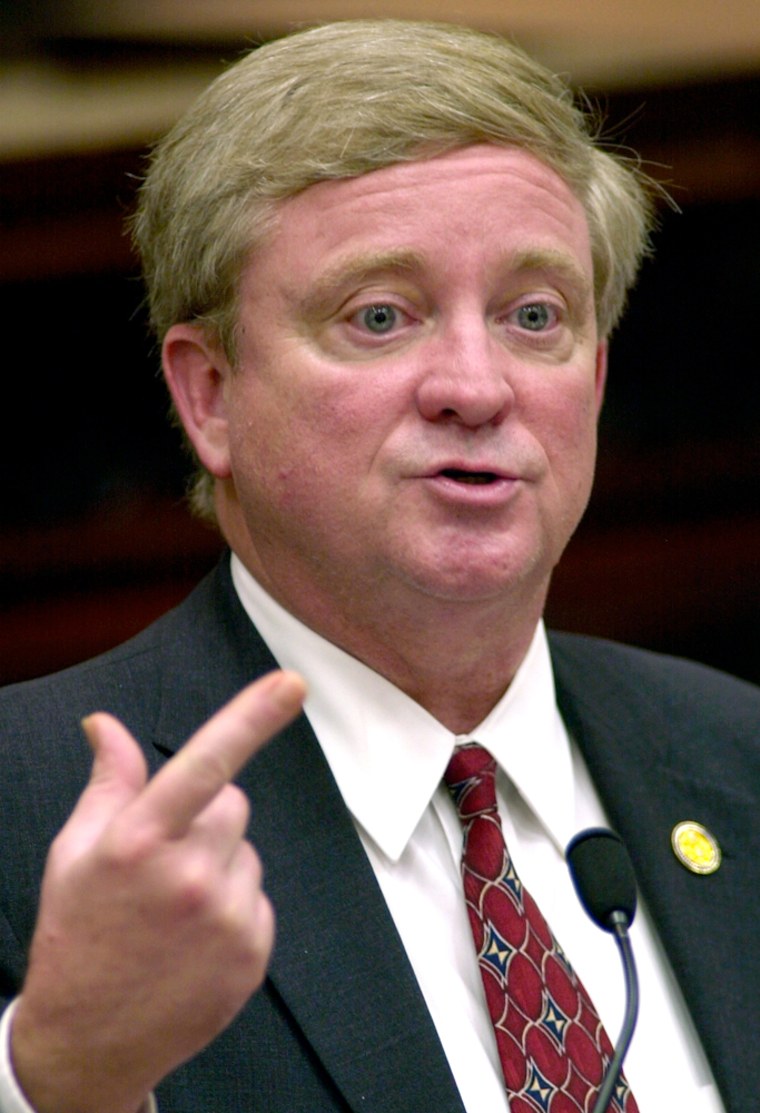 Abramoff also was expected to plead guilty in Florida to two of the six charges in a federal indictment, according to his lawyer there, Neal Sonnett. A change of plea hearing has been scheduled in Miami for Wednesday afternoon, Justice officials said.
Abramoff attorney Abbe Lowell said in a statement that 18 months ago Abramoff made contact with prosecutors "to admit his wrongdoing and to seek forgiveness from those he has wronged. He intends to continue to work with the Justice Department and others to fully resolve all matters of interest, to provide restitution to anyone he has harmed, and to seek absolution from all."
Prosecutors say Abramoff and Scanlon conspired to defraud Indian tribes in Louisiana, Michigan, Mississippi, New Mexico and Texas of millions of dollars. Abramoff reaped roughly $20 million in hidden profits from the scheme, according to the information. Lobbying partner Michael Scanlon pleaded guilty in November.
Abramoff and Scanlon also lavished a golf trip to Scotland and other things of value on Ney, the court document said. Ney has denied doing anything wrong.
The Bush administration's former chief procurement official, David H. Safavian, was charged this fall with making false statements and obstructing investigations into the 2002 golf outing. Safavian, former chief of staff of the General Services Administration, the government's procurement arm, has pleaded innocent to those charges.
Court documents also said Abramoff solicited $50,000 from a wireless telephone company and got Ney's agreement to push the company's application to install a wireless telephone infrastructure in the House of Representatives, a job Ney's committee would have overseen.
Guilty plea from partner
Pressure had been intensifying on Abramoff to strike a deal with prosecutors since another former partner, Adam Kidan, pleaded guilty earlier this month to fraud and conspiracy in connection with the 2000 SunCruz boat deal in Florida.
The continuing saga of Abramoff's legal problems has caused anxiety at high levels in Washington, in both the Republican and Democratic parties.
Abramoff raised at least $100,000 for President Bush's 2004 re-election effort, earning the honorary title "pioneer" from the campaign.
In Bush's first 10 months in office in 2001, Abramoff and other members of his lobbying team logged at least 200 contacts with the administration on behalf of at least one client, the Northern Mariana Islands. The meetings included some with high-ranking officials such as then-Attorney General John Ashcroft and policy advisers in Vice President Dick Cheney's office. The Marianas' agenda included seeking friendly hires at federal agencies and preservation of its exemption from the U.S. minimum wage.
White House scorn
White House spokesman Scott McClellan could not say Tuesday whether Abramoff ever met President Bush. But when asked at the White House about this, the spokesman said that "what he is reportedly acknowledging doing is unacceptable and outrageous."
"If laws were broken, he must be held to account for what he did," McClellan said.
For months, prosecutors in Washington have focused on whether Abramoff defrauded his Indian tribal clients of millions of dollars and used improper influence on members of Congress.
In a five-year span ending in early 2004, tribes represented by the lobbyist contributed millions of dollars in casino income to congressional campaigns, often routing the money through political action committees for conservative lawmakers who opposed gambling.
Abramoff also provided trips, sports skybox fund-raisers, golf fees, frequent meals, entertainment and jobs for lawmakers' relatives and aides.
In Florida, Abramoff and Kidan were indicted in August on charges of conspiracy, wire fraud and mail fraud in connection with their purchase of the SunCruz fleet for $147.5 million from Miami businessman Konstantinos "Gus" Boulis.
Prosecutors said the pair faked a $23 million wire transfer to make it appear that they were making a significant contribution of their own money into the deal. Based on that transfer, lenders Foothill Capital Corp. and Citadel Equity Fund Ltd. agreed to provide $60 million in financing for the purchase.
Kidan pleaded guilty Dec. 15 to one count of conspiracy and one count of wire fraud. He faces a maximum of 10 years in prison and up to $500,000 in fines at sentencing scheduled for March 1.