/ Source: The Associated Press
A study of the aftermath of the 2002 Biscuit fire, which has become the focus of debate over national forest management, concludes that logging burned trees killed large numbers of seedlings that sprouted on their own and increased the short-term danger of wildfire.
The study, published Friday in the journal Science, gives opponents of salvage logging new support. But it is not likely to resolve the continuing debate in Congress over what to do with the millions of acres of national forests that burn every year.
"These results surprised us," said Dan Donato, a graduate student in forest science at Oregon State University who was lead author of the study. "Even after a huge high-severity fire in a place that is really tough to grow trees we are finding abundant natural tree regeneration."
Based on test plots in areas that were logged and not logged, the study also found that cutting down dead trees left much more wood on the ground to fuel future fires, even after the logs were hauled away, than leaving the trees standing, unless crews burn the debris.
"Why that is important is because on some fires those additional treatments aren't carried out due to lack funds," Donato said.
Most debris remained
Only a third of the area logged on Biscuit had debris burned afterward to reduce wildfire danger, primarily due to weather constraints, said Jim Golden, deputy Northwest regional forester for the U.S. Forest Service.
Ignited by a series of lighting strikes, the Biscuit fire burned 500,000 acres of the Siskiyou National Forest in southwestern Oregon, making it the biggest fire in the country in 2002. Environmental groups battled the Bush administration in federal court to limit the amount of salvage logging in the name of protecting fish and wildlife habitat, but lost.
Environmental groups argued that the best course is to let burned forests regenerate on their own, producing diverse habitats more resistant to future fires. The Bush administration and timber industry counter that harvesting dead trees provides valuable timber and pays for modern reforestation techniques that produce a new forest decades faster than nature.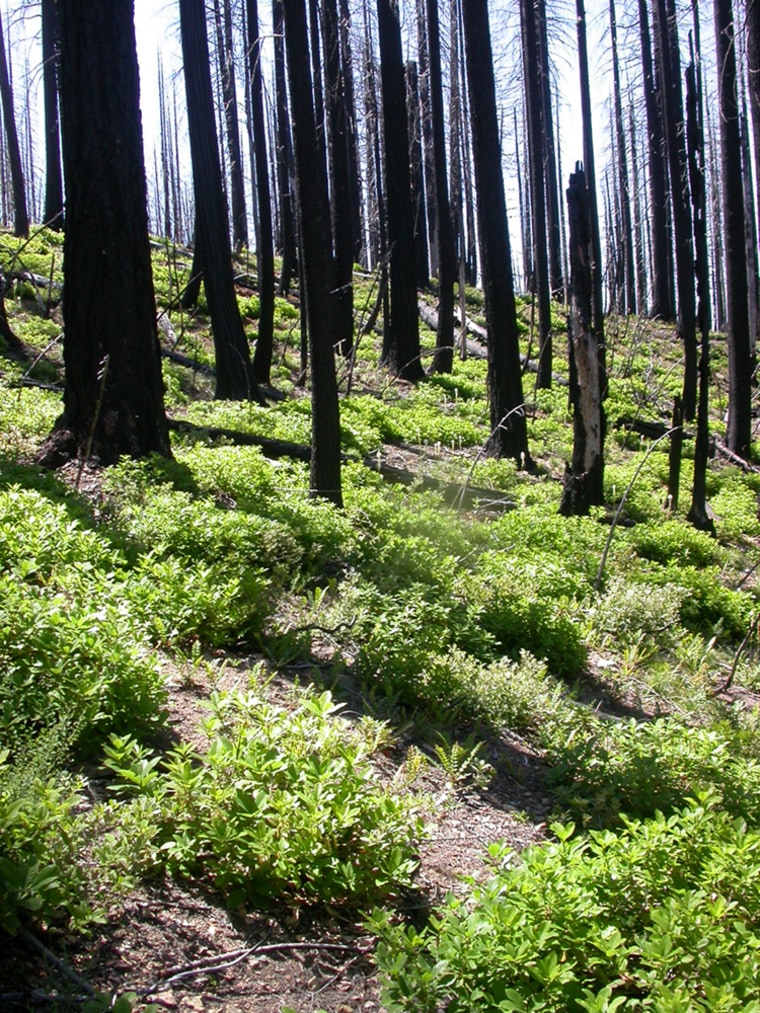 Logging began last spring, but turned out far less timber than planned at prices far below predictions. Much of the wood was worthless as timber after three years of rotting.
Last fall, Reps. Greg Walden, R-Ore., and Brian Baird, D-Wash., introduced a bill demanding that areas hit by fires, storms and insect infestations greater than 1,000 acres be evaluated quickly with standardized approaches, taking into account different ecosystems, to decide the best course to restore wildlife habitat and timber.
Jerry Franklin, professor of forestry at the University of Washington and one of the authors of the Northwest Forest Plan, which cut logging to protect wildlife habitat, called the new study "good science."
"This is very consistent with my testimony (on the salvage logging bill last year), which is that salvage almost never makes a positive contribution to ecological recovery," he said.
Salvage logging backer responds
John Sessions, professor of forest engineering at OSU who proposed greatly increasing salvage logging on Biscuit to speed restoration, said the ultimate test of leaving a forest alone would be how many seedlings survive to maturity while competing with brush.
"Sometimes we are lucky with what nature delivers and sometimes not," he said. "Planting using modern scientifically demonstrated methods and vegetation control is close to 100 percent successful and can reduce the time to large conifers by decades."
He added dead trees left standing would fall over the next several decades, amounting to a tradeoff between long-term and short-term fire risk.
Golden of the Forest Service said salvage logging presents an opportunity to generate the money to pay for the growing backlog of restoration work on burned forests.
Seedling, branch data from study
The study sampled five of the eight largest logging units, all of which underwent severe burning, Donato said. Natural seeding produced 767 seedlings per hectare, which amounts to 2.5 acres, exceeding Forest Service standards. Cutting down dead trees and hauling away logs killed 71 percent of the seedlings, leaving 224 per hectare.
The amount of small branches on the ground, which spread a fire quickly, was about four times higher after logging than with no logging. The amount of logs and large branches, which burn hot and sustain a fire, was about three times higher. Burning the debris reduces fire risk, but kills more natural seedlings.
"The lowest fire risk strategy may be to leave dead trees standing as long as possible (where they are less available to surface flames), allowing for aerial decay and slow, episodic input to surface fuel loads over decades," the study said.