/ Source: msnbc.com news services
A cow that escaped last week from a Montana slaughterhouse, leading workers and police on a six-hour chase, will be spared following a wave of popular support, officials said Tuesday.
Del Morris, manager of Mickey's Packing Plant in Great Falls, said he decided to let the cow live the instant he saw it cross the Missouri River through Great Falls.
Town residents will now decide through a telephone poll whether the cow will remain a resident of Montana, where it will live out its life on pastureland surrounding the packing plant, or be shipped to an animal sanctuary in Seattle.
Morris said the heifer he calls Molly and her escape effort attained celebrity status with television and news organizations requesting interviews and calls pouring in from across the country and overseas.
"I've been around cattle all my life, and it's just totally amazing," Morris said, adding that it is a rare cow that escapes slaughter. "I watched her do things that are just not possible for a cow."
Molly dodged vehicles, ran in front of a train, braved the icy Missouri River and took three tranquilizer darts before being recaptured.
The black, 1,200-pound heifer jumped a gate at the packing plant at around 5 a.m. Thursday, authorities said.
The cow apparently wandered through residential areas for a time before police received reports at about 9:30 a.m. that it was in the middle of a busy intersection.
Police tried to catch the cow, and had her wedged between a stock trailer and a fence, but the heifer barreled through the fence toward the river, nearly being hit by an SUV.
With the police in pursuit, the cow ran toward the railroad tracks and darted in front of an oncoming locomotive. Crossing another road, the cow was nearly struck by a semi tractor-trailer.
"By then it was a madhouse," said police officer Corey Reeves. "People were coming out of the woodwork to see."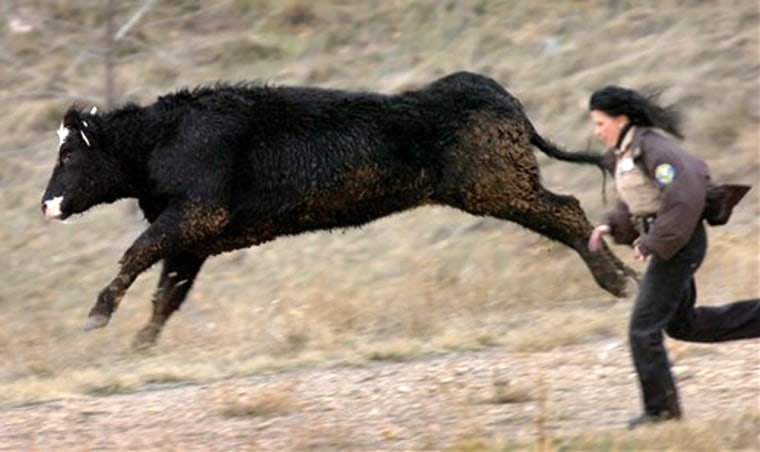 When police, animal control officers and slaughterhouse workers surrounded the cow in a park near the Missouri River, the cow jumped into the icy water. As she swam to the west bank of the river, Reeves said she sank lower in the water and was being swept downstream.
But the cow found a sandbar near the river's west bank and walked to shore.
Authorities tried unsuccessfully to shoot the cow with a tranquilizer gun three times.
Finally, slaughterhouse workers created a makeshift pen with metal panels that led to a stock trailer. The cow walked into the trailer at 11:45 a.m., authorities said.
The cow was taken back to the slaughterhouse, where it was put in a pen — with a stronger fence.