As scientists debate whether the ivory-billed woodpecker, once widely assumed to have been extinct for decades, still haunts the Big Woods of Arkansas, environmentalists have enlisted the bird as a key soldier in their fight against a massive irrigation project.
A lawsuit to be heard Monday in federal court in Little Rock asks that work be halted on the U.S. Army Corps of Engineers' Grand Prairie Area Demonstration Project until further environmental studies evaluate its potential effects on the woodpecker.
The $319 million project, which the corps says will save tapped-out groundwater aquifers in a 242,000-acre agricultural region, is "a recipe for disaster" for the bird, says Lisa Swann of the National Wildlife Federation, a plaintiff in the suit.
Not so, says corps biologist Ed Lambert, who maintains that a "biological assessment" done last spring determined Grand Prairie is unlikely to harm the woodpecker.
The irrigation project has been on the table since the mid-1980s, when studies showed that groundwater aquifers in the area, which lies in east-central Arkansas, were being depleted by rice growers. To solve that, the corps is working with farmers to build reservoirs on their land and elsewhere that will be filled via a canal and pipeline network with water pumped from the White River.
The corps says that in addition to helping replenish groundwater supplies, the project will create new waterfowl and shorebird habitat and food supply, reintroduce thousands of acres of native grasses and slow the depletion of hardwood forests.
'Mammoth sucking machine'
But Swann's group and others have long fought the Grand Prairie project as a federal boondoggle that poses serious environmental threats and squanders tax dollars to deliver huge subsidies to farmers. This "mammoth sucking machine" would hurt wetlands, degrade water quality and threaten species in the region from ducks to mussels, the National Wildlife Federation says in one publication about Grand Prairie.
The region is dear to the hearts of conservationists, hunters and other outdoors enthusiasts. Comprising more than half a million acres, less than a tenth of their original size and mostly in islands of trees surrounded by farmland, the Big Woods include the Cache and White River National Wildlife Refuges.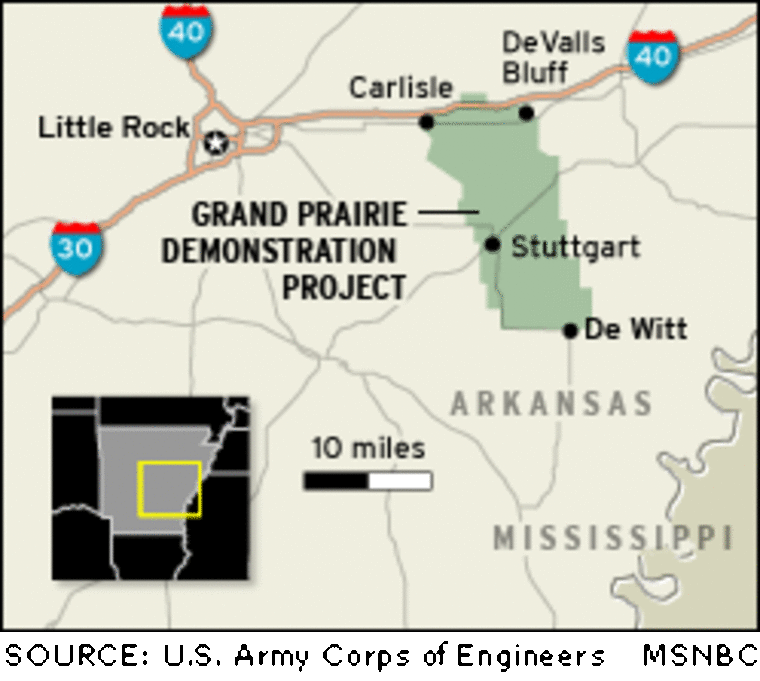 Previous legal actions to block the Grand Prairie project on environmental and jurisdictional issues have failed. So have political entreaties to block state and federal funding for Grand Prairie.
Enter the ivory-billed woodpecker, always rare, but presumed extinct for half a century by most ornithologists. Reported sightings of the 20-inch-long black-and-white birds since the 1940s had drawn derision from many experts since ivory-bills bear a strong resemblance to the smaller and rather common pileated woodpecker.
But the possibility that some ivory-bills were still digging beetles and grubs from the bottomland hardwood forests of Arkansas had long fascinated some birders.
Chief among them was Tim Gallagher, editor of Living Bird magazine, published by the Cornell Lab of Ornithology. Gallagher had become fascinated with the ivory-bill story in the 1970s and began working on a book about them in 2001. His research led him to dozens of people who claimed to have seen an ivory-bill, including Gene Sparling, who said he spotted a red-crested male of the species while one on a kayak outing in an eastern Arkansas bayou.
In February 2004, Gallagher and another birder joined Sparling on an expedition to the swamp and saw an ivory-bill for himself. The ensuing hoopla was unprecedented in ornithological circles. Additional expeditions and sightings followed. They culminated in an April 28, 2005, article in the journal Science by Cornell researchers and an official announcement by U.S. Interior Secretary Gail Norton on the same day that the ivory-bill was not extinct.
Norton pledged $10 million in federal funds for more research to confirm the existence of the bird. With many trees in the Big Woods now bare in the dead of winter, public and private efforts to capture photos and video of an ivory-bill are currently at a fever pitch. Despite the Cornell researchers' presentation of numerous sightings, audio recordings of what they say are the woodpecker's distinctive "double knock" and its "kent" call and one bit of grainy video footage of an alleged ivory-bill in flight, there are experts who remain skeptical that any of the birds are still alive.
But Norton's announcement was good enough for the National Wildlife Federation and its Arkansas affiliate to demand that the corps halt work immediately on an early construction phase of Grand Prairie, a $35 million pumping station on the White River at DeValls Bluff.
In their lawsuit, the groups say that environmental studies for Grand Prairie were done years before the ivory-bill was rediscovered and that federal law requires new analysis, either a supplemental environmental assessment or an environmental impact statement as mandated by the National Environmental Policy Act (NEPA).
Stressing that this "is a completely different case" from other environmental bids to shut Grand Prairie down, NWF senior counsel John Kostyack told MSNBC that his group has three fears for the bird's future: Water withdrawals will change the ivory-bill's habitat in harmful ways, perhaps killing off some trees or other vegetation vital for its survival; construction of the pump station and associated pipelines will destroy habitat; and increased noise and human activity could also harm the birds.
Seeking an injunction
At Monday's hearing, before U.S. District Judge G. Thomas Eisele, Kostyack is seeking an injunction to halt work on the pumping station while the additional environmental studies are performed. He believes that if new studies are done, "it would show all the harmful impacts, and that itself would sink the project and it wouldn't ever go back to court. We think that's the reason they didn't do one to begin with."
That's "just jumping the gun," says corps biologist Lambert. "Right now it's just premature to determine if we need to do another NEPA document" because "there's no reason to believe that we'd have any adverse affect on the woodpecker. … At this time, we just know that the ivory-billed woodpecker was discovered 14 miles from there and that we have some potential habitat."
Lambert and Grand Prairie project manager Paul Hamm point out that the corps did stop major work on the pumping station last spring once officials learned that ivory-bills were in the region. But their "biological assessment" showed no immediate threat to the birds.
As to the plaintiffs' specific concerns, Lambert says the corps has worked with the U.S. Fish and Wildlife Service, which oversees endangered species, to develop "a plan to monitor the health of the bottomland hardwood forest," considered prime ivory-bill habitat, as the project moves forward. Pipelines and canals will follow existing roads, avoiding woods "wherever possible." The pumping station is being constructed in a former farm field where "machinery's been running … for years" and it is "right by a major highway."
Hamm says that an injunction as a result of the lawsuit will "obviously add cost and time to the project," but right now he expects Grand Prairie to begin delivering water by 2010.
'Truly a national treasure'
Kostyack is happy to have the bird as the centerpiece of the new legal action because all of the publicity around the ivory-bill "helps to highlight this ecosystem, which is not known around the country. It is truly a national treasure."
Meanwhile, Cornell's Gallagher, who has now published "The Grail Bird" about the hunt for the ivory-bill, says it has been "a difficult year" in the bid for new sightings. "The water level is the lowest it's been in years" in the swamps and bayous of the Big Woods, and "a lot of places, you can't even get a canoe in there."
Unfamiliar with the lawsuit that uses his ornithological obsession as its poster boy, Gallagher nevertheless backs as much environmental study as possible: "We don't know why these birds are still there, so you don't want to tamper with the hydrology of the area."