/ Source: The Associated Press
Ford Motor Co., the nation's second-largest automaker, said Monday that it will cut 25,000 to 30,000 jobs and close 14 facilities by 2012 as part of a restructuring designed to reverse a $1.6 billion loss last year in its North American operations.
The cuts represent 20 percent to 25 percent of Ford's North American work force of 122,000 people. Ford has approximately 87,000 hourly workers and 35,000 salaried workers in the region.
Plants to be idled through 2008 include the St. Louis, Atlanta and Michigan's Wixom assembly plants and Batavia Transmission in Ohio. Windsor Casting in Ontario also will be idled, as was previously announced following contract negotiations with the Canadian Auto Workers. Another two assembly plants to be idled will be determined later this year, and production at St. Thomas Assembly in Ontario will be reduced to one shift.
A total of 14 facilities, including seven assembly plants, will cease production by 2012. The names of the other facilities were not immediately disclosed.
"These cuts are a painful last resort, and I'm deeply mindful of their impact," Chairman and Chief Executive Bill Ford said in announcing the cuts. "In the long run we will create far more stable and secure jobs. We all have to change and we all have to sacrifice, but I believe this is the path to winning."
In addition to the facilities named Monday, analysts have also predicted that assembly plants in St. Paul, Minn., and Cuatitlan, Mexico could be closed.
Under the company's existing contract with the United Auto Workers, workers at the idled plants will continue to get most of their pay and benefits until a new contract is negotiated next year. However, they may not make what they earn today because they won't be eligible for overtime.
UAW President Ron Gettelfinger and Vice President Gerald Bantom called the plan "extremely disappointing."
"The impacted hourly and salaried workers find themselves facing uncertain futures because of senior management's failure to halt Ford's sliding market share," they said in a statement. "The announcement has further left a cloud hanging over the entire work force because of pending future announcements of additional facilities to be closed at some point in the future."
The pair said Ford should be trying to gain market share, rather than aligning production capacity with shrinking demand for the company's vehicles.
Earlier Monday, Ford reported earnings of $2 billion in 2005, down 42 percent from last year's profit of $3.5 billion. It was the third straight year the automaker has reported a profit, but gains in Europe, Asia and elsewhere were offset by a loss of $1.6 billion in North American operations.
In announcing the job cuts and plant moves, Ford said Monday it would no longer provide earnings guidance beginning in 2006.
"We must be guided by our long-term goals of building our brands, satisfying customers, developing strong products, accelerating innovation, and, most importantly, producing a sustainable profit from our automotive business," the CEO said in a statement.
Reacting to news of the job cuts, White House press secretary Scott McClellan said: "Anytime someone loses a job we're concerned about it, we're concerned about the community."
However, McClellan said overall the economy "is going strong."
Alan Hallman, mayor of Hapeville, Ga., where the Atlanta Assembly Plant is located, called the news "a setback for the state."
The plant, which makes the Taurus, has about 2,000 employees. Hallman said it accounts for 9 percent of the small city's budget.
"We've got hundreds of man-hours and thousands of dollars invested on various plans to keep them here. The fact that they've elected to idle the plant is very disappointing," he said.
In Wixom, 18-year worker James Crawford said he is too young to retire and might not have enough seniority to get hired at another plant.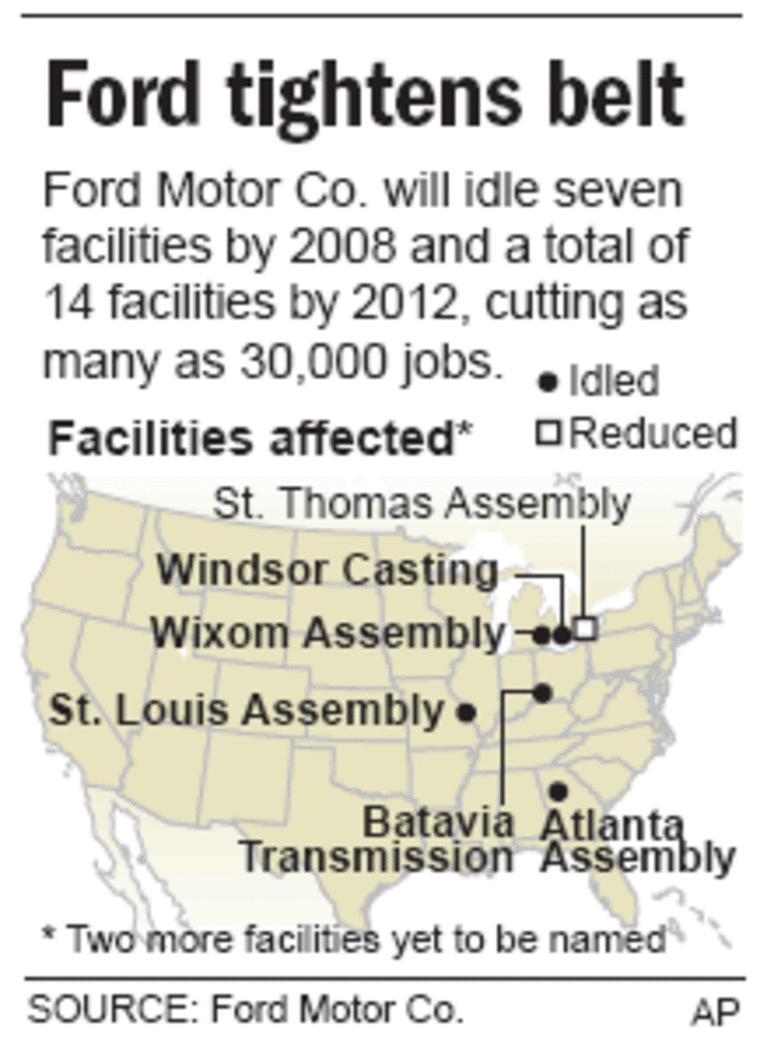 "This really hits me hard," said the 48-year-old car painter, who listened to the announcement on the radio in a white Ford Probe parked across the street from the plant. "It looks like I'm starting over."
In addition to the cuts in hourly jobs, Ford said it was reducing the company's officer ranks by 12 percent by the end of the first quarter. The company previously said it was cutting the equivalent of 4,000 salaried positions by the end of the quarter.
Ford said in its earnings statement earlier Monday that it reduced employment in 2005 by 10,000 people due to layoffs, buyouts and attrition. Ford has around 300,000 employees worldwide.
The No. 2 U.S. automaker after General Motors Corp. has been hurt by falling sales of its profitable sport utility vehicles, growing health care and materials costs and labor contracts that have limited its ability to close plants and cut jobs. The UAW will have to agree to some portions of the restructuring plan, dubbed the "Way Forward" by Ford officials.
"The announced plant closings and future announcements are the subject of ongoing discussions with Ford," Gettelfinger and Bantom said. "Certainly, today's announcement will only make the 2007 negotiations all the more difficult and all the more important."
Ford will almost certainly try to eliminate the unparalleled job protection that lets hourly workers continue to collect wages and benefits even when there is no longer any work for them, predicted Gary Chaison, a professor of industrial relations at Clark University.
"The auto industry and the UAW agreed to benefits and protections in good times which they cannot live up to in hard times, and I think both parties know it," Chaison said.
Ford also has seen its U.S. market share slide as a result of increasing competition from foreign rivals. The company suffered its tenth straight year of market share losses in the United States in 2005, and for the first time in 19 years, Ford lost its crown as America's best-selling brand to GM's Chevrolet. Ford sold around 2.9 million vehicles for a market share of 17.4 percent in 2005, down from 18.3 percent the year before and 24 percent in 1990.
The restructuring is Ford's second in four years. Under the first plan, Ford closed five plants and cut 35,000 jobs, but its North American operations failed to turn around.
Ford used just 79 percent of its North American plant capacity in 2005, down from 86 percent in 2004, according to preliminary numbers released last week by Harbour Consulting Inc., a firm that measures plant productivity. By contrast, rival Toyota Motor Corp. was operating at full capacity.
States have been scrambling to offer tax credits and other incentives to keep Ford from closing their facilities ever since the automaker said last fall that it was developing a restructuring plan.
Earlier this month, Missouri Gov. Matt Blunt and other state officials flew to Ford's headquarters for a one-hour meeting with Ford executives. Michigan Gov. Jennifer Granholm outlined a package of incentives to Ford last week but said she wasn't given any assurance that Michigan plants would be spared.