/ Source: The Associated Press
Emergency teams on Tuesday searched for survivors in the wreckage of a passenger train that derailed and plunged into a river canyon outside the Montenegrin capital, killing at least 44 people and injuring nearly 200, officials said.
The train derailed Monday near Bioce, a village about nine miles northeast of Podgorica, as it emerged from a tunnel above the Moraca River, police said.
Initial reports indicated the train's brakes may have failed, Interior Minister Jusuf Kalamperovic said. The driver was also arrested under suspicion of negligence.
At least 250 passengers, many of them schoolchildren returning from a ski trip, were believed to be on the train when it crashed, in what was among the deadliest European train accidents in 25 years.
Police, medical workers and volunteers pulled bodies from the 330-foot-deep ravine late into the night. Bodies were entangled in the four smashed train cars and strewn around the nearby patches of thick woodland.
'The train simply went wild'
"The train simply went wild, out of control," a man said as blood poured down his forehead. "I was fine because I was in a back compartment, those in the front got the worst of it."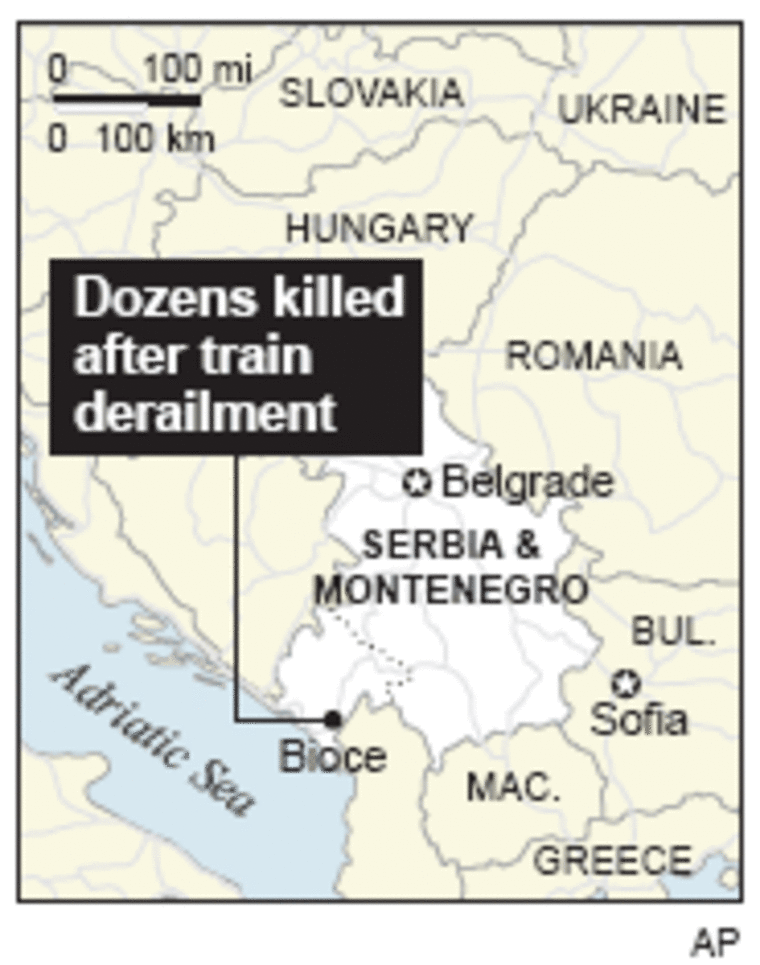 The death toll was 44, including five passengers who died overnight, while 198 people were injured, 90 of them children, said Miodrag Djurovic, the head of the main Podgorica hospital. A three-day mourning period was announced for the victims.
Grieving relatives lined up outside an improvised tent at the Podgorica hospital morgue Tuesday morning to identify the dead and take their bodies home.
"I lost my whole life in this tragedy," sobbed Radomir Cobarkapa, 50. His wife and son were killed and two of his other children were injured in the crash.
Tarzan Milosevic, mayor of the northeastern town of Bijelo Polje, came to claim the bodies of 20 of his townspeople who were killed in the accident. The train was en route from Bijelo Polje to the Montenegrin coastal city of Bar when it derailed.
"There are no words to describe this," he said through tears.
'Harsh and inaccessible terrain'

Visiting the Podgorica hospital where many of the injured were taken, Montenegrin Prime Minister Milo Djukanovic said the emergency crews had "reacted as well as could be expected in such a harsh and inaccessible terrain."
"We did all we could, but in many cases that was not enough to save those tragically killed," he said.
Montenegro's transport minister, Andrija Lompar, resigned because of the accident, Ivanisevic said. The head of Montenegro railways also resigned.
Other deadly train accidents in Europe in recent decades included the June 1998 derailment of a high-speed train traveling from Munich to Hamburg, which killed 96 people. A crash in a dead-end tunnel at Moorgate Underground station in central London killed 43 in February 1975.