A wave of pre-dawn mortar attacks pounded Mogadishu and killed at least 16 people on Tuesday in one of the most brutal bombardments since an Islamist movement was forced out of the Somali capital last month.
The hilltop presidential palace, Villa Somalia, and the coastal city's defense headquarters were among the targets hit in attacks that struck many quarters of Mogadishu and sent hundreds of residents fleeing to outlying towns.
"They showered us with rockets and a mortar also hit the compound. Luckily no one was hurt," said a government soldier who was in Villa Somalia during the attack but declined to be named for fear of reprisal.
"Our troops and those from our ally Ethiopia were forced to fire heavy artillery," he told Reuters. "We had to retaliate. These elements are being paid to cause all this destruction."
A spate of near-daily attacks have challenged the government's effort to impose security on the city recaptured in December by government forces and their Ethiopian allies from Islamists who controlled it for six months.
'These people played mortar games'
The death toll climbed throughout the day on Tuesday as more reports came in from across the chaotic capital, with witnesses and officials putting the total at 16 — all of them civilians.
"A pregnant woman died in a house made of iron sheets after a mortar hit where she was sleeping. ... There was blood everywhere," witness Ibrahim Maalim, who said he saw six bodies in the central Wardigley district, told Reuters.
At one Mogadishu hospital alone officials said there were more than 40 wounded and those with lesser injuries were sent home. Relatives gathered around patients wrapped in bandages lying on the steamy, crowded hospital's floors.
The city's taxis, buses and trucks were packed with residents heading out of town.
"May God help us. These people played mortar games with us caught in between," said Salavo Elmi, an 80-year-old great-grandmother, as she left Mogadishu by taxi.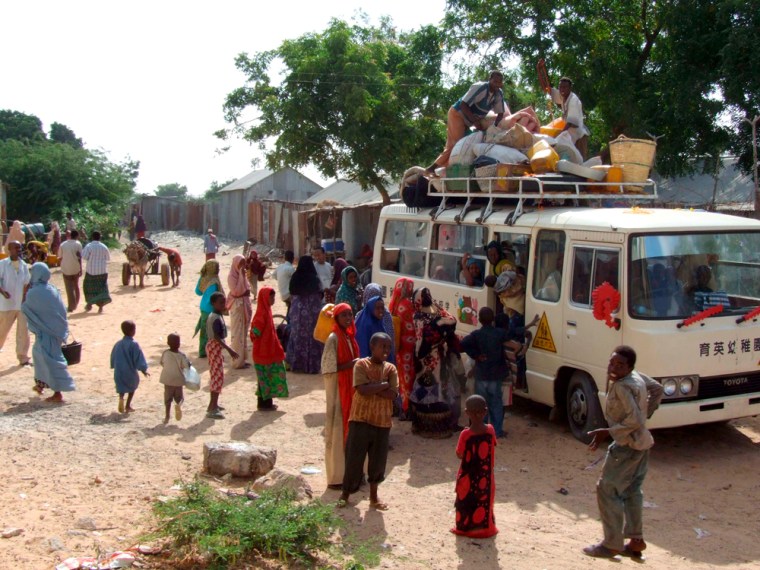 'Insurgents are paying $100 a day'
Deputy Defense Minister Salad Ali Jelle accused Islamist remnants of paying the gunmen in the impoverished city where jobs are scarce and being a hired gun has long been one of the steadiest sources of employment for young men.
"The insurgents are paying $100 a day to whoever fires rockets and mortars at the government and people," he said.
But Jelle said a 24-hour paramilitary unit introduced on Monday would soon demonstrate its effectiveness: "The plan is to expand our control in the city so the extremists are no longer safe anywhere."
President Abdullahi Yusuf's government says it is doing its best to police one of the world's most dangerous cities with little help. And there are plenty of people with military weapons and anti-government grudges to make the task harder.
Ugandan soldiers are due to deploy in Mogadishu soon as the vanguard of an 8,000-strong African Union peacekeeping force to replace the Ethiopians. Also on Tuesday, one of three private media groups summoned by intelligence chiefs a day earlier said it was "shocked and dismayed" after being told to stop reporting unrest in the city.
Shabelle TV and radio said the deputy head of national security "threatened the directors that (under) martial law... government soldiers can shoot and kill everyone they want."
Shabelle Chairman Abdi Maalik Yusuf Mohamuud called on the international community to pressure the government to respect press freedom.