/ Source: msnbc.com staff and news service reports
Long before former postal employee Jennifer Sanmarco went on a suicidal rampage inside a mail processing plant in Santa Barbara, killing six people there and a seventh elsewhere, acquaintances and others took note of her odd behavior, a spiral of bizarre acts that began at least two years ago.
A former plant worker said the attacker had made racist comments in the past, and at least six of the victims were minorities, but investigators have refused to discuss a motive in the slayings.
But interviews with officials and others in New Mexico, Sanmarco's home state, to which she returned in 2004 after she lost her job at the mail facility, paint a picture of an unpredictable woman.
"We weren't sure what she was going to do next," said Terri Gallegos, deputy clerk for the city of Milan, N.M., where Sanmarco applied for a business license in 2004 for a publication called "The Racist Press" that she said she planned to launch. Another time she said she wanted to register a cat food business, Gallegos told the Associated Press.
Bizarre behavior
During one meeting, Gallegos said, Sanmarco carried on a conversation with herself "like she was arguing with someone, but there was no one there."
"It was obvious that she could have some mental problems," Gallegos told MSNBC.com. "It was in 2005 when we dealt with her more frequently. She would come in and just ask questions about area projects. Sometimes we weren't sure what she was referring to. A lot of times she would storm in, blurt out something and walk out."
"She would do things that people would witness, like parking on the side of the road and praying," Gallegos told MSNBC.com. "We've heard of her going through local Dumpsters. To this day we don't know where she came from. She had no history on her, no family or friends, she was always by herself."
In June, police in nearby Grants, N.M., talked to her after someone at a gas station called to complain of nudity, police Chief Marty Vigil said. Sanmarco was dressed when officers arrived.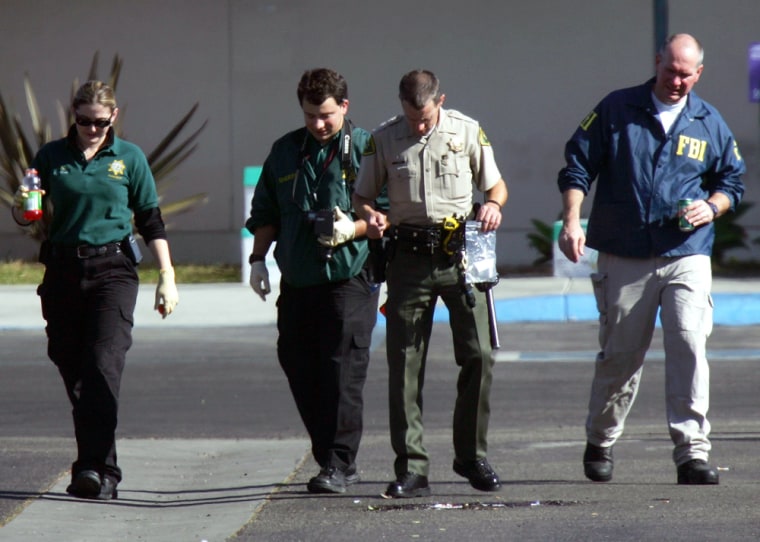 Sanmarco's behavior turned violent on Monday night, when she returned to her old workplace, the sprawling Processing and Distribution Center in Santa Barbara, Calif. She drove through the gate behind another car and gained entry to the building by taking an employee's identification badge at gunpoint.
That worker was not hurt, but Sanmarco fatally shot six postal employees before committing suicide in what is believed to be the deadliest workplace shooting by a woman.
"According to witnesses from the scene, she had a 9 mm pistol and reloaded at least once during her rampage," Santa Barbara County Sheriff James Anderson said Tuesday.
Killer of former neighbor
Beverly Graham, 54, was found Tuesday, dead of a gunshot wound to the head, at a Santa Barbara condominium complex where Sanmarco lived up until a few years ago.
A neighbor of Graham's reported hearing a gunshot Monday evening, before Sanmarco went to the mail-processing center.
"Evidence and circumstances of both crimes show distinct correlations between the two," said Jeff Klapakis of the Santa Barbara County Sheriff's Department, on Wednesday.
Racial component to shootings?
Authorities said it was unclear whether Sanmarco targeted specific employees at the postal center, but U.S. Postal Inspector Randy DeGasperin said "chances are" she knew the people she was shooting.
Former plant worker Jeff Tabala recalled that Sanmarco seemed particularly hostile to Asians while working for the Postal Service.
He said all of the dead at the facility were minorities: Three were black, one was Chinese-American, one was Hispanic and one was Filipino.
In 2003, Tabala said, he saw sheriff's deputies pull Sanmarco out from under a mail-sorting machine and wheel her away in handcuffs on a mail cart after a disturbance.
She returned several months later, but "people started coming to me and saying, 'She's acting erratically,'" Tabala said. "She was screaming. She was saying a lot of racist comments. It was pretty ugly."
Sanmarco was escorted out of the building by management and never returned, Tabala said. "She seemed to be having conversations and there wasn't anyone around her. She'd be just jabbering away." he said.
Beverly Graham had also noticed unusual behavior, her brother Les Graham Jr. told The Associated Press. He said his sister had complained about a woman who "used to come out and rant and rave in front of her building."