WASHINGTON -- Ready or not, this year's political campaign season is upon us, and Washington handicappers already have circled what they expect to be the best -- and most contentious -- races.
In Pennsylvania, there's the Senate contest between Republican incumbant Rick Santorum and Democrat Bob Casey Jr. In Texas, there's GOP Rep. Tom DeLay's battle for re-election. And in California, Republican Gov. Arnold Schwarzenegger dukes it out in his own bid for re-election.
But one other race, which will be decided less than a month from now on March 7, could be added to the list: the Texas congressional primary between Latino Democrats Henry Cuellar and Ciro Rodriguez. While both certainly aren't household names, and while it might not even be that close of a race, this primary is a classic Texas political brawl -- and much more.
It pits an incumbent, Cuellar, versus ex-incumbent Rodriguez, who narrowly lost two years ago; it involves accusations of betrayal, party disloyalty, and voting irregularities; it features the conservative Club for Growth and liberal blogs parachuting into the battle; and it even adds a cameo appearance by Victor Morales, the quixotic Democrat who became famous for driving his white pickup across the Lone Star state while campaigning for the Senate in the 1990s. In short, if this first grudge match of 2006 is any guide, this year's campaign season will be quite a ride.
Money is on the incumbent
So far, analysts believe the race is Cuellar's to lose, due in part to his significant fundraising advantage. At the end of 2005, Cuellar had nearly $300,000 cash on hand, compared with only about $40,000 for Rodriguez. But Rodriguez hopes to use some of Cuellar's ties to the Republican Party, plus some of his votes for GOP-backed legislation, against him in this strongly Democratic congressional district. (There isn't even a  Republican candidate in the field). And recently, liberal political blogs like Daily Kos have helped Rodriguez raise cash online.
"Cuellar has some vulnerabilities with his voting record," said Amy Walter, who monitors House races for the non-partisan Cook Political Report. "But I just don't think Ciro is doing everything to make this as competitive as it could be."
The story begins in 2002, when Cuellar ran against Republican congressman Henry Bonilla. During that race, he received significant help from Rodriguez, then the congressman from San Antonio, who wanted to see the Democrats pick up Bonilla's seat. But after Cuellar narrowly lost, and after Texas Republicans -- in their controversial redistricting plan a year later -- reconfigured Rodriguez's district to include Cuellar's hometown of Laredo, Texas, Cuellar did what some thought was an act of betrayal: He challenged Rodriguez for his seat in the 2004 primary, and won. (Cuellar went on to defeat his Republican opponent in the general election, 59-39 percent.)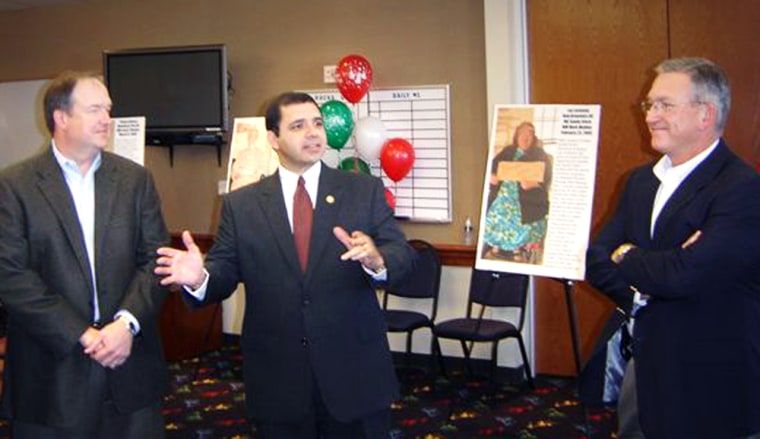 That left a bad taste in the mouths of some Democrats in Texas and Washington, which only intensified after Cuellar arrived on Capitol Hill, and was seen as being a little too cozy with the GOP. In fact, Cuellar -- who had endorsed George W. Bush over Al Gore in the 2000 presidential race, and was appointed by Republican Texas Gov. Rick Perry to become secretary of state -- ended up casting votes that irked Democratic Party leaders, like his vote in favor of the Central American Free Trade Agreement (CAFTA). Because of that vote and others, he became the first Democrat to earn an endorsement from the Club for Growth, a conservative interest group. "He has a record of supporting pro-growth economic policies," noted Pat Toomey, the Club's president.
A picture is worth SEVENTY-thousand ...
More recently, Cuellar made some Democrats furious when a photo was published showing President Bush grabbing Cuellar's cheeks at the State of the Union. After liberal blogs posted the photo, Rodriguez's campaign has raked in the cash, more than $70,000 from online donors, according to ActBlue, a Democratic online clearinghouse.
"He has pissed off every single Democrat [in Washington]," Rodriguez said in an interview. In fact, campaign-finance records show that at least 10 current members of Congress have donated to Rodriguez's campaign, while not a single one has given to the incumbent Cuellar. "That never happens," Rodriguez added.
One of those Rodriguez contributors, Rep. Charlie Gonzalez, D-Texas, says this race is "uncomfortable" for him, but he explains he's trying to express his support for Rodriguez in a manner that doesn't alienate Cuellar. "I don't have to say anything negative of Henry Cuellar to say something positive about Ciro Rodriguez."
Still, Gonzalez questions whether Cuellar should have run against Rodriguez two years ago. "I don't think Cuellar should have challenged Ciro," he said.
Personal politics
Dan Wright, Cuellar's campaign manager, downplays the support Rodriguez has received from Capitol Hill Democrats, noting that Rodriguez has strong personal ties with many of them after serving eight years in Congress. Wright also argues that Cuellar won't receive any backlash for his ties to Bush, arguing that the president -- even in this Democratic district -- is still popular in Texas. Indeed, Bush beat John Kerry in this district, 53-47 percent.
And experts doubt that Cuellar's vote in favor of the CAFTA accord will haunt him, since he represents Laredo, a major border city that sees billions in trade cross between the United States and Mexico. "He doesn't represent Detroit. He represents a border city," explained Larry Hufford, a political science professor at St. Mary's University in San Antonio. "The CAFTA vote isn't going to hurt him as much as it would in Ohio or Pennsylvania."
Hufford adds that Cuellar's biggest advantage is that Laredo residents enjoy having one of their own serving as their congressman. "Politics in South Texas is personal," he said. "It has little to do with your political philosophy."
But allegations of betrayal and party disloyalty aren't the only parts to this story that anger Cuellar's critics. After election night two years ago, Rodriguez actually held a slim 145-vote lead. But Cuellar demanded a recount, which produced an astonishing result: 177 new votes were found in Cuellar's home county, and all 177 of them went to Cuellar, eventually giving him an advantage over Rodriguez after a recount.
That caused some observers to recall past instances of voting irregularities in South Texas. "It did just smell like Ballot [Box] 13 in the LBJ race," said Cal Jillson, a political science professor at Southern Methodist University in Dallas, referring to the infamous box of additional votes that appeared in a South Texas county, helping Lyndon Johnson win his Senate seat in 1948.
Rodriguez filed a lawsuit, but after a second recount and a state appeals court ruling in July, Cuellar was declared the winner by 58 votes.
The Morales factor
This time, analysts don't expect the Cuellar-Rodriguez race to be as close, due to Cuellar's fundraising advantage, the federal money he's brought back to the district, and the expectation that -- as the incumbent -- he'll dominate in his hometown of Laredo and improve his standing in San Antonio, Rodriguez's hometown. "It is funny that people are commenting that this is a competitive race," said Wright, Cuellar's campaign manager. "It is nowhere near competitive."
Another thing that could help Cuellar is the third candidate in this Democratic primary: Victor Morales, the Texas schoolteacher who ran against former Texas Sen. Phil Gramm in 1996 by traveling throughout the state in his white pickup truck. Hufford, of St. Mary's University, doesn't expect Morales to be much of a factor in this race, though he says he could draw some anti-Cuellar votes away from Rodriguez.
But Rodriguez says he's unfazed by all of this, and he believes Cuellar's conservative voting record will more than compensate for any of the disadvantages he faces. "This is about his record. If he had the right record, it would have made it difficult for me, and I might have reconsidered [running]."
And had he done that, he would have deprived us of the first contentious race of 2006.
Mark Murray covers politics for NBC News.