Nigeria stepped up its response to an outbreak of deadly H5N1 bird flu on Monday as experts and protective equipment arrived from abroad, but the virus that is decimating poultry and endangering people continued to spread.
As well as the four confirmed cases of H5N1 in three states, authorities said there were now suspected outbreaks of bird flu in five other states, some of them hundreds of miles away from where the original cases were detected.
The virus broke out in Africa's most populous country in early January, but lab tests did not confirm the presence of H5N1 until Feb. 8 and authorities have been slow to implement culling and quarantine measures that would help contain it.
Hard message
Abdulsalam Nasidi, who is in charge of efforts to prevent bird flu from spreading to humans, said it was proving difficult to persuade people not to touch or eat dead poultry as many were too poor to afford the luxury of throwing away meat.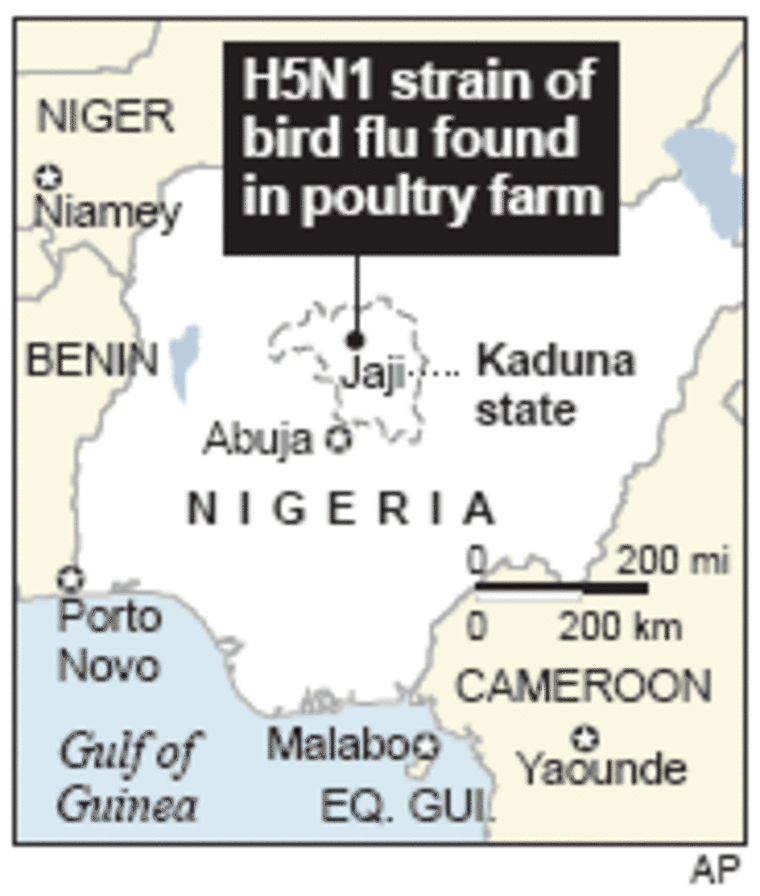 "I have been in the field and they say 'What are you telling us? We eat dead chickens and we have been doing that for centuries,'" he told a news conference in the capital Abuja.
He said about 70 percent of chickens in Nigeria were in people's backyards rather than in commercial farms.
In the northern state of Kano, where two of the confirmed cases occurred, authorities said they feared bird flu was now present in more than 30 separate locations and the association of poultry farmers said more than 150,000 birds had died.
U.N. agencies and foreign governments were mustering teams of international experts to head out into the field, where many people are unaware of bird flu and have been handling sick and dead birds.
Change of behavior
Health Minister Eyitayo Lambo said federal authorities had been in contact with state governments to mobilize health workers and use media to inform the public about the risks posed by contact with sick birds.
"With the public enlightenment that has started ... I will expect that there is a change of behavior," he said.
The U.S. government sent in the first 200 out of 2,000 promised sets of protective suits, gloves and masks, while the World Health Organization (WHO) provided a first batch of supplies including a few boxes of the drug.
No human case of bird flu has been confirmed among Nigeria's 140 million population so far. But detecting any human case will be difficult because mortality rates from other diseases are high and health services are almost non-existent in rural Nigeria. People are often buried without any medical check.
The Nigerian outbreak of H5N1 is the first known appearance in Africa of the strain, which has killed at least 88 people in Asia and the Middle East.
Extremely difficult to monitor and contain
Scientists fear the virus could mutate into a form that can pass easily between humans. This could cause a global pandemic that could kill millions of people.
So far, little information on bird flu has trickled out to the impoverished rural areas where chickens are dying. Farmers and villagers have been using their bare hands to toss dead birds onto fires, while children have been handling them.
As in much of Africa, most poultry is bought live and slaughtered at home in Nigeria, and chickens are everywhere  — in village backyards, city streets, by the side of the road, in crowded markets, on buses.