• |
Spaceports everywhere: Virginia-based Space Adventures has laid out its plans for suborbital spaceports to be built in Singapore as well as Ras al-Khaimah in the United Arab Emirates. The estimated $265 million cost of the two facilities will apparently be covered by Middle East oil money and other investments.
The company says that the Ras al-Khaimah project already has commitments for "shared investments" of $30 million from the emirate's ruler, His Highness Sheikh Saud Bin Saqr Al Qasimi — and he's quoted as saying he'll put up $30 million more for further expansion of the network to Singapore and perhaps beyond.
The Singapore operation, announced today, will serve as a base for suborbital spaceflights as well as private astronaut training and ground-based, space-oriented tourism. Zero-gravity airplane flights, high-altitude jet rides, centrifuge rides and space simulations would be among the offerings.
The $115 million facility is to be built in the vicinity of Singapore's Changi International Airport, under the umbrella of a new venture called Spaceport Singapore. KPMG Corporate Finance of Singapore will be raising money to supplement the Ras al-Khaimah investment, according to today's announcement.
The globe-girdling plans mesh with Space Adventures' international deals for the development of a Russian-built spaceship system known as the Explorer, announced on Thursday.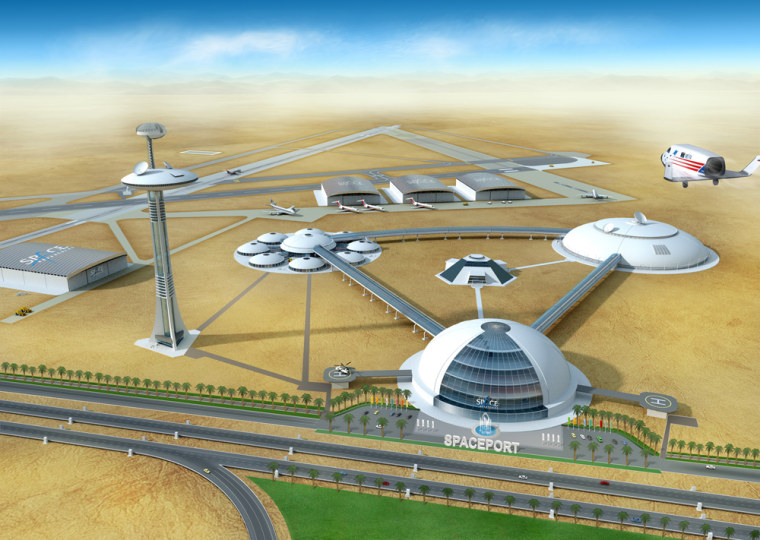 It may seem as if this is all so sudden, but the announcements of the past few days indicate that Space Adventures has been working on these deals for at least three years — even before SpaceShipOne became the world's first private-sector spaceship.
Eric Anderson, the president and chief executive officer of Space Adventures, says there's more to come. For example, exactly who will be providing the rest of the required $265 million? "We'll tell you that in the next few weeks," he told me Friday.
Anderson noted that Al Qasimi is "very good at finding ways to finance big projects," and hailed him as a "visionary for the future of space tourism." He was particularly gratified that aviation officials in the emirates had already cleared the Explorer for suborbital spaceflights.
Anderson made a few other points:
Although Russia's Federal Space Agency would oversee construction of the Explorer spaceflight system, a variety of Russian aerospace companies would be involved in building the components of the space plane and its carrier aircraft. Anderson declined to name names, saying that information would have to come from the Russians.
Space Adventures would not get into the business of running the operation, but would market the suborbital flights under an arrangement similar to that in effect for orbital flights to the international space station. "The spaceport entity is envisioned to be the owner and operator of the vehicles that fly from the spaceports," he said.
A U.S.-based spaceport may be in the works as well, but it's unlikely that the Explorer would fly from such a facility. Space Adventures is more likely to strike a deal with an American suborbital space company for the U.S. operations. But having a U.S.-made spaceship fly from a foreign port probably isn't a realistic option, because of U.S. export restrictions, Anderson expained. That's where the Russian-built Explorer enters the picture.
• |
Kliper's wings clipped? NBC News space analyst James Oberg forwards a report from Russia's Itar-Tass news agency, saying that the Federal Space Agency is putting off a decision on which company will get to build Russia's next-generation spaceship, the Kliper.
Russian space officials were supposed to choose between three of Russia's top aerospace companies this month. However, the agency's deputy head, Nikolai Moiseyev, was quoted as saying the companies still needed to provide information on some "purely technical questions," such as how long their proposed craft could fly on its own. The Itar-Tass report said the Kliper should be capable of at least a month's worth of autonomous flight, and should serve as a "base for flights around the earth and to the moon."
Bottom line is that the winner is now slated to be announced by the end of the year. Energia, which makes Soyuz and Progress spacecraft for the Russian space agency, is considered the front-runner — but one of the two other companies, Khrunichev or Molniya, could still get the nod.
Reading between the lines, Oberg wonders if today's report is signaling bigger problems with the Kliper program:
"This is pretty amazing — the 'Kliper' program is at a standstill, ostensibly because the bidders didn't fill in all the blanks on their application forms. That's patently unbelievable. There's something much more serious — probably a total failure to round up adequate funding — behind this innocuous announcement. ..."
• |
Play it again, SuitSat: The good news, according to NASA, is that SuitSat is still transmitting amateur-radio signals, almost two weeks after the spacesuit-turned-satellite was pushed into orbit from the international space station. Hundreds of hams have reported hearing the signals, and there have been more than 5 million hits recorded at the SuitSat Web site.
The bad news is that the signal is still "extremely weak," which comes as a disappointment to the thousands of students and many ham operators who were hoping to use simple radio setups to receive SuitSat's temperature-and-time telemetry, slow-scan TV imagery and cool coded messages.
The organizers of the effort suspect that there's an electronic problem or antenna glitch that has reduced SuitSat's power output. "If the transmitter is running at full power, we would expect the suit to have ended operations after a few days to a week," Frank Bauer, international chairman of Amateur Radio on the International Space Station, said today in a status report. "If it is transmitting at lower power, then it will operate much longer."
Bauer and his ARISS colleagues are asking hams to help troubleshoot the problem by continuing to collect SuitSat telemetry.
"Pioneering efforts are challenging," Bauer said in the status report. "Risk is high. But the future payoff is tremendous. As you have seen, we have not had total success. But we have captured the imagination of the students and the general public. And we have already learned a lot from this activity. This will help us and others grow from this experience."
So is that all there is for the SuitSat experiment? Veteran satellite watcher John Locker suggests that the space station's crew members could retransmit the SuitSat signals from their own onboard equipment — and Bauer told me today that's just kind of thing that ARISS has in mind.
"We're trying to make sure that we run out the SuitSat for as long as we can," he said in an interview conducted by voicemail. "We're still getting telemetry on a daily basis, but voltage is still hanging kind of high. It's around 26½ volts at this point [from the 28-volt battery]. So I think we still have a few more days of operations here. Once that is completed, we're going to start looking into alternatives."
Bauer said ARISS has been discussing the possibilities with the Russians for more than a week. "The intent is to get access to a computer — which has been an issue," he said. An MP3 file with the messages could be provided to the crew for downlinking from the space station.
"But we don't want to do that till we get done with this thing, because we want people to continue piecing together the telemetry and the information as they have been," Bauer said. "The level of interest continues to be very high."
So stay tuned — literally: The message of SuitSat could rise again in outer space, even as the spacesuit itself slowly sinks into the atmosphere and burns up.
• Feb. 14, 2006 |
The science of pickup lines: Valentine's Day is prime time for displays of affection, ranging from candy and flowers to dance-floor come-ons. But which displays work best, particularly when it comes to that first contact with a potential mate? Can't men do better than "Do you come here often?" or even "Wow, those are great shoes!"
So many aspects of romance have been researched through the years that you'd think science could come up with a more perfect pickup line — and indeed the subject is addressed in a study in the March issue of the journal Personality and Individual Differences, titled "Chat-up Lines as Male Sexual Displays."
Researchers from the University of Edinburgh devised 40 pickup lines, drawn from film, TV, books of one-liners and other sources. All of the scenarios involved a male "chatting up" a female. Some of them took a humorous, even risque approach. Others were compliments (for example, "Your eyes are blue, like the ocean. And baby, I'm lost at sea"). Still others capitalized on the picker-upper's familiarity with culture, or highlighted his character or wealth. Even the direct "wanna have sex" approach was included. (You can see the whole list here.)
Each pickup line was rated by 142 female and 63 male undergraduates, and it turned out that for the most part, both sexes ranked the lines in much the same order.
The researchers anticipated that pickup lines should serve for humans much as tail-feather displays serve for peacocks — as a display of male fitness for reproduction, and the ability to protect the female. In their view, the results proved the point — particularly if you consider human intelligence to be a "courtship tool," as claimed by Geoffrey Miller in his book "The Mating Mind."
For the most part, the sappy compliments and the risque humor fell dead-flat. "Wanna have sex?" ranked 30th on the list of 40.
In contrast, the top-rated pickup lines weren't "lines" at all, but scenarios in which a man lent aid to a woman at a bus stop, or sought her advice in buying a watch, or commented on a painting at an art gallery.
"As anticipated, opening gambits which revealed wealth, and those demonstrating personal qualities such as generosity, the ability to take charge, and physical fitness, were judged likely to appeal to women," the researchers wrote. "In line with the mating mind hypothesis, gambits displaying a cultured background or artistic talent were also judged likely to be effective."
So what's the perfect pickup line? Based on this research, a woman colleague here at MSNBC.com suggested: "Running the marathon made me too distracted to manage my hedge fund today, but can I help you with your coat?"
More seriously, if even men recognize which pickup lines are lame, why in heaven's name do they persist in using the clunkers? The researchers put forward this hypothesis: "Some may be used by men to identify sociosexually unrestricted women who may be sexually available. Some may just signal to the woman that the man is interested, at which point his looks or voice may actually determine the outcome."
One of the researchers involved in the study, Peter Caryl of the University of Edinburgh, had this common-sense advice for hapless males:
"Avoid the pre-planned jokes and stock compliments — they are unlikely to be attractive," he said in an e-mail. "Don't show off, it may put her off. If you can arrange to site your training for the marathon in Central Park, or you can show effortless command of the situation when trouble strikes of an evening in the bus queue, you may have above-average luck picking up women — but of course you would not be hapless!"
Do you have some tales of clueless pickup artists, or further examples of pickup-line science at work? Send them along, and I'll pass along a selection of the good, the bad and the ugly.
• Feb. 14, 2006 |
After the space wedding: Remember the controversial "space wedding" that took place between an orbiting Russian cosmonaut and his earthbound sweetheart? In a Valentine's Day update, Jo Ann Schwartz Woodward, the Houston-based wedding planner who made the arrangements back in 2003, tells me that the two are well-settled into married life in Moscow.
Cosmonaut Yuri Malenchenko is back in training, in hopes of getting back to the international space station for another orbital stint. His wife, Kat Dmitriev, is becoming "a part of Yuri's family" and enjoying Russian life, Schwartz Woodward said.
"I have to tell you that their relationship is wonderful, and they really are connected," she reported. "And it's gone beyond space."
The wedding planner still keeps an online album from the historic wedding. "That situation was so unique, and it'll never happen again," Schwartz Woodward said. "But it's so nice to know that they've landed and are leading a regular life."
• Feb. 14, 2006 |
Meet me in St. Louis: Over the next week, I'll be in the Gateway to the West for the annual meeting of the American Association for the Advancement of Science. That means postings to the Log will be less regular, and dependent on time, bandwidth and news developments. If you're attending the conference, catch me in the hall and say hello. If you're not, look forward to reports from St. Louis through the long weekend. Regular postings will resume next Tuesday.
• Feb. 14, 2006 |
Scientific smorgasbord on the World Wide Web:
• Nature: A comet's tale• PPARC: Einstein's theory 'improved'?
• Scientific American: Food for thought• Slate: The inexact science of penile measurement
• Feb. 13, 2006 |
Next floor for the space elevator: It takes thousands of small steps to build an elevator into outer space.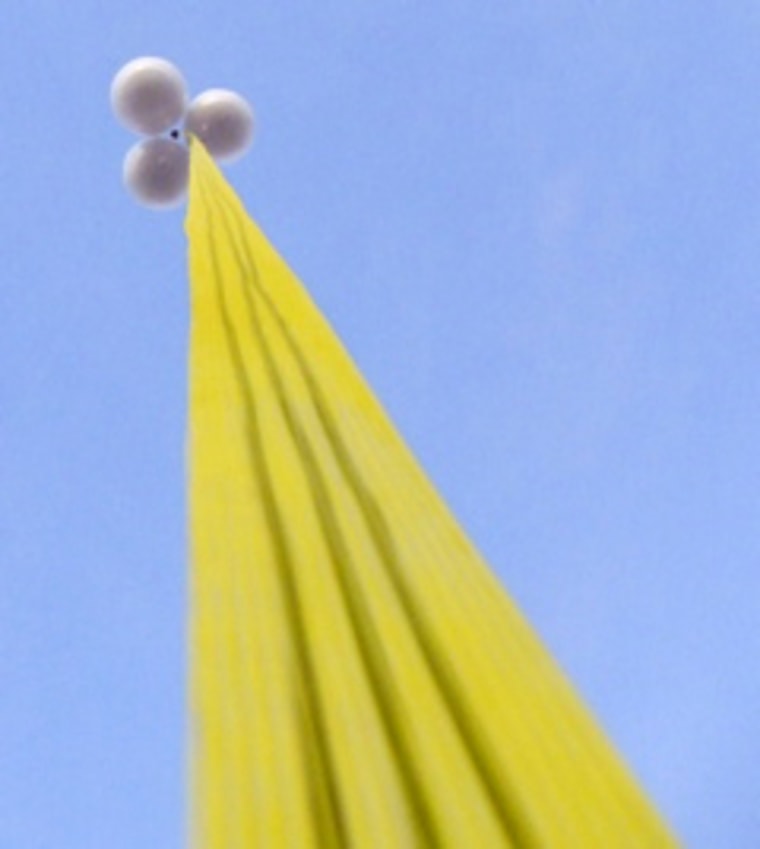 Eventually, proponents of the space elevator envision beam-powered robotic transports shuttling up and down super-strong carbon nanotube tracks, bringing payloads to orbital heights at a fraction of the cost of shooting up rockets. But the technologies behind that concept still aren't ready for prime time, even though NASA is sponsoring competitions aimed at giving a boost to the transports, tracks and power systems that will eventually come into play.
The LiftPort Group is taking a different tack, building smaller-scale atmospheric elevators that could someday be used to support high-altitude observation systems or communication relay stations — and blaze a trail for the eventual space elevator. Today, LiftPort announced that it has successfully completed a second round of tests on a prototype elevator system it calls HALE, for "High Altitude, Long Endurance").
The latest incarnation of the HALE system was put to the test this month in Arizona, under an airspace waiver granted by the Federal Aviation Administration, LiftPort reported in a news release.
The company, headquartered in Bremerton, Wash., said that high-altitude balloons lofted an instrument platform to a mile in altitude for six hours, with a carbon fiber-laced ribbon hanging down to the ground.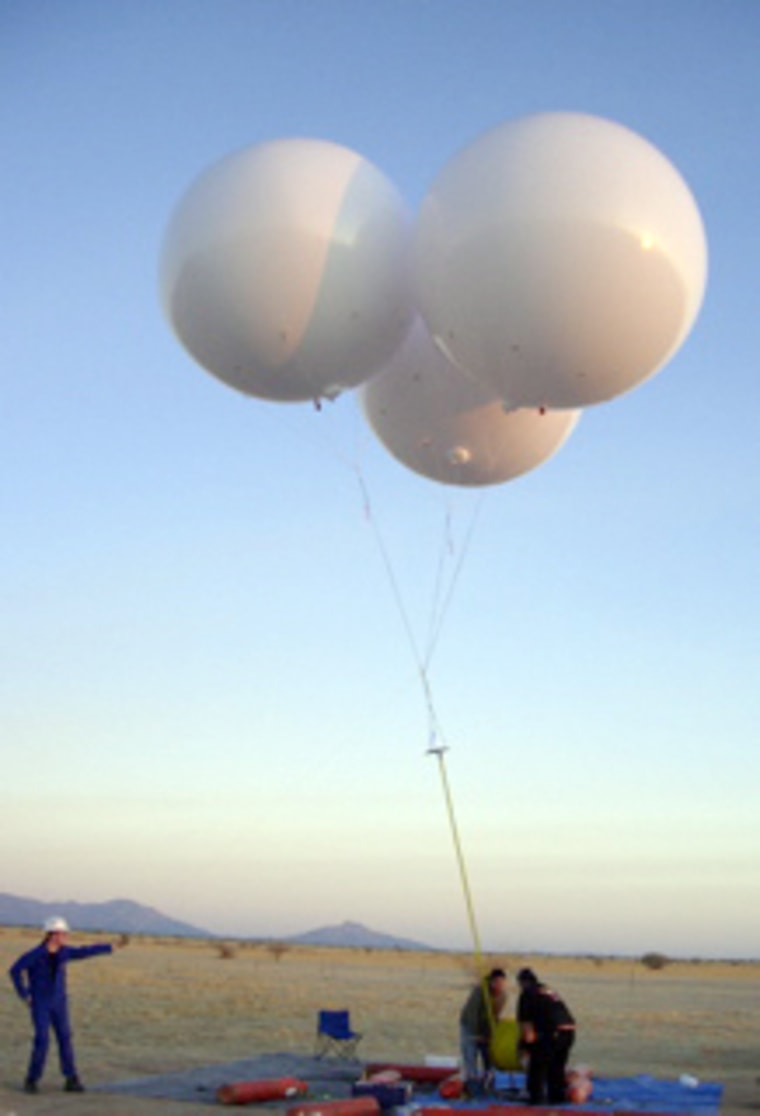 A robotic lifter, measuring 5-foot-6 (170 centimeters) in length, grabbed onto the ribbon and pulled itself up to altitudes of more than 1,500 feet (460 meters), besting the previous record by 500 feet.
The latest field test follows up on an initial round conducted in Eastern Washington last September, which was also cleared by the FAA. "Testing our technology in real-world settings is critical to the ultimate success of our space elevator, and we appreciate the FAA's willingness to work with us on this," said Michael Laine, LiftPort's president.
The last time around, the ribbon was the weakest link in the chain, Laine told me. So this time, "the real test of this particular event was the ribbon itself. ... We were really, really happy with this ribbon," he said.
The robotic lifter was the failure point this time: LiftPort's engineers installed nylon gears to cut down on the robot's weight, but when the robot approached the 1,500-foot point, "we started grinding down the gears," he said. Nevertheless, Laine said he was so happy with the test "that we're starting to design the 2-mile system now."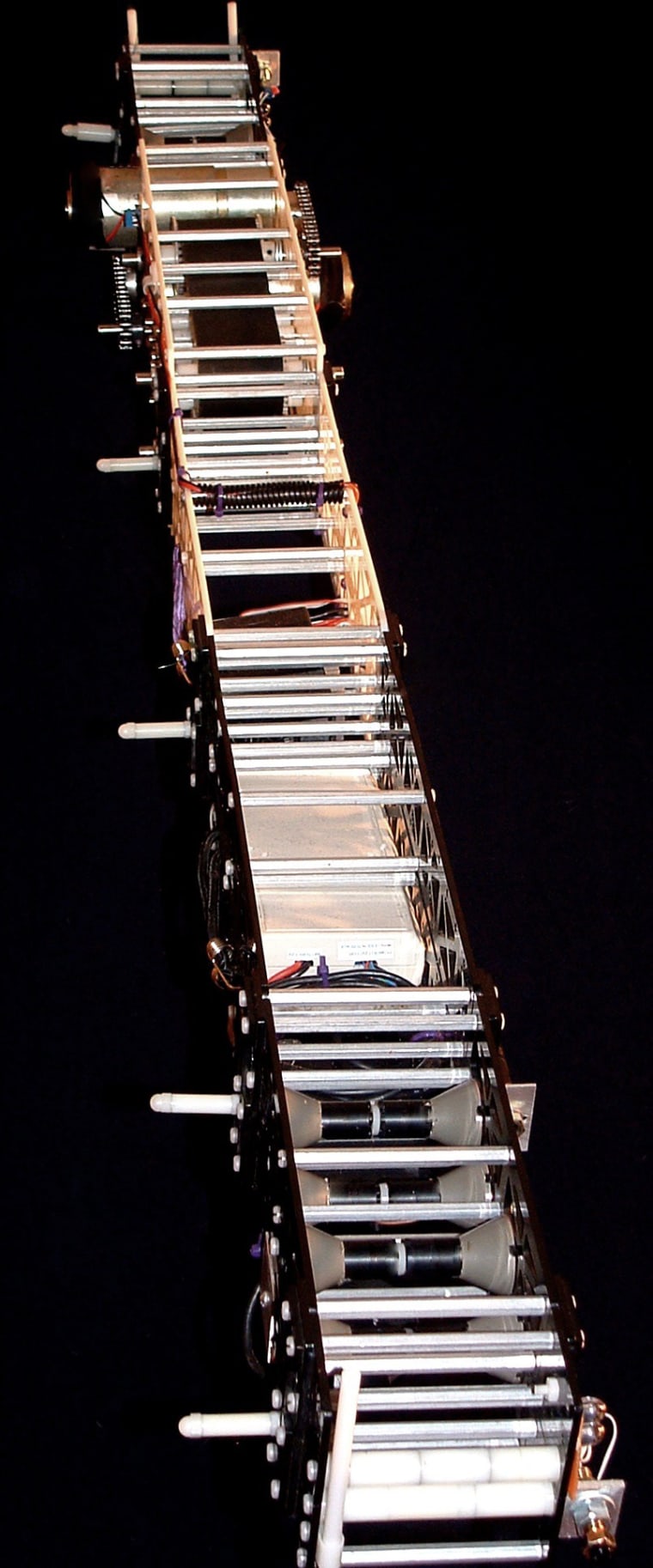 In the meantime, Laine is gearing up for a test of a different type. In cooperation with the Mars Desert Research Station and a team from Georgia Tech, LiftPort will be setting up a balloon-borne, lifter-serviced communications platform that would relay signals during a simulated Mars mission in the Utah desert in late March and early April.
If the FAA gives its OK, the radio-equipped bot could rise as high as 500 feet above the ground to support communications during extravehicular activities. The exercise would be a longer-lasting, higher-altitude follow-up on an initial experiment that was conducted last year at the Mars Desert Research Station.
Laine said he particularly likes this kind of test because "it leads directly to the commercial applications."
"I'm a space geek, so I want this thing to go to Mars," he said, "but as a rational business guy, I want to make a couple of bucks."
• Feb. 13, 2006 |
Your daily dose of science on the Web:
• RPI: New device confirms feasibility of tabletop fusion
• Wired.com: The secret cause of flame wars• Science News: Self-serve brains
• Defense Tech: Air Force plan: Hack your nervous system
Looking for older items? Check the . Share your perspective on cosmic subjects with . If you link to this page, you can use or as the address. MSNBC is not responsible for the content of Internet links.