/ Source: a href="http://www.washingtonpost.com/wp-srv/front.htm" linktype="External" resizable="true" status="true" scrollbars="true">The Washington Post</a
As a kid, W. Norman Wood liked to bike around the corner, linger outside a fancy restaurant and soak up the glamour of blacks coming and going in their tuxes and gowns. Seven decades later, Wood still lives on Eighth Street NW in Washington's Shaw neighborhood. He bought a rowhouse three decades ago for $12,500.
Harry "Sonny" Brodgins was 9 when his mother moved into a rowhouse two blocks away, across from a lot where he and friends played football and hung out, sometimes 30 deep, drinking beer and talking about the Redskins, cars and girlfriends. He's still there, caring for his mother, who scraped and saved and bought the place for $65,000.
Moses Lofton was driving for Greyhound in 1976 when he paid all of $35,000 for a five-bedroom three blocks west. The rowhouse was run-down, but Lofton saw charm in the worn wood trim and the stained-glass window. "Look at it," he said recently, gazing up at its turret crown. "It's like a castle."
They are among the many homeowners who have lived in Shaw for decades — through the 1968 riots, the crack epidemic, black flight. They are there now for the rebound. Their homes have mushroomed in value, and they are adapting to new neighbors, many of them white and more affluent.
And they find themselves confronting a question that arises in any neighborhood where prices skyrocket: Why not sell?
A matter of identity
But this is not just any neighborhood. These owners are nagged by something deeper and more complicated than how far their new wealth would take them or how they would adjust to new surroundings. They fret about the future identity of the neighborhood, a bastion of black culture and history — their history — where Langston Hughes wrote poetry and Duke Ellington played piano, where African Americans started their own bank, built their own buildings and thrived for generations.
They know that much of Shaw has been transformed and is gone. But what about the rest? What would become of the black-owned barbershops and shoe shops, the familiar faces who still congregate on the corners? Would the presence of African Americans be erased and eventually forgotten?
Lofton, 65, turns those questions over, even as he calculates what he could get for his house: $700,000, $800,000? A million? More money than he has ever known, and more than enough to buy a place in his native North Carolina. Yet, to strike it rich . . .
He recalls an encounter he had one afternoon when it still was warm, an encounter not unfamiliar: An African American woman stopped for a red light and called to him as he swept the sidewalk in front of his steps. Was he the owner?
He nodded.
Don't sell, she said. No matter what they offer you. Pass it on, keep it in the family.
She drove away, Lofton said, but the message stayed: Keep the neighborhood as it was. Keep it black.
Vanishing culture
On a cool morning, Lofton stepped outside and strolled along his street, pointing out familiar sites. The bubble-gum pink house across the way, home since 1960 to a teacher, a black woman with whom he gossips about who's moving in and who's leaving. The storefront checkers club in the next block, where men have long congregated behind scratched and weathered glass for late-night games. Over on Seventh Street is Gregg's Barbershop, where the owner has been clipping since 1959.
Lofton stopped going to Gregg's years ago — he shaves his head now — but he finds comfort in the shop because so much else is gone: the peddler who sold pints on Sundays when the liquor stores were closed; the Wonder Bread factory, with its sweet aroma; the old Key's restaurant, where the cooks served up grits for breakfast and steaks for dinner; the Howard Theater, where he saw James Brown in the 1960s.
Turning onto U Street, Lofton said he views the neighborhood's transformation with a mixture of excitement and sadness. "All of this used to be black," he said, his hand extending toward a horizon that includes the Starbucks where he drinks drip coffee three mornings a week, designer boutiques, sleek condominiums, Ethiopian restaurants and Ben's Chili Bowl, a neighborhood institution that has evolved into a tourist attraction evoking a vanishing culture.
Holding out, holding on
Sliding into a booth at Ben's, Lofton recounted that after leaving Greyhound in 1990, he taught fourth grade at Janney Elementary in Northwest until he retired. He has no problems with whites, he said — Janney was mostly white — and he appreciates Shaw's newfound diversity. He's just sorry blacks are leaving.
"I have to hold up the banner," he said. If others sell, what would he see if he drove through Shaw in five or 10 years? Would only whites come out of those front doors? As long as he's around, he said, people will say, " 'Oh, there are still black people here.' "
Not everyone shares his concern. Confident that they can sell for far more than they paid, they say there is nothing to discuss.
A former neighbor, Neval Featherstone, is one. He was a D.C. firefighter in 1979 when he paid almost $60,000 for his rowhouse in the 900 block of S Street. By 2002, Featherstone had retired, and that year he sold his house for more than seven times what he paid, then spent less than half of it on a condominium in a gated community in Orlando.
'What goes around, comes around'
His house sold again for $1 million last year. Featherstone has no regrets, because "you could stay until you're 80 and get $2 million, but then you take it to the grave." As a third-generation Washingtonian, he said, he knows neighborhoods change. Georgetown once had a large black population. Whites lived in Anacostia.
"What goes around, comes around," he said.
Norman Wood, a retired accountant for the Veterans Administration who has spent virtually his entire 81 years on Eighth Street between S and T, chuckled as he recalled the gripes from neighbors about whites moving to Shaw.
"They were here," he likes to tell them.
Until the Civil War, the area was largely undeveloped; Washington was mostly concentrated downtown. During the war, streetcars began traveling on Seventh and 14th streets, and by 1900, black and white professionals, laborers and government workers had settled north of Rhode Island Avenue. Two decades later, the area was overwhelmingly black, mainly because whites left for new neighborhoods that didn't allow African Americans.
Wood was born across the street from where he now lives, a block populated at the time by blacks and Irish, many of them plumbers, electricians and carpenters. His father bought the family's first house on the street from a West Indian family. As a child, Wood said, he went to the grocery and swept the sidewalk for the O'Donnells, an Irish family that lived two doors away. Wood went off to the Army, and when he returned in the mid-'40s, he learned that Mrs. O'Donnell had died. Her son had left the neighborhood but still owned the house, which Wood rented.
High court ushers in change
By then, the area had long since attracted teachers and Howard University professors, doctors and lawyers and ministers. But after the U.S. Supreme Court overturned restrictive covenants in 1948, the stage was set for blacks to begin moving to newer and less crowded neighborhoods north of U Street.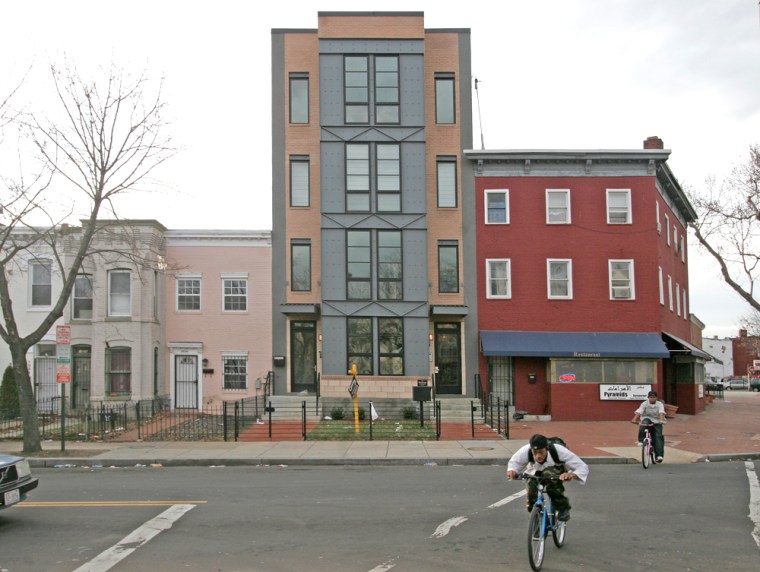 As the middle class departed, it was replaced by poorer blacks who moved into rowhouses that landlords broke up into apartments. The neighborhood deteriorated, then erupted with the 1968 riots, when looters torched white-owned shops. Wood, who said he spent hours helping to put out fires, had just reached an agreement to buy his house. He told his wife, Juanita, that he wanted to move to Howard County, where she grew up. She refused, insisting that the city was their home.
So they stayed.
Wood turned to civic activism to salvage his community. He joined a campaign led by the Rev. Walter E. Fauntroy to force out absentee landlords, spur black homeownership and build low- and moderate-income housing. Fauntroy's vision, the pastor and former congressman recounted recently in his office at New Bethel Baptist Church in Shaw, was haunted by what had happened in Southwest, where urban renewal pushed blacks out.
'Cash rules'
He had hoped for a diverse community, he said, but the free market has overwhelmed his vision: Developers have converted rentals into condominiums, forcing African Americans to move; and black homeowners, enticed by rising property values, have sold and left for the suburbs.
"Cash rules in all matters," Fauntroy said ruefully.
To some, that's not a bad thing.
Keith Bond figured his house on Westminster Street was an investment when he bought it in 1984. He was 32 and worked for the Department of Labor. The building next door was soon taken over by prostitutes and drug dealers. Teenagers stood in the street and threw bottles at each other. His car was broken into, his tires slashed. One night, he saw two men in ski masks threaten to shoot a neighbor if he complained to police about them dealing drugs.
But there also were signs that the neighborhood was changing. A year after he arrived, the first white family moved to the block. "Not just a single person, a family," he said. "If the white people could stay, I could stay."
Now there are new condominiums and restaurants and plans for a Radio One headquarters — developments Bond lists with an emphatic "Ka-ching!" He loves it when a friend teases him about being a millionaire — the house three doors away is on the market for $899,000 — and he no longer has to drive to Greenbelt to buy groceries.
There are things that would have been unfathomable just a few years ago, like hearing the sounds of voices — voices of women, white women — as they return home from a night out.
"It's strange," Bond said, "especially when you think about what was."
'A white grain'
Sonny Brodgins sipped a malt liquor and smoked as he sat on a worn cushion on his front stoop, three unfinished cement steps leading to the rowhouse where he grew up and that he shares with his elderly mother. A friend he has known since they were teenagers lounged in a folding chair, drinking a Bud Light tucked in a paper bag.
As shadows fell across the front yard, the men shifted out to the sidewalk, following the sunlight. Only a few years ago, they said, they would have crossed to the east side of Sixth Street to the empty lot where they grew up playing ball.
But that lot has been turned into $500,000 condominiums. Another new condo on the corner — the Matinee — has lured more new neighbors, more white people.
Until a few years ago, said Brodgins, 54, the area was entirely black, and a perpetual street carnival. "Like the Mardi Gras," he said. In the bad years, yes, there was drug dealing and violence, like the night his brother was shot twice in the leg. But it still was community. "I knew everyone," said Brodgins, a former data processor who is unemployed and recovering from a stroke.
'Last of the Mohicans'
These days, he said, an old friend greets him as the "last of the Mohicans." Whites live up the street, down the street, in the next block. They are mostly young professionals, like the medical school student and his companion across the street. Brodgins can see their 42-inch flat screen flickering above the mantel. Several doors over, a consultant moved in with her two Shih Tzus.
When Brodgins steps outside these days, he said, the stoops are empty, the sidewalk is barren and there is no one to talk to. He finds company around the corner where people still congregate outside the shuttered Howard Theater, under the rusting blue "Jimmy's Golden Q" sign, a vestige of a long-closed pool hall.
Brodgins's new neighbors seem to be in a hurry, he said, often checking him out warily, if acknowledging his presence at all." They're the strangers," he said. "I'm here. I got here before you got here. Why can't you at least be cordial?"
Still, he said, he tries to adapt. As the houses on the street got fixed up, his family talked about replacing the busted chain-link fence with wrought iron. The cost, about $2,000, was out of reach.
He also has become mindful of not offending his new neighbors. One of the new condominium owners bounded outside with his dog and greeted a woman standing with hers. The dogs eyed each other, prompting Brodgins's friend to laugh and egg them on.
"Leave them people alone. Do I have to referee everything?" Brodgins said.
His friend swallowed the last of his beer, then threw the can into the street.
"Pick it up," Brodgins said, shaking his head.
On another afternoon, a new neighbor walked past with his E-Z Reacher, a claw he uses on rounds to pick up crumpled cigarette packets, beer bottles, newspapers and other trash.
"It's probably a lot cleaner where he came from," Brodgins muttered.
In fact, it was.
Craig Kujawa, 35, moved to Washington from San Diego and works as a regional director at the Defense Department. As he tries to get a handle on the neighborhood's litter, he thinks about how he comes across to black residents.
"I wonder if they resent what I'm doing," he said, wearing yellow gloves as he picked up trash. "I wonder if they think, 'If you don't like our dirty neighborhood, why did you move in here in the first place?' "
He bought his two-bedroom apartment, he said, because it was larger and more affordable than those he saw in such places as Logan Circle. He also figured its value would grow.
He was aware he was moving into a black neighborhood, but he didn't view his decision in larger, historical terms. He was just looking for a place to live. "I'm a grain of sand," he said, leaning against his stainless steel stove in a kitchen lined with new wooden cabinets. He smiled. "A white grain."
Guardians of history
Will they sell or will they stay?
On a chilly afternoon, Norman Wood stood in front of his childhood home, which has been split into the Berkley condominiums, one listing for $698,000, the other for $475,000.
Such prices, Wood said, do not tempt him. He has devoted himself to Shaw and has attended countless civic meetings, served as an advisory neighborhood commissioner and raised money for the local elementary school. A room there is named in his honor. He has witnessed too much bloodshed to leave now that Shaw has recovered.
But it's not just the present that concerns him, it's the future. He and his wife want to preserve their piece of the neighborhood. In recent years, they summoned their eight adult children to a meeting and announced that they would leave the house to a daughter with the understanding that she hold on to it as long as she could pay the taxes.
A Wood, he said, should always own that house.
"Shaw has the richest history," he said. "The only way for us to maintain that history is to be guardians over it."
On any day that he's feeling good, Moses Lofton has no plans to leave. His time frame shortens when his health falters. One day, he complained of aching knees and said he might sell in the spring. A few days later, he felt better and said he had no intention of fixing a date.
Whatever he decides, and whenever he decides, he said, he hopes an African American is the buyer, if only to evoke the past.
Sonny Brodgins expects to be around, at least as long as his mother is healthy. She has rejected a suggestion to move to a Baltimore suburb where her daughter lives. And, as long as she's on Sixth Street, he will be on the stoop, hanging with his pals as if no time has passed but conscious that it has.
Staff researchers Bobbye Pratt and Meg Smith contributed to this report.