/ Source: The Associated Press
A nurse who killed at least 29 patients was sent to prison for the rest of his life Thursday after his victims' loved ones angrily branded him "vermin," "garbage" and a "monster" who ruined lives and shattered their faith in the medical profession.
Charles Cullen — one of the most prolific killers the U.S. health care industry has ever seen — escaped the death penalty after making a deal with prosecutors to tell them which patients he killed with hard-to-detect drug injections.
He received 11 consecutive life terms at a tense and sometimes turbulent hearing in which he came face-to-face with his victims' families for the first time. Wearing a bulletproof vest under his sweater, Cullen sat quietly as relatives wept and yelled at him from a lectern about 15 feet from where he sat.
"You betrayed the ancient foundations of the healing professions," Superior Court Judge Paul Armstrong said as Cullen stood motionless, his eyes closed.
Cullen, 46, pleaded guilty to murdering 22 people in New Jersey and trying to kill three others. He will be sentenced later for seven murders and three attempted murders in Pennsylvania.
Career lasted 16 years
Cullen has claimed to have killed up to 40 people during a career that spanned 16 years and 10 nursing homes and hospitals.
He was fired from five nursing jobs and resigned from two others amid questions about his performance. But he always managed to find another job, in part because hospitals did not share their suspicions for fear of being sued.
New Jersey lawmakers have since passed legislation protecting nursing homes and hospitals from legal action when reporting disciplinary actions taken against employees.
About 60 relatives of the victims attended the sentencing, calling him "trash," "one pathetic little man" and "an agent from the deepest depths of Hell." As the family members spoke, he kept his eyes closed, frustrating some of the relatives.
"In case he forgot what my mother looked like, look into my eyes now," said Richard J. Stoecker, whose mother was murdered in 2003.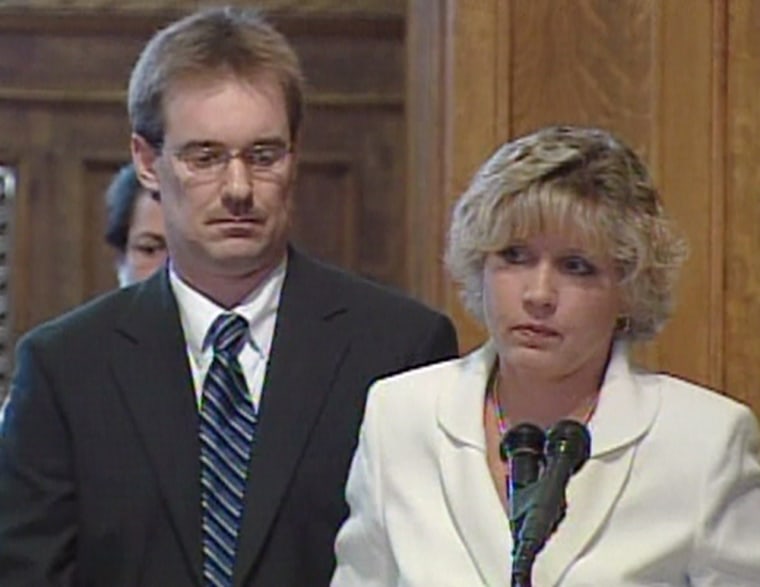 Some family members said they wished Cullen could die as his victims did, by lethal injection.
"I want you to die tomorrow so that you can meet God tomorrow because guess what? There ain't no door out of hell, baby," said Debra Yetter Medina, the granddaughter of victim Mary Natoli.
Cullen declined to make a statement, telling the judge he had "nothing to say" and disappointing families who had hoped to hear him explain why he committed the crimes.
'We will never feel safe in a hospital'
John Shanagher, whose father was murdered, said his family "will never feel safe in a hospital again. We will never feel we can trust the medical profession again."
Dolores Stasienko of Kitty Hawk, N.C., said Cullen "will always be known as the monster." She held a photo of her father, Giacomino "Jack" Toto, 89, who was murdered in 2003.
"After today, we will finally toss aside his name and face, like the garbage he is," said Emily Stoecker, whose mother-in-law, Eleanor, was killed.
Other relatives talked of how the killings ruined marriages, careers and report cards.
"My heart, it aches for my son," said Mary Strenko, whose 21-year-old son was Charles Cullen's youngest victim. "I walk around with a hole in my heart."
Cullen has admitted to using lethal doses of medications — usually the heart medication digoxin — to kill patients. He told authorities when he was arrested in 2003 that he killed "very sick" patients, and described the slayings as mercy killings.
Deaths not seen as murder until later
Many of the deaths were not recognized as murders at the time, in part because many of the victims were old or sickly. Cullen was finally caught after officials at Somerset Medical Center in Somerville began noticing that patients who died or nearly did had unusually high levels of digoxin in their bodies.
Cullen agreed to help investigators solve his killings. In exchange, prosecutors in all seven counties where he worked agreed not to seek the death penalty.
Because of the frailties of his memory and imprecise — and in some cases, destroyed — medical records, it is unclear whether authorities have identified all of his victims. Investigations remain open in two New Jersey counties.
Twenty lawsuits have been filed against the facilities where Cullen worked.
In other similar cases around the country, nurse's aide Donald Harvey pleaded guilty in 1987 to at least 34 murders in Ohio and Kentucky and was sentenced to life in prison, and coronary-care nurse Robert Diaz was convicted in 1984 of killing 12 elderly patients in California with lethal doses of heart drugs.
Some family members said they were satisfied with Cullen's sentence, while others complained it will do little to end their suffering.
"There isn't closure for the families. You just have to deal with it. I don't think there ever will be closure," said Lucille Gall, whose brother was murdered in 2003.