/ Source: The Associated Press
Former Rep. Randy "Duke" Cunningham began his first day in prison after being sentenced to eight years and four months for taking $2.4 million in homes, yachts and other bribes in a corruption scheme unmatched in the annals of Congress.
Cunningham's sentence Friday was described by attorneys for both sides as the longest prison sentence ever given to a member of Congress. U.S. District Judge Larry Burns spared him the 10-year maximum after the defense asked for six years.
"Your honor I have ripped my life to shreds due to my actions, my actions that I did to myself," Cunningham said before the sentence was announced. He also asked to see his 91-year-old mother before going to prison.
Cunningham, 64, who resigned in disgrace late last year, was immediately taken into custody.
He was ordered to pay $1.8 million in restitution for back taxes. He also must forfeit an additional $1.85 million for cash bribes he received, plus the proceeds from the sale of his mansion. Burns said Cunningham must pay the restitution at a rate of $1,500 a month while in prison and $1,000 monthly when he's released.
The judge credited Cunningham for his military service and for standing in front of a courthouse in November and taking responsibility for his crimes and resigning from Congress.
Looking at Cunningham, the judge told him: "You weren't wet. You weren't cold. You weren't hungry and yet you did these things."
"I think what you've done is you've undermined the opportunity that honest politicians have to do a good job," the judge said. "The amount of money involved emasculates prior bribery crimes."
The judge recommended the sentence be served at a federal prison in Taft, Calif., subject to the approval of the Bureau of Prisons. The judge said Cunningham would be eligible for good behavior reductions of as much as 15 percent of the sentence.
Cunningham was taken to Metropolitan Corrections Center in downtown San Diego and was to undergo a medical exam on Wednesday.
Prosecutors were satisfied with the sentence, Assistant U.S. Attorney Jason Forge said outside court.
"It's not what we wanted, but it was very close," he said.
Guilty plea
Cunningham pleaded guilty to accepting bribes from defense contractors and others in exchange for steering government contracts their way. They included a Rolls-Royce, a yacht, homes, travel, meals, Persian rugs valued at $40,000 each and various antique furnishings.
Among Cunningham's acquisitions was a 7,628-square-foot mansion in Rancho Santa Fe, one of America's wealthiest communities. Cunningham was ordered to forfeit his share of proceeds from the sale of the home, bought with the help of bribes from defense contractors, which sold in December for $2.6 million. The exact amount has not been determined, but is likely to be hundreds of thousands of dollars.
Cunningham, a Republican, represented San Diego-area districts for 15 years. The scale of his wrongdoing surpasses anything in the history of Congress, according to official Senate and House historians.

In arguments over sentencing, Assistant U.S. Attorney Phil Halpern told the judge that just as Cunningham's crimes were unprecedented, "so too should be his punishment."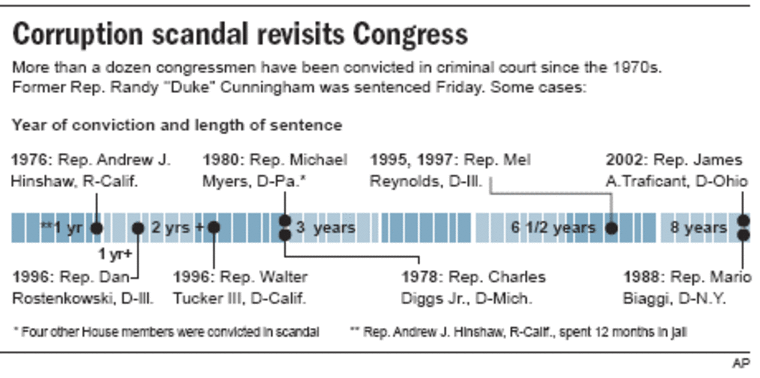 While the congressman was living the good life, "he was squandering precious tax dollars for, among other things, systems the military didn't ask for, didn't need and frequently didn't use," Halpern said.
Defense attorney Lee Blalack contended that a 10-year term would amount to a death sentence, based on survival projections taking into account Cunningham's age and history of prostate cancer.
"This man has been humiliated beyond belief by his own hand," Blalack said.

Before Friday, the longest sentence imposed on a member of Congress in the past four decades were the eight-year terms imposed on both Rep. Mario Biaggi, D-N.Y. and James Traficant, D-Ohio, court documents show.
Deputy House Historian Fred W. Beuttler said he could not conclusively determine Friday whether Cunningham's sentence was the longest ever for a current or former member of Congress.
Political reverberations
The sentence reverberated in Washington, D.C.
"It is my hope that Congressman Cunningham will spend his incarceration thinking long and hard about how he broke the trust of the voters that elected him and those on Capitol Hill who served with him," House Speaker Dennis Hastert, R-Ill., said in a statement.
Democrats have sought political advantage from Cunningham's indictment along with the corruption scandal involving disgraced Republican lobbyist Jack Abramoff.
The party tapped Francine Busby, the Democratic candidate to replace Cunningham in an April 11 special election, to deliver the party's weekly radio address on Saturday.
Cunningham pleaded guilty Nov. 28 to charges of tax evasion and a conspiracy involving four others. Defense contractor Mitchell Wade pleaded guilty last month to plying Cunningham with more than $1 million in gifts over four years. The remaining three coconspirators have been identified as Brent Wilkes, a San Diego defense contractor; New York businessman Thomas Kontogiannis; and John T. Michael, Kontogiannis' nephew.