/ Source: The Associated Press
Once premium java percolated into the mainstream, it was only a matter of time before major fast-food and doughnut chains got more serious about their coffee.
Bracing for that threat, Starbucks Corp. started trying out toasty egg and cheese sandwiches in its hometown coffeehouses three years ago.
Now, as McDonald's Corp. and Burger King Corp. offer premium brew, and Dunkin' Donuts sells caramel swirl lattes, the Seattle-based coffee behemoth is more than doubling the number of stores that sell hot breakfast sandwiches this year.
Offering such trimmings as peppered bacon and Black Forest ham, Starbucks added the English muffin sandwiches to stores in Washington, D.C., last year, and in Portland, Ore., last month. That will expand to San Francisco in early April, and Chicago later this year.
By the time its current fiscal year ends in October, Starbucks says it will offer breakfast sandwiches at roughly 600 stores — up from about 250 today.
Industry analysts say it's a sensible move that doesn't involve much risk.
"If Starbucks can get food right, it gives them a whole new leg of growth," said Linda Bannister, an Edward Jones analyst in St. Louis.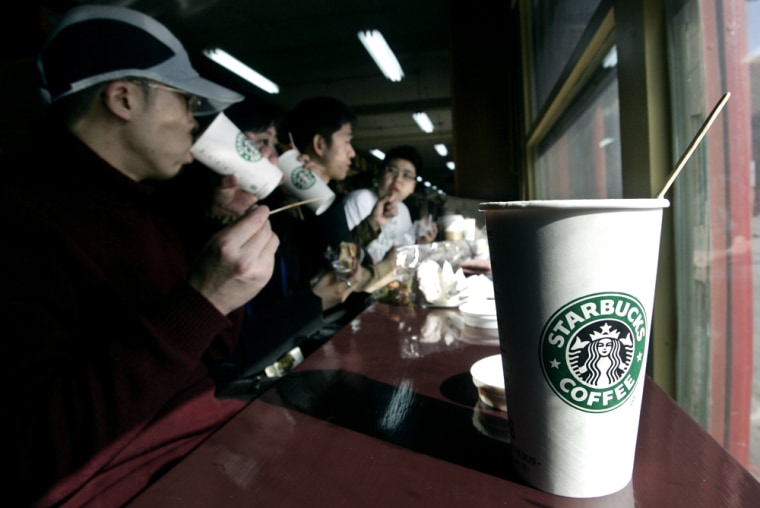 The biggest gamble, analysts say, is whether hot food can be served without slowing down service.
Vendors prepare the breakfast sandwiches daily and deliver them first thing in the morning. The sandwiches are heated up in countertop ovens about twice the size of the average microwave, a process that takes about three minutes, Starbucks spokesman Alan Hilowitz said.
So far, the system seems to be working.
"The last time I got a sandwich and a latte at Starbucks, I waited longer for the latte," said Sharon Zackfia, an analyst with William Blair & Co. in Chicago.
Currently a blip
Starbucks has not disclosed exactly how its growing sandwich business is affecting its bottom line — only that on average, it boosts same-store revenues by about $30,000 a year, or roughly 3 percent.

Starbucks counts sales at company-run stores separately from those at its licensed shops in hotels, malls and the like.
As a percentage of revenue, fresh food has remained relatively constant over the past decade, ranging from 12 percent to 16 percent of annual company-run retail sales. In fiscal 2005, pastries, desserts, sandwiches and salads accounted for 15 percent of those sales.
Meanwhile, Starbucks has beefed up its corporate-level food division from about a half dozen employees a decade ago to roughly 70 today.
Tom Barr, who heads up the food division, realizes he faces increasingly stiff competition but said that's not the reason Starbucks is focusing more on food. It's just part of the business of keeping its customers happy, he said.
When it first rolled out warm breakfast sandwiches in April 2003, Starbucks got mixed reviews.
Since then, it bagged one egg sandwich with roasted peppers, red onion and Colby Jack cheese and replaced it with others that have proved more popular: eggs Florentine with baby spinach and havarti, and herbed sausage and egg with aged sharp cheddar.
Officially, Starbucks isn't saying how many more markets might get breakfast sandwiches in the coming years. But Barr said, "We're confident in the program," and that he'd be surprised if Starbucks didn't expand the service to at least a couple new markets next year.
The sandwiches sell for $2.95, about the price of a 12 oz. "tall" mocha, which costs $2.70-$3.40 depending on the region. The suggested retail price for a small latte at Dunkin' Donuts is $1.99; it's $2.74 for breakfast sandwiches with egg, cheese and ham, bacon or sausage. At McDonald's, the suggested retail price for a small cup of premium roast is 99 cents; for an Egg McMuffin it's $1.99.
Bill Whitman, spokesman for McDonald's USA, said Starbucks' heightened focus on breakfast food comes as a compliment to a company that considers itself the inventor of the fast-food breakfast.
"I think there's much work left to be done to catch up to the industry leader," he said.
Wary of crediting any competitor with forcing the company to revamp its coffee strategy, Whitman said McDonald's committed to the upgrade once it realized consumers were getting their caffeine fixes throughout the day, not just at breakfast.
McDonald's began adding "premium roast" coffee to stores in most major U.S. cities in recent months and plans to roll it out in all of its 13,700 restaurants nationwide early next week.
Dunkin' goes upscale
Dunkin' Donuts, which used to pride itself on offering just a regular Joe's cup of joe, started selling cappuccinos and other espresso drinks a few years ago, adding iced versions last year.
During peak times of year, the new beverage line has accounted for as much as 10 percent of revenue and has also pushed up sales of regular brewed coffee — a boost the company didn't expect, said John Gilbert, Dunkin' Donuts' vice president of marketing.
Early this year, it added a light latte made with a zero-calorie sugar substitute. It's done so well, a vanilla version is planned for summer.
Doughnuts, of course, have always been the company's mainstay, but much like the competition, Dunkin' Donuts recently broadened its line of breakfast sandwiches.
Those will surely give Starbucks' sandwiches more competition as Dunkin' Donuts expands westward. It has about 4,800 stores today, most of them in the Northeast and Mid-Atlantic, and plans to open about 800 new stores year, with a nationwide goal of 15,000 stores by 2020.