/ Source: The Associated Press
Microsoft Corp. finally took the wraps off its mysterious Project Origami on Thursday, unveiling a computer that's about the size of a large paperback book but runs a full version of the Windows XP operating system.
The ultracompact, wireless-enabled PC is everything a full computer or laptop is, minus the keyboard. Weighing about 2 1/2 pounds, the 1-inch thick device sports a 7-inch touch-sensitive screen that responds to a stylus or the tap of a finger.
"It really opens up new possibilities for PC use," said Bill Mitchell, corporate vice president of Microsoft's Mobile Platforms Division.
The gadget was unveiled Thursday at CeBIT, the annual technology trade show in Hanover during a speech by Intel Corp. executive Christian Morales. Intel makes the Celeron M and Pentium M microprocessors that power the devices.
So far, three companies — Samsung, Asus and the Chinese manufacturer Founder — have built working models. The first are expected to be available by April.
The gadgets, however, won't be called Origami — the name used in Microsoft's cryptic Web-based marketing campaign that led up to the unveiling. (MSNBC.com is a Microsoft - NBC joint venture.)
Instead, the company is calling it the "Ultra-Mobile PC," said Mika Krammer, a marketing director for Microsoft's Windows mobile unit.
It will run the same operating system used on notebook computers known as tablet PCs, and newly developed software called Windows Touch Pack will handle touch-screen functions.
Future editions will support Windows Vista, a version of Microsoft's flagship operating system that's due out in the second half of this year. Krammer said the device is expected to retail for between $600 and $1,000.
Though Microsoft is not manufacturing the hardware, it took a guiding role from the start.
"We've done more than just provide the software. We've built the reference designs to sort of get the category started," Krammer said. "We had the first prototypes about nine months ago and started working with partners early on."
"It ideally brings the best of what a Windows PC is and marries it to what the best of a very capable consumer electronic device is," Mitchell said.
That, said David Bradshaw, a principle analyst with London-based Ovum, is key.
"I really would hope that it would be something that works," he said, adding that he had not seen the models. "Something that is wirelessly connected. Hopefully it will have a wide range of wireless options so that you would be able to use Wi-Fi when available or a (wireless) carrier's network if you can afford to pay through the nose."
The Origami devices, Mitchell said, support both Bluetooth and Wi-Fi wireless technology.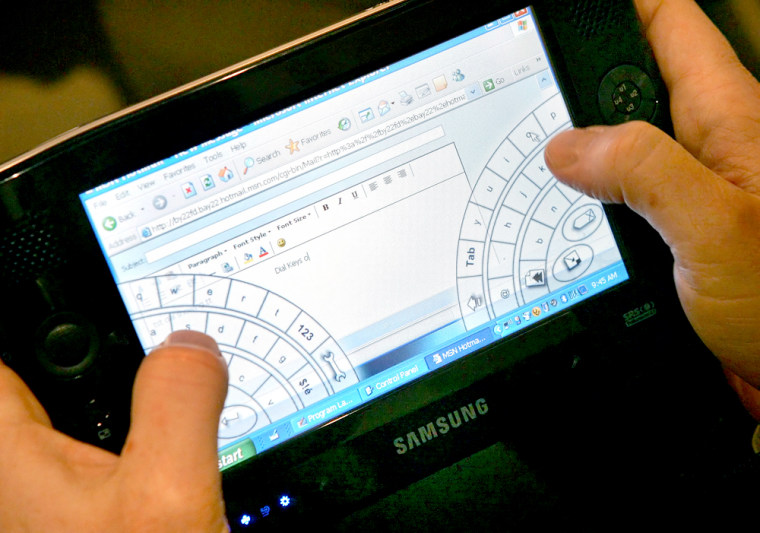 The screen is wide, bright and easy to see, even in low light. Mitchell showed a music video on one model and a film on the other. It doesn't have its own keyboard, but because the units are designed with USB 2 ports, one could be plugged in as needed.
Other units shown to The Associated Press had SecureDigital Card and CompactFlash memory card slots, along with jacks for connecting digital cameras, headphones and speakers.
For users who don't want to jot down notes with the stylus, the Origami has a built-in program called Dial Keys that splits a standard QWERTY keyboard into pie shapes on the lower corners of the screen so that input can typed — or thumbed in.
The battery power averages about 2.5 to three hours, and it will have up to a 60-gigabyte hard drive.
Mitchell said the device is aimed at consumers who want to have the full power of a PC while on the go but don't want to lug around a heavy laptop or desktop PC.
"We think that for most people, this is more of a replacement for the classic consumer electronic devices that they're buying with disposable income," he said.
Michael Gartenberg, an analyst in Jupiter Research's New York office, said he thinks the device has potential.
"The whole Origami concept may very well change what devices people are going to carry with them," Gartenberg said. "It's not a pocketable device, but it's certainly small enough to be kept close at hand, and the fact that it runs Windows means that it can do a variety of tasks, from productivity to games to media consumption."