/ Source: The Associated Press
The McClatchy Co. is making its biggest bet yet on the future of the newspaper industry by agreeing to pay $4.5 billion in cash and stock to acquire Knight Ridder Inc., a major newspaper publisher more than twice its size.
The addition of The Miami Herald, Fort Worth Star-Telegram and 18 other papers in fast-growing cities may be less risky than it seems. McClatchy CEO Gary Pruitt said in an interview Monday that all the papers are dominant in their markets and ripe for rapid expansions of their Internet and direct mail businesses, without requiring deep cuts in newsgathering budgets.
But Pruitt is also counting on paying down acquisition debt quickly by selling The Philadelphia Inquirer, the San Jose Mercury-News and 10 other Knight Ridder newspapers. Those properties don't meet Sacramento-based McClatchy's growth-market criteria — or in the case of the St. Paul Pioneer Press, compete directly with McClatchy's Star Tribune in neighboring Minneapolis.
The takeover would be the second largest in U.S. newspaper history, topped only by the Tribune Co.'s $6.5 billion acquisition in 2000 of Times Mirror Co. After the divestitures, McClatchy's 32 newspapers would be second nationwide in daily circulation behind Gannett, and rank fourth in revenue behind Gannett, Tribune and the New York Times Co.
Pruitt, a youthful looking 48-year-old, said he doesn't anticipate any problems selling the newspapers, which he said could possibly coincide with the anticipated closing of the Knight Ridder purchase in the summer.
Analysts generally agreed they likely will be sold quickly. Gannett and William Dean Singleton's MediaNews Group Inc., which owns The Denver Post and other newspapers, earlier considered making bids for Knight Ridder and are viewed as potential bidders. Gannett declined to comment, and MediaNews didn't return a call seeking comment.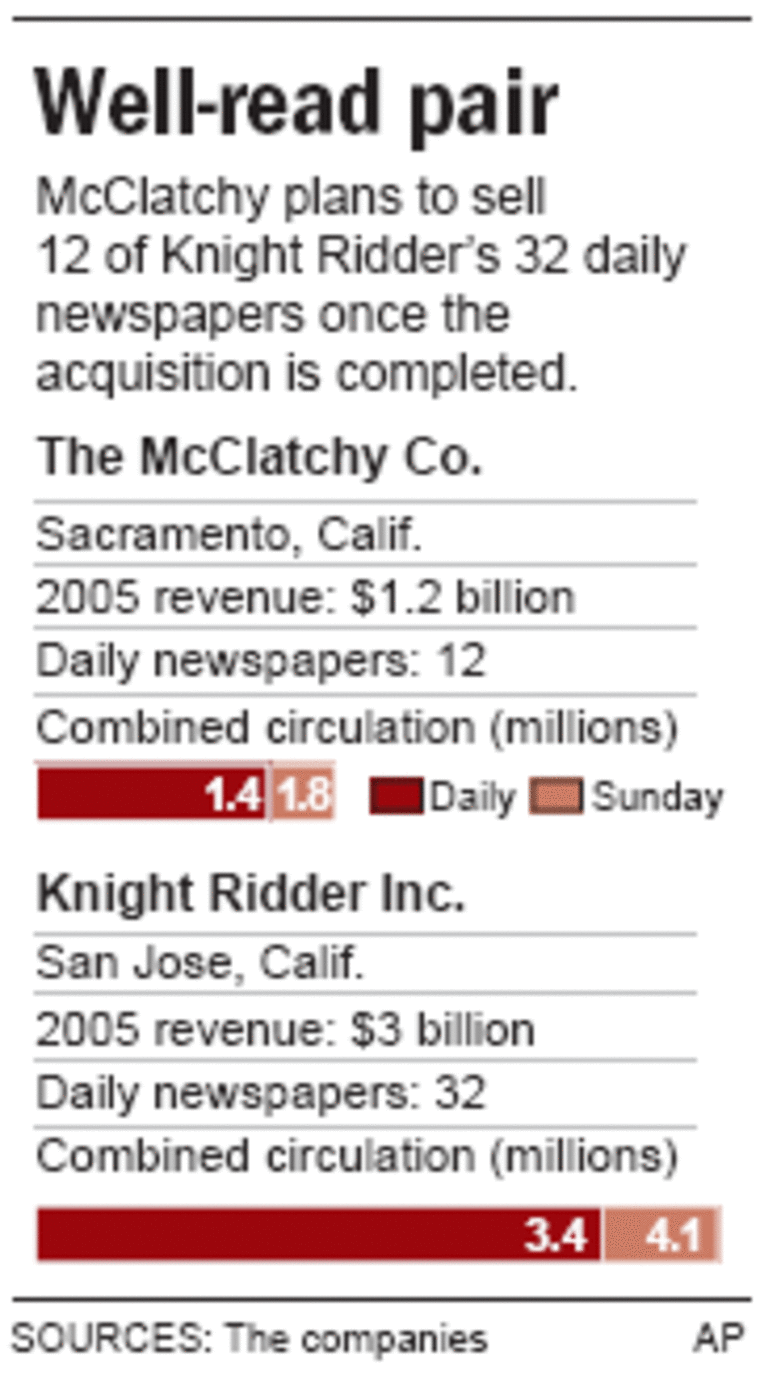 In addition, "There are some deep-pocketed guys who want to own newspapers," said industry analyst Edward Atorino, who noted that New York's two tabloids are controlled by Rupert Murdoch and real estate developer Mort Zuckerman.
McClatchy, which normally keeps debt levels low, is taking on $3.75 billion in bank debt as well as $2 billion in debt from Knight Ridder. But Pruitt said the company expects to retain its investment grade rating on its debt by quickly moving to reduce its debt ratio below four times its cash flow.
The deal would produce about $60 million in annual savings, largely from consolidating corporate functions and some centrally operated Internet operations, he said. Pruitt added that he does not anticipate any layoffs at the newspapers as a result of the transaction, though he said the Washington news bureaus of the two companies would be combined, again without layoffs.
"These are high quality papers, they're doing well, and we expect to sustain and further their journalism," Pruitt said.
Newspaper stocks have been out of favor on Wall Street recently over concerns about declining circulation trends, the competitive threat from the Internet and other concerns including the rising cost of newsprint.
Those concerns were evident in stock market trading Monday. McClatchy shares fell $1.51, or 2.9 percent, to $51.55 in heavy trading on the New York Stock Exchange after earlier declining to as low as $49.21 a share. Knight Ridder's shares fell $1.08, or 1.7 percent, to $63.92.
Based on Monday's closing price, the deal values San Jose, Calif.-based Knight Ridder at $66.38 per share, including $40 per share in cash and 0.5118 of a share of McClatchy's Class A stock. Monday's decline in McClatchy shares sliced about $60 million from the total value of deal.
McClatchy said in a regulatory filing Monday that it is entitled to a fee of $171.9 million from Knight Ridder if the takeover is called off under certain circumstances.
Still, Merrill Lynch analyst Lauren Rich Fine said McClatchy has a "lot of credibility" among investors in handling its previous acquisitions, which included the 1997 purchase of the Minneapolis Star Tribune, even if it paid full price to get them. "They have always have done better on the numbers than they said they would," Fine said.
Knight Ridder put itself on the block last fall when the company's largest shareholders forced it to explore a sale, having become frustrated with its stock performance. Knight Ridder's chairman and CEO Tony Ridder said in a statement Monday the "uncertainty is not over" for employees at the 12 papers McClatchy intends to divest, and "I regret that very much."
Pruitt declined to say where the expressions of interest were coming from, but he said no deals were in place. Pruitt also acknowledged that the company could face significant tax bills in selling the papers, which have been held by Knight Ridder for a long time, making their relative cost basis low.
Robert Willens, a tax and accounting analyst at Lehman Bros., said there was little that could be done to avoid paying those tax bills, which he said could amount to between 25 and 28 percent of the purchase price.
In addition to the 20 newspapers being added from Knight Ridder to the 12 McClatchy already had, the deal also gives McClatchy a bigger foothold on the Internet as it takes on Knight Ridder's one-third stake in CareerBuilder, a growing online job postings business that is co-owned with Gannett and Tribune, as well as the Real Cities Network, a grouping of 110 local Internet sites, and a 49 percent interest in The Seattle Times.