/ Source: The Associated Press
The former Enron executive who privately warned company founder Kenneth Lay of impending financial doom in the fall of 2001 had another critical meeting with him Wednesday — as well as with former Chief Executive Jeffrey Skilling, a jury and a phalanx of lawyers in their fraud and conspiracy trial.
Sherron Watkins, the plainspoken former vice president whom Congress anointed as a whistleblower after the company's collapse, repeated much of what she said then: Enron needed to come clean about potentially disastrous accounting tricks or face implosion.
In mid-October 2001, two months after her meeting with Lay, Enron announced massive losses, slashed shareholder equity by $1.2 billion and came under intense pressure from investors. What was once the nation's seventh-largest company sought bankruptcy protection by year's end.
Watkins, who has never been charged with insider trading, said Wednesday her knowledge prompted her to sell almost $50,000 in stock after her August 2001 meeting with Lay — and before Enron shares became worthless months later.
"No," she told prosecutor John Hueston when he asked her if her stock sales were proper. "I had more information than the marketplace did."
Watkins served to bolster prosecution allegations that Lay knew Enron was in financial turmoil when he claimed publicly that the company was strong in the fall of 2001. The government contends Skilling also lied about the company's financial condition before he resigned.
The two defendants counter that there was no fraud at Enron, and that the company crumbled because of negative publicity and diminished market confidence.
Watkins, 47, has made a career as a public speaker about Enron and failed leadership, earning up to $30,000 for each of dozens of appearances, though she said "working at Enron was much more lucrative for me." She helped write a 2003 book about Enron. She appeared in the 2005 feature documentary, "Enron: The Smartest Guys in the Room," and now consults on corporate governance issues.
Even one of the trial's female jurors told U.S. District Judge Sim Lake during jury selection on Jan. 30 that she admired Watkins' courage for speaking up to Lay, but also wondered if Watkins might have taken part in what she assailed as wrong.
Watkins never took her concerns outside the company. She gained fame in January 2002 when a congressional committee leaked her memos to Lay outlining her concerns. She testified at a congressional hearing alongside Skilling the next month.
Kicking off an aggressive cross-examination, Lay lawyer Chip Lewis gave her a paperback version of her book, "Power Failure," which he called a "housewarming gift."
"I think I have a copy," replied Watkins. Known at Enron for her use of colorful language, she was poised and sometimes animated as she deflected defense attempts to rattle her.
Watkins was an accountant for Enron's former outside auditor, Arthur Andersen LLP, before she joined the energy company in 1993. She worked for various divisions, and by the summer of 2001, then-Chief Financial Officer Andrew Fastow was her boss.
At Fastow's bidding, she examined a list of weak assets Enron wanted to sell that had been tucked into off-balance-sheet financial structures intended to lock in their value. But the structures, known as Raptors, were "under water" because they owed Enron hundreds of millions of dollars and contained only falling Enron stock to repay the debt.
The Raptors had been capitalized with funds from Fastow-run LJM partnerships, which had already recouped their investments plus profits.
"Accounting just doesn't get that creative," she testified.
She went to Lay following Skilling's resignation in mid-August 2001 and after the company founder encouraged all employees to come forward with concerns. First she sent an anonymous memo, then identified herself as the author and met privately with Lay.
"I am incredibly nervous we will implode in a wave of accounting scandals," she said, reading Wednesday from the memo hailed later by Congress as prescient. She also read that the business world in retrospect would consider Enron's considerable successes "as nothing more than an accounting hoax."
She said Lay winced when her memo quoted an unnamed colleague who told her "I wish we would get caught. We're such a crooked company."
That message, she said, "slapped him in the face more than anything else."
She said she did most of the talking. Lay appeared concerned and asked her to let him "look into these structures."
She said she learned later that he ignored her advice to hire outside accounting and law firms other than those Enron already used — Andersen and Vinson & Elkins — to investigate her concerns. Both had signed off on the Raptors when they were created. Vinson & Elkins found no reason for concern other than a public relations risk.
Watkins said Vinson & Elkins lawyers lied when they claimed to have examined the accounting because "they did not investigate the accounting at all" in her opinion, given their conclusion.
Watkins also quickly said, "Not anymore," when Lewis questioned whether she believed Vinson & Elkins was among the nation's pre-eminent law firms.
She acknowledged to Lewis that she didn't know how the Raptors were created or what approvals they had received. He tried to establish that stock sales prompted by her discoveries about the vehicles couldn't be improper if the entities weren't, but she insisted her trades were based on information she had that the market did not.
Ben Glisan Jr., former Enron treasurer and chief architect of the Raptors, pleaded guilty in September 2003 to conspiracy for developing the entities to help manipulate Enron's books. He is serving a five-year prison sentence, and prosecutors said Wednesday he is expected to testify against Lay and Skilling next week.
Watkins has been publicly critical of Skilling. Her memo to Lay said he had to have known what was coming for Enron to resign so unexpectedly from a "dream job" he'd sought for a decade. She acknowledged Wednesday that she had never discussed such issues with Skilling.
She said she has some speeches lined up for next month, and in such talks has called Fastow an assassin under orders from Skilling.
"If this jury were to acquit, your source of income would dry up, wouldn't it?" Skilling lawyer Ron Woods asked.
"I would still be hired to talk about the leadership failures of Enron," she replied. "It's not relevant to me at all if they are convicted in this court."
Watkins said her job prospects outside Enron seemed bright until Enron came under fire in late 2001. She learned in February 2002 that the company sought legal advice on the consequences of firing her two days after her meeting with Lay.
"It was very shocking," she testified.
Watkins remained employed by Enron until November 2002, almost a year after the company sought bankruptcy protection — and after she had begun giving speeches.
Earlier in the day, the company's former head of risk and research, Vince Kaminski, testified he tried to do his job in telling top executives when he believed Enron conducted risky business.
But his criticism in 1999 of a partnership backed by Enron stock got him pushed out of the company's risk squad by Chief Executive Jeffrey Skilling. Kaminski thought the partnership overflowed with conflicts of interest because it was run by Chief Financial Officer Andrew Fastow.
The next time he spoke up, at an October 2001 management meeting headed by Enron founder Kenneth Lay weeks before the company imploded, he was cut off. He then got a call from a human resources executive, which made Kaminski fear being fired.
"You weren't fired, were you Mr. Kaminski?" federal prosecutor Sean Berkowitz asked Tuesday at the fraud and conspiracy trial of Lay and Skilling.
"Eventually, everybody was fired," Kaminski replied somberly, referring to the collapse and loss of thousands of jobs at the Houston-based energy trading company where he worked nearly 10 years.
Under cross-examination by Lay attorney Bruce Collins, Kaminski, 58, acknowledged that while he had a business degree, he was not an accountant and not an accounting expert.
"I think I had a duty to act to the best of my abilities and voice my concerns," the mathematician and economist said of his criticisms, including an Oct. 2, 2001, e-mail to an auditor at Arthur Anderson, Enron's accounting firm. In the note, he sarcastically reminded the auditor of what he called "Accounting 001: One cannot eat the cake and have it too."
When Collins reminded him he was not addressing accounting students in the note, Kaminski replied: "Maybe in some occasions they needed some remedial accounting classes, just have some common sense ... At the same time this was a firm in recent years that had a series of professional lapses that were well publicized."
With a mandate he viewed as making certain Enron "was not taking excessive reckless risk," Kaminski said his cool reaction in June 1999 to the Fastow-run partnership LJM1 earned him a phone call from Skilling.
"Mr. Skilling told me that he decided to transfer my group," he recalled. "He said he received complaints about the work of my group, specifically my group acted more like cops, preventing people from executing transactions instead of helping them."
Two years later his team, which had been moved from risk assessment to Enron's trading division, was asked to assess the value of financial structures known as Raptors. Like LJM1, they were similarly backed by Enron stock and used to lock in gains while keeping hundreds of millions of dollars in debt off the energy company's books.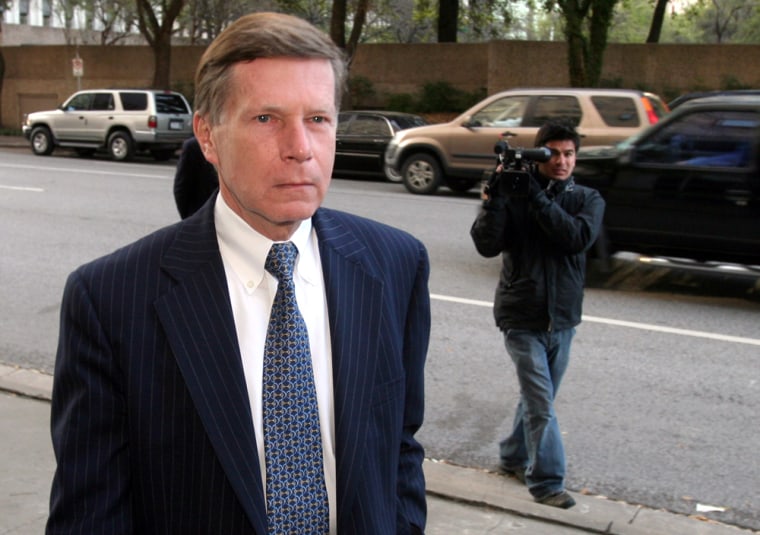 "In my view they were based on the same flawed principles as the first LJM transaction I had looked at in June 1999," he said.
Kaminski refused to bless the unwinding procedure. He said he told former Chief Risk Officer Rick Buy: "I'm not going to sign off, even if I'm going to be fired."
He felt just as strongly at an Oct. 22, 2001, meeting of Enron executives, headed by Lay.
"I felt the company was threatened and I had a duty to speak up," Kaminski said.
When Lay turned the conversation to Fastow and reports that questioned his integrity, Lay said the company's board was "fully united" behind Fastow.
"I told him I'm in a terrible position of having to disagree with you," Kaminski said, which Lay said was fine.
"And I said I believe what Andy Fastow did was not only improper but terminally stupid, and what Enron should do at this point is come clean."
He said his then-boss, trading division head Greg Whalley, gently pushed him from the podium.
"I probably said too much for his comfort," Kaminski said.
The trial recessed until Monday after Watkins was released because prosecutors had scheduling conflicts with upcoming witnesses.