• March 24, 2006 |
A vote for hydrogen power: A House subcommittee chairman says he will introduce legislation next week to create a multimillion-dollar series of prizes to promote the transition to a hydrogen fuel economy, dubbed the "H-Prize" program.
The idea is inspired by the $10 million Ansari X Prize for private spaceflight, an incentive that sparked the construction of the history-making SpaceShipOne rocket plane and jump-started the private spaceflight industry. The H-Prizes could be far richer, said U.S. Rep. Bob Inglis, the South Carolina Republican who chairs the House Science Committee's research subcommittee.
"I envision a grand prize perhaps as much as $100 million, reflecting the transformational value of changing our energy dependence and the political world balance by providing a clean, abundant source of energy," Inglis said in a statement Thursday.
Inglis proposes three categories of competition:
Up to four prizes would be awarded for the best technology advancements in hydrogen production, storage, distribution and utilization.
A prize would be awarded for the best working prototype in a category using hydrogen technology.
The grand prize would be reserved for "transformational technologies that meet or exceed far-reaching objective criteria in hydrogen production and distribution to the consumer."
The idea is to move America's energy economy from petroleum fuels to hydrogen-powered fuel-cell systems. Of course, the concept would probably do little good if the hydrogen is produced merely by converting fossil fuels — as is usually the case today. The grander challenges would be to make hydrogen using "green" technologies, such as wind or bioconversion techniques, then distribute the fuel in a safe and convenient way.
Inglis' proposal calls for the Energy Department to contract with a private, nonprofit organization to administer the prizes. The prizes would be funded by public as well as private sources.
All that is music to the ears of Mark Goodstein, who is the X Prize Foundation's executive director for a yet-to-be-announced automotive prize program. Goodstein told me that there's not yet any connection between what he's doing and the "H-Prize" plan, but he saluted Inglis' initiative. "If it's done right, it will encourage a billion-dollar investment by folks trying to win the prize," Goodstein said.
Goodstein is taking a slightly different tack with the X Prize program. First of all, he doesn't envision the prize being tied to any particular energy technology. His ideal prize-winner could use hydrogen, or ethanol, or solar, or maybe even an ultra-efficient petroleum-powered engine. "Our preference is to remain technology-agnostic," he said.
He also would prefer to have market forces help determine the winner. For example, it would do no good to create a super-duper-efficient hydrogen fuel cell if it cost $99 million to build. Finally, he sees the automotive X Prize as a contest with a guaranteed winner: The prize would go to the contestant who has the best energy technology at the end of, say, two or three years.
All that being said, Goodstein can easily envision a shorter-term X Prize (or MPG Prize, if you will) being offered alongside a longer-term H-Prize. "They are entirely compatible," he told me.
We've discussed this before, of course, but feel free to weigh in with your thoughts on the H-Prize.
• March 24, 2006 |
Weekend field trips on the World Wide Web:
• HobbySpace: Does gravitomagnetism exist?
• Nature: The future of computing
• The Guardian: How Cupid's arrow hits• Wired.com: Saving the planet with Plan B 2.0
• Discovery.com: Italians decipher the grapevine genome
• March 23, 2006 |
One more day for SpaceX: You only have one chance to make a first impression, and that goes for rocket launches as well as blind dates. That's why SpaceX has been scheduling and rescheduling the maiden launch of its Falcon 1 launch vehicle for four months now.
SpaceX's millionaire founder, Elon Musk, has added another 24 hours to the wait. Workers have been analyzing the results of a launch-pad test on Tuesday that included a few seconds of rocket blast.
"No major issues were discovered following the static fire," Musk said in an advisory posted to SpaceX's Web site, "but, as a cautionary measure, we are going to take one more day to review data and verify system functionality.  Launch is now scheduled for Friday at 1 p.m. California time [4 p.m. ET]."
Musk has said repeatedly that such delays are only to be expected with a brand-new rocket. What's more, this will be SpaceX's first launch ever, and after spending about $100 million to get to this point, Musk would prefer to impress potential customers and investors with a completely successful launch rather than seeing a blow-up or even a near-success.
Even now, a countdown glitch or unacceptable weather could force yet another delay. To accommodate that possibility, the current launch opportunity has been extended to March 28, SpaceX spokeswoman Dianne Molina said.
The on-again, off-again launch plans have resulted in a steady dribble of news reports — which have led some in the space game to note with envy that SpaceX gets more publicity for a non-launch than others do for an honest-to-goodness liftoff. So to make things short and sweet, here are the basics:
Launch is to take place from Omelek Island in the Pacific's Kwajalein Atoll, which is also used for test launches in the Pentagon's national missile defense program. There may be a real-time Webcast of the launch.
After separation, the first stage of the two-stage Falcon 1 rocket is designed to parachute down to the ocean for recovery and eventual reuse.
Payload is FalconSat 2, a satellite built by the U.S. Air Force Academy to study space plasma phenomena that could affect military communications.
Estimated cost is $6.7 million, covered by the Pentagon's Defense Advanced Research Projects Agency. That's far less than the going rate, and if SpaceX is successful, it could change the equation for putting payloads into space.
If the first launch is successful, the second Falcon 1 launch would take place a few months later from Vandenberg Air Force Base, Calif., sending up the TacSat 1 military communications satellite as well as a secondary payload of cremated remains from 187 people. Among those represented are Mercury astronaut Gordon Cooper and "Star Trek" actor James Doohan (a.k.a. Scotty).
Keep watching SpaceX's Web page for additional missives from Musk.
• March 23, 2006 |
Science 'Idolized': From its very beginnings, "American Idol" has been a technological testbed as well as a reality-TV juggernaut. The idea that phone callers can affect a multimillion-dollar talent hunt by voting early and often quickly sparked controversial efforts to game the system through speed dialing. After years of tut-tutting over "Idol" auto-dialing, fans have pretty much accepted the phenomenon as part of the territory.
Now a Cleveland computer programmer named Jim Hellriegel Jr. has set up "DialIdol," a system that combines speed dialing and analysis of the busy-signal data to come up with a predictive ranking of "Idol" popularity. It made such a splash that the producers of the "Idol" show sent Hellriegel a cease-and-desist letter last week, based on somewhat questionable grounds of copyright infringement.
After consulting with a lawyer and tweaking DialIdol's graphics, Hellriegel revived his Web site, just in time to gather results for this week's show. He insists his method is not scientific and not meant to predict the loser — and indeed, if you placed a bet based on who was on the bottom of the latest DialIdol list, you would have lost the bet big-time.
DialIdol's busy-signal ranking put "Idol" contestant Elliott Yamin at the bottom of the pack by a significant margin — which ran counter to the MSNBC.com report card, assessments from other "Idol" handicappers and our own unscientific Live Vote.
On Wednesday night, Elliott survived being thrown off the show. In fact, he wasn't even among the bottom three vote-getters. Instead, the members of the bottom trio were Lisa Tucker, Bucky Covington and Kevin Covais — with the sky finally falling on "Chicken Little" Kevin.
The DialIdol prediction wasn't quite a total loss, however: Kevin, Bucky and Lisa were listed just above Elliott at the bottom. MSNBC.com contributor Andy Dehnart, who addresses a wide variety of reality-TV topics on his Reality Blurred blog, noted that DialIdol was "wrong, but not entirely wrong."
"Of the bottom four it identified, three ended up in the bottom three. Of course, the order was exactly reversed," he told me in an e-mail. "Thus, I think DialIdol is an interesting measure of people's interest in certain contestants, but — as it admits — not perfect."
Here's how "American Idol" and DialIdol work: As virtually every reality-TV fan already knows, the "Idol" contestants perform in prime time, and just after the show airs in each time zone, viewers dial specified numbers (or send text messages) to record their votes. Each week, the singer who gets the fewest votes is thrown off.
DialIdol's users have downloaded a little speed-dialing program that keeps track of how many times a call-in attempt meets with a busy signal. The assumption is that if a particular line is relatively busy, that contestant is doing well in the vote. If the line isn't as busy, that's probably because fewer viewers are voting for that contestant.
You can specify several favorites in the contest, and DialIdol will adjust its auto-dialing pattern to make more calls on the less busy lines. For example, if you like Lisa, Kellie and Ace (hypothetically speaking, of course), and Lisa's line is less busy, the program will direct more calls to that line, giving Lisa a lift. The desired result is that all your favorites stay on the show.
DialIdol also uploads your busy-signal statistics to a central server for analysis. That's the basis for the Web site's ranking of contestants. As we saw tonight, it's not foolproof. To cite another example, the site correctly predicted two of the bottom three last week, but missed identifying the singer who was actually eliminated.
Several factors contribute to the uncertainty. For example, DialIdol can't account for the text-messaging vote, or for the vagaries of the telephone network. Also, the sample size is relatively low, and the margin of error is relatively high.
The fact that DialIdol was so unjustifiably down on Elliott could indicate that the text-message factor made a significant difference in the vote ... or that there was a bad phone line for Elliott's number ... or simply that the sample size just wasn't big enough to serve as an accurate reflection of reality-TV realities.
Even though DialIdol's prediction wasn't on the mark, at least it put forward a testable hypothesis — and that's surely as scientific as the idea of using economics to predict Olympic medals, or using physics to predict economic downturns, or using power-law statistics to predict best-selling books.
To keep up with the experiment, check out our "American Idol" coverage as well as Reality Blurred.
• March 22, 2006 |
Scientific questions on the World Wide Web:
• Science @ NASA: Was Einstein wrong about space travel?• Slate: What's a duck sentinel?
• Salon: Is religious belief an evolutionary adaptation?• PhysicsWeb: Does Earth have a 'memory' for magnetism?
• March 22, 2006 |
SpaceX set for launch: After several days of launch-pad tests and tweaks, SpaceX has scheduled the next attempt to launch its Falcon 1 rocket for Thursday, from a Pacific island complex in Kwajalein Atoll.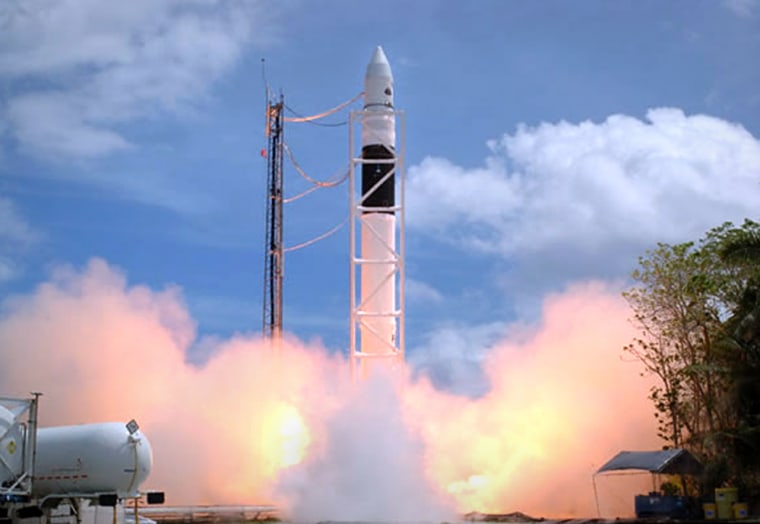 This week's launch preparations are being closely watched because SpaceX could conduct its first-ever liftoff, after spending almost four years and $100 million to get to this point. The launch of FalconSat 2, a research satellite developed by the U.S. Air Force Academy, has already been delayed several times.
A couple of minor problems cropped up during a weekend practice countdown, SpaceX spokeswoman Dianne Molina told me. One problem had to do with a "quick disconnect" of the ground-based helium pressurization system, and the other involved the failure of an onboard flight video camera.
"Neither was particularly difficult to fix," she said, "but it took a few days to fix them."
Tuesday's static-fire test went more smoothly, SpaceX founder Elon Musk reported from "Kwaj." Here's his to the company's Web site:
"We had a great static fire today.  Falcon was held down for almost three seconds of thrust (T+0.5s), part of which was under autonomous thrust vector control.  All systems were green and no aborts were triggered."Unless we discover something negative after a detailed data analysis, launch will happen on Thursday at 1 p.m. California time."
If Thursday doesn't work, SpaceX would still have a few more days to spare in the current launch window — and perhaps even more time than originally planned. For additional background, check out this archived log item about the launch schedule.
• March 21, 2006 |
Your daily dose of science on the Web:
• N.Y. Times (reg. req.): Hunting the genes that betrayed a people
• National Geographic: Nanoscience guru shares vision of the future• New Scientist: Could Stardust probe visit Deep Impact comet?• HHMI: Warbling whales speak a language all their own
• |
Mystery of the missing moon: Texas State University physicist Don Olson has made quite a specialty of unraveling the scientific and historical questions surrounding such works of art as Edvard Munch's "Scream," Ansel Adams' "Autumn Moon" and Vincent van Gogh's "Moonrise." Along the way, he and his fellow researchers have found that the conventional wisdom about those masterpieces can sometimes be quite mistaken.
Now Olson & Co. have cracked another case, once again involving a Munch classic. The painting is titled "Girls on the Pier," but you could also call this one "The Mystery of the Missing Moon."
The whole story is in May's issue of Sky & Telescope magazine: Munch painted a scene showing three girls gazing from the railing of a pier, with a big tree and an array of houses on the far shore. A small yellow orb hangs just over one of the houses. The house is reflected in the water — but there's no reflection of the orb.
That raises a couple of questions: First, is that the sun or the moon in the sky? Second, why did the Norwegian painter leave out the orb's reflection? It somehow looks right not to have the reflection in the picture, but did Munch leave it out merely for aesthetic reasons?
Olson and fellow professor Russell Doerscher, along with student researcher Beatrice Robinson, tackled those questions by comparing the painting with the presumed setting in the Norwegian resort town of Asgardstrand.
Munch actually painted about 20 variations of the scene, but the first version is thought to date from 1899 or 1901. When the researchers visited Asgardstrand, they found an almost exact match for the setting — except for the wooden pier. That pier had been torn down, and a modern stone pier had been erected about 18 feet south of where the original stood.
Once they found the spot, they confirmed that the orb in the picture couldn't have been the sun. "The summer sunset would be way over to the north of the pier — far to the artist's right, whereas summer full moons would run low in the sky and set exactly where he shows it," Olson explained in Sky & Telescope's news release.
Some of Munch's letters from 1902 refer to the painting by the title "Summer Nights," confirming the researchers' conclusion that the girls were gazing at the setting moon on a late summer evening. "At Asgardstrand, near the summer solstice, they have what are called 'light nights,' and what that means is that there's a midnight twilight — it just doesn't get dark," Olson said.
So why is the moon's reflection missing? That question turns out to be merely a matter of optics.
"The key point is that your eye is approximately 11 feet above the water level — the reflective surface," Olson said. "Light can come directly from the moon to the observer, whose eye is above the pier, but the light that tries to come from the moon to reflect off the water is blocked by the house."
The researchers found that the above-the-water perspective explained not only the missing moon, but also subtler changes in the perspective of the roofline and chimney of the house reflected in the water.
Every time Olson and his colleagues cracks an artistic mystery, a few critics grumble that such scientific sleuthing takes the romance out of the artwork involved. As Wordsworth said, "Our meddling intellect misshapes the beauteous forms of things — we murder to dissect." But I think the exercise adds an extra dimension of intrigue to the masterworks — and nails down a little bit of art history at the same time. Just consider what Olson's past projects have revealed:
That Ansel Adams snapped his "Autumn Moon" photograph at precisely 7:03 p.m. PT on Sept. 15, 1948 — and that a little-known color version of the same scene was captured just a couple of minutes before the more famous picture was taken.
That even though Munch didn't paint "The Scream" until the 1890s, he made his first sketches of the nightmarish scene in 1884, just after Krakatoa's eruption.
That van Gogh's inspiration for "Moonrise" came from a July evening in 1889, but that he may have added moonshadows as an extra artistic touch.
If you want to see the "Girls on the Pier" for yourself, you can check them out at the New York Museum of Modern Art through May 8. Are there some other astro-artistic mysteries you'd like to see unraveled, or do we truly murder to dissect? Feel free to let me know what you think.
• March 20, 2006 |
Feast your eyes on the scientific Web:
• Science News: Light all night
• Edge: Speculations on the future of science (via Slashdot)
• Nature: Tragic drug trial spotlights potent molecule• I Love Dinosaurs (via Afarensis)
• |
SpaceX tests its rocket: The fledgling SpaceX rocket company is running through a series of preflight tests for its never-been-launched Falcon 1, at its launch pad on Omelek Island in the Pacific Ocean's Kwajalein Atoll.
One practice countdown ended in a brief engine ignition on Saturday, company spokeswoman Dianne Molina told me from SpaceX's California home base. Another static-fire test is planned for today, so that launch workers can "feel more comfortable" with the Falcon 1's readiness for the real thing, she said.
"The more tests, the better," she said.
On its maiden mission, the Falcon 1 is due to put a research satellite called the FalconSat 2 into orbit for the U.S. Air Force Academy. (The similarity between the names of the rocket and the satellite is a coincidence.) A launch attempt could take place anytime between Monday and Saturday. The estimated $6.7 million cost of the launch is being covered by the Pentagon's Defense Advanced Research Projects Agency, or DARPA.
If SpaceX is successful, its low-cost launch system could give aerospace giants such as Boeing and Lockheed Martin a run for its money. Those two companies may or may not merge their own launch operations as a cost-saving measure.
In the longer run, SpaceX's millionaire founder, Elon Musk, is taking aim at human orbital spaceflight as well as unmanned launches.
The company's effort to get this first rocket off the ground has been beset by a string of postponements, but Musk has said such delays are only to be expected when a new launch vehicle is being prepared for its debut. "Our approach has been to take no chances whatsoever," Musk told me a couple of weeks ago.
Stay tuned for an update after today's launch-pad test.
Looking for older items? Check the . Share your perspective on cosmic subjects with . If you link to this page, you can use or as the address. MSNBC is not responsible for the content of Internet links.