/ Source: The Associated Press
Chronic heartburn appears to be fueling the nation's fastest-growing cancer, esophageal cancer. Some 3 million Americans are thought to have a type of esophagus damage from severe acid reflux that puts them at increased risk for the deadly cancer — and new research is exploring whether it's possible to zap away that damage and block the cancer from ever forming.
"The million-dollar question is can we prevent cancer," says Dr. V.K. Sharma of the Mayo Clinic in Scottsdale, Ariz., who is leading one of the newest studies, using radiofrequency energy to burn away the damage. "That has not been answered."
But it's a question taking on new urgency as doctors chart a six-fold increase in the last two decades in the main type of esophageal cancer.
About 14,550 Americans will be diagnosed with esophageal cancer this year, the American Cancer Society estimates. Most won't be diagnosed until they feel such symptoms as trouble swallowing and loss of appetite. The prognosis is grim: Just 16 percent of esophageal cancer patients survive five years, and 13,770 are predicted to die this year.
Most have esophageal adenocarcinoma, the type linked to severe chronic heartburn.
With this "gastroesophageal reflux disease," or GERD, a loose valve allows stomach acid to regularly back up into the delicate esophagus. In a fraction of heartburn sufferers, most over age 50, severe GERD over many years actually changes the lining of the esophagus: When the stomach acid kills cells in that lining, the esophagus eventually starts healing itself with more acid-resistant cells -- which happen to be cancer-prone.
It's a condition called Barrett's esophagus, and Barrett's sufferers are thought to be at least 30 times more likely than the average person to get esophageal cancer.
Here's the rub: Esophageal cancer is slow-growing and doesn't appear overnight. Just one in 200 Barrett's patients develops cancer every year, cautions Dr. Stuart Spechler, a gastroenterologist at the Dallas Veterans Affairs Medical Center. Those who go on to develop precancerous spots called "high-grade dysplasia" are at greater risk — one in five will get full-blown cancer in the next five years.
Current guidelines call for doctors to watch for these step-by-step changes by giving Barrett's patients regular down-the-throat exams, so they can operate at the first sign of cancer when survival is around 80 percent, he says.
The debate is whether to just monitor — or to try to get rid of Barrett's tissue.
Last year, the Food and Drug Administration approved a device that snakes a balloon inside the esophagus and beams RF energy through it to burn away the Barrett's tissue. Maker Barrx Medical Inc. this month began funding a study of 120 patients at Mayo and 15 other medical centers to see how well RF ablation treats Barrett's patients with precancerous dysplasia.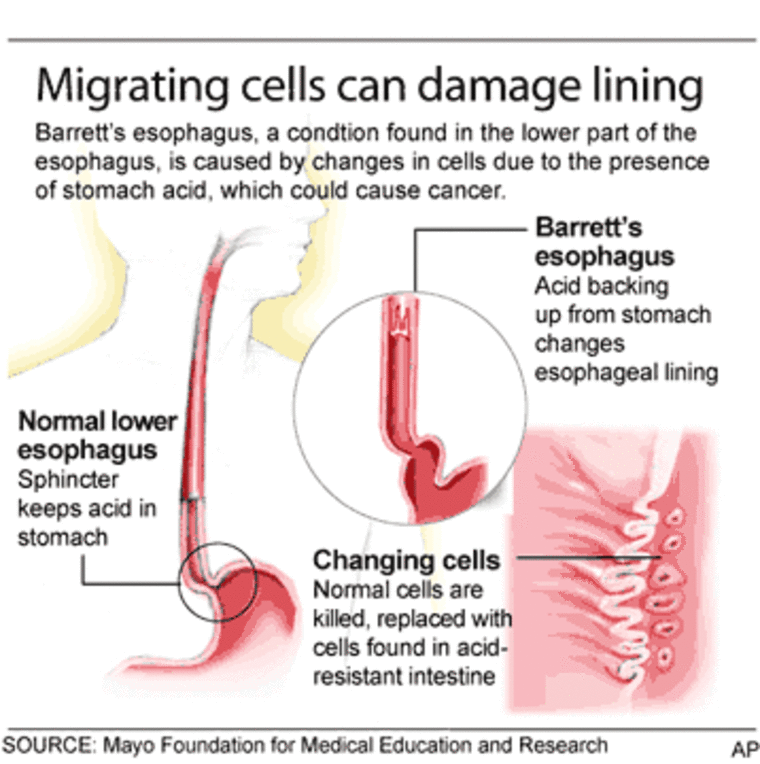 Other options: Freezing away Barrett's tissue; photodynamic therapy, where a combination of a light-sensitizing drug and a laser burn it away; or endoscopically cutting out dysplasia.
The problem: The only treatment completely proven to prevent esophageal cancer is to cut out that part of the esophagus, a high-risk operation, conclude Spechler and colleague Dr. Rhonda Souza, who recently reviewed the evidence in an American Cancer Society journal.
The less invasive Barrett's treatments haven't been studied long enough to know if they'll really eliminate the cancer risk, or if it will just return — and they, too, cause some side effects, the pair caution.
Still, the treatments do offer an option for patients too old or ill for major esophagus surgery, says Dr. Prateek Sharma of the University of Kansas School of Medicine, a spokesman for the American Gastroenterological Association. And for those with those precancerous dysplasia spots, they're a potential middle ground.
One thing all agree on: Every Barrett's patient needs high-powered medication to control their acid reflux, even those who don't complain of heartburn symptoms. The esophagus may simply be too scarred to feel the pain anymore.
Promising research is under way that suggests a genetic marker may soon be able to tell which Barrett's patients are at highest risk for cancer, and which can relax, Souza adds.
What about heartburn sufferers today? Studies show only a fraction will develop Barrett's, but Souza worries about people who never see a doctor about frequent reflux. Her advice: Anyone over 50 who has used over-the-counter heartburn medicines regularly for six months to a year should probably see a gastroenterologist.