/ Source: The Associated Press
Researchers say they believe they have found the site where Sgt. Alvin C. York single-handedly captured more than 100 German soldiers during World War I in one of the U.S. military's most storied exploits.
The precise location of the fight, immortalized in a 1941 Oscar-winning film starring Gary Cooper, has long been disputed, but two researchers from York's home state of Tennessee say they unearthed spent shell casings they believe to be from York's rifle this month from a site near Chatel-Chehery, France.
"They were buried 6 to 9 inches below the surface," said Michael Birdwell, associate professor of history at Tennessee Tech University in Cookeville. "We're 80 percent certain that we have found the right location."
York was part of an Oct. 8, 1918, surprise rear attack on a row of German machine gunners. When the sergeant in command was killed, York — then a corporal — used the raccoon-hunting skills he honed in the backwoods of Tennessee to pick off at least 20 gunners, shooting them when they raised their heads to aim.
A total of 132 German soldiers either surrendered or were captured. York, who marched the German POWs to the U.S. lines, was awarded the Medal of Honor and promoted to sergeant.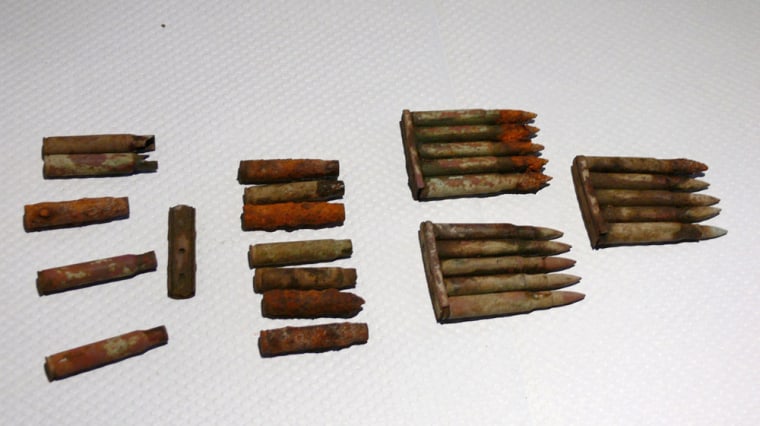 A team led by Tom Nolan, a geographer at Middle Tennessee State University in Murfreesboro, reviewed York's journal, French and German trench maps, and maps drawn by York's commanding officer. Nolan and Birdwell superimposed that historical data onto a modern topographic map and downloaded it to a handheld Global Positioning System device.
They found not only the .30-06 casings they suspect came from York's Lee-Enfield Model 17 rifle, but shell casings and live rounds from German and French ordnance. They did not find rounds from a pistol York also fired.
French officials have expressed interest in placing a monument and possibly a park on the site, Nolan said.