/ Source: The Associated Press
One would think Eishin Murakata has a pleasant, relaxing job. In the springtime, he strolls every day to the same cherry tree in central Tokyo and gazes up at the boughs. When he spots a full bud on the verge of blossoming, he carefully snaps a photograph.
But Murakata is on edge. As an employee of Japan's Meteorological Agency, his annual quest is to determine the official opening of Tokyo's hallowed cherry blossom season — and this year the competition is closing in.
"I have to look very carefully so I won't miss anything," he said one recent afternoon as he examined the agency's main benchmark tree at a Tokyo shrine. "Our mission is so important I don't have time to enjoy the flowers when we spot them."
The cherry blossom is the ultimate emblem of Japanese culture. Delicate, elegant and ephemeral, the pink flowers have inspired poets, philosophers and even soldiers for centuries — and served as an aesthetic pretext for all-out parties under the trees.
Four-day foul-up
So it's easy to imagine the outrage among the super-punctual Japanese last year when the Meteorological Agency predicted the blossoms would open four days earlier than they actually did — triggering a wave of angry calls for greater accuracy.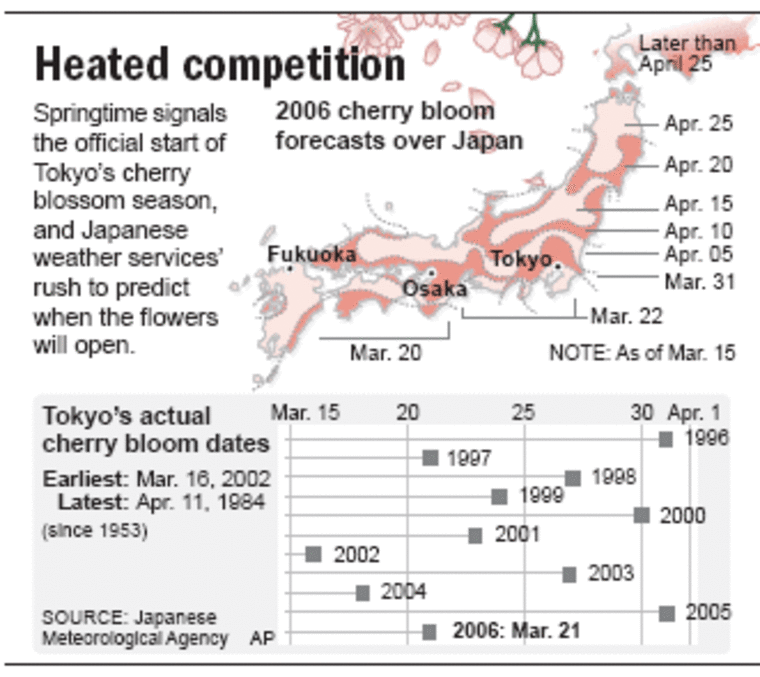 The foul-up by the agency — the long established standard-bearer for forecasts of the cherry blossom "front" as it moves up the archipelago — has brought upstart weather services to the fore in a heated competition for the most accurate predictions.
"Who will get the right answer?" nationwide newspaper Yomiuri asked last week in a front-page article, comparing two conflicting forecasts. "Soon we'll find out."
Weathernews Inc. is a typical rival. It puts blossom forecasts and cherry blossom maps on its Web site, and provides weather information to 1.5 million individuals and 3,000 corporate subscribers, including 30 retailers.
The company's Web site also gives real-time cherry blossom condition reports, so visitors can click on an area and find out if it's time to pack a picnic basket — a service the Meteorological Agency does not provide.
"We just want to help people to enjoy the flowers," said Weathernews spokesman Masaki Ito. "Nothing is more disappointing than cherry festivals without flowers."
Business depends on forecast
The competition goes far beyond aesthetics: Japan's cherry blossom party season means big bucks. Millions of people crowd the country's parks and spend freely on picnic tarps, food and drink. Stores and cities depend on forecasts to plan the revelry.
"We monitor the blossoms very closely, using both the Meteorological Agency and private forecasts," said Mayumi Ito, a spokeswoman for Seven & I Holdings Co., owner of 7-Eleven convenience stores. "Staffers also visit nearby parks to check the blossoms."
In anticipation of the flowers, the convenience chain doubles stocks of snacks, paper plates and cups, plastic tarps — and beer. The day before the season starts, it orders boxed lunch shipments. Sales at outlets near main cherry blossom parks tripled during last year's season, Ito said.
In response to last year's outcry, the Meteorological Agency left nothing to chance this time. It installed an upgraded supercomputer and revised its forecasting model, using temperature data from the last 30 years — rather than the last 50 years — for more up-to-date readings.
Margin of error of one or two days
"We believe the accuracy of our forecast has improved ... though we still have margin of error and the forecast can be off by about one to two days," said Takashi Nakamura of the agency's information and technology department. "We're dealing with nature, which doesn't always agree with our math."
The precautions apparently worked. The agency initially pegged Tokyo's blossom date at March 25, but then moved it up to March 22 — just one day later than the actual blossom date, which fell on Tuesday this week.
Weathernews' initial forecast for Tokyo, meanwhile, predicted the flowers would blossom March 29, a prediction they later changed to the 25th — a few days late.
Despite the talk of competition, most Japanese are keeping things in perspective. Daisuke Saito, 24, said the flowers were about having a good time as he gathered with friends under mostly bare branches at Ueno Park on Tuesday.
"It's only this time of the year we can enjoy friendship, rice wine and flowers at the same time," Saito said. "We'll come back here during the peak of the season, then before the end — imagine sitting under a tree with petals falling all over you."