/ Source: The Associated Press
Walk into any store that sells or rents video games, and chances are you'll find only a few shelves, if any, for personal computer games amid the aisles dominated by console software.
The PC still has a solid future as a gaming machine given the rising popularity of games played online — for both casual games like "Tetris" and intricate multiplayer games like "World of Warcraft."
But the way in which people get their games is getting a makeover as game makers experiment with online distribution as an alternative to boxed CD-ROMs.
Some companies are even betting that PC gaming is on the cusp of a download revolution, much like its entertainment counterparts in music and video.
"It's just another evolution of retail commerce of what in the end is a digital product," said Jamie Berger, general manager at IGN Entertainment.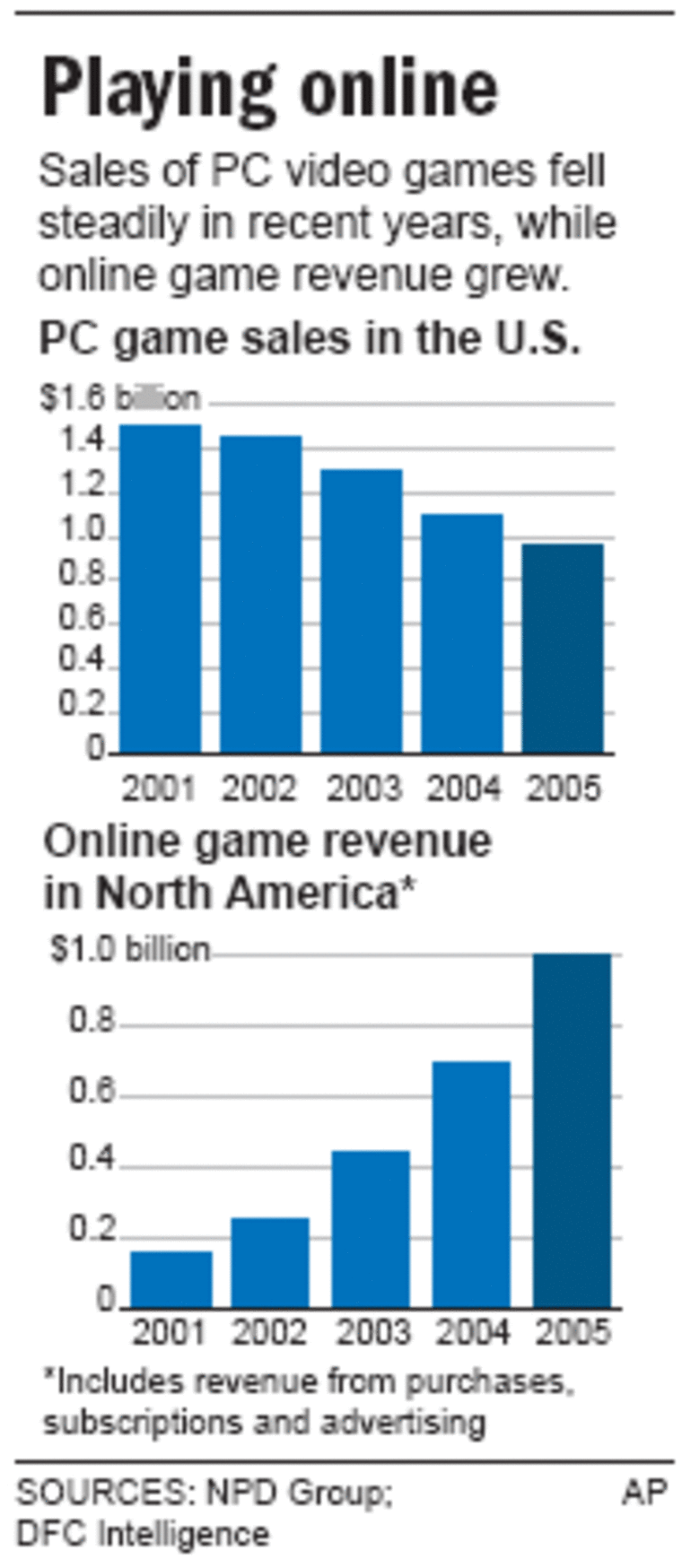 IGN owns Direct2Drive, one of a growing number of online stores for downloadable PC games. At its inception in September 2004, only four game publishers were on board, selling about 25 older titles. Today, the Web site carries about 130 games from 44 publishers, including titles released the same day they hit physical store shelves.
While refusing to disclose specific figures, Berger said sales and traffic to the store have been tripling every month.
Meanwhile, Electronic Arts Inc.'s Pogo.com, Comcast Corp. and Yahoo Inc. are offering games-on-demand services in which computer users buy subscriptions to access and download PC games, ranging from "Scrabble" to "Tom Clancy's Splinter Cell."
As more households get high-speed Internet connections, downloads become more practical. Downloading computer games can take anywhere from just a few seconds to a few hours, depending on the file size.
And judging by the success of Apple Computer Inc.'s iTunes Music Store — with more than 1 billion song downloads — more consumers are getting used to the notion of digital-only versions of media.
For gamers, downloads can be more convenient and provide instant gratification.
That's why market researchers are seeing these numbers:
Traditional shrink-wrapped PC games in the U.S. retail market are on the decline, falling to $953 million in 2005, a 36 percent drop from $1.5 billion in 2001, according to the NPD Group.
Internet-related game revenues in North America, including online purchases, subscriptions and advertising, rose to $1 billion in 2005, more than six times the $160 million in 2001, according to DFC Intelligence.
IDC predicts U.S. sales of PC game downloads will almost double this year to about $500 million and grow to $763 million in 2007.
Digital distribution "is a very natural fit" for online games, said Marc DeForest, co-founder and lead designer of S2 Games LLC.
Online sales are good for small, independent game developers like S2, which have to otherwise compete for retail shelf space with blockbuster games from larger game makers, DeForest added.
S2 said it made more money from online downloads of the action strategy game "Savage: The Battle for Newerth" than from its CD-ROM version sold at retail, even though the Internet accounted for only a fifth of the 50,000 units sold. That's because of retailer, distribution and manufacturing costs, DeForest said.
For the upcoming sequel, "Savage 2," S2 will offer only downloads and pass some of the cost savings to consumers. The $29.99 price tag is about a third less.
"I'm trying to be an ambassador for this," DeForest said of online distribution. "The more companies do this, the more it'll become an option for people."
Video game specialty retailers like GameStop and EB Games still carry a selection of PC games, but stores like Blockbuster or Wherehouse Music don't even bother and carry only games made for consoles, which dominate the industry with $6.1 billion in U.S. sales last year, more than six times that of PC game sales, according to NPD.
But online distribution is growing, cutting into traditional boxed sales while buoying the PC game segment.
Companies specializing in puzzle, word or card games for the PC have seen the benefits of online delivery for years. The graphics for such casual games are less complex, so they typically require smaller downloads.
"There's no box. No CDs. And we sell 50,000 games a month that way," said Alex St. John, chief executive of WildTangent Inc., among the first to enter the downloadable PC games market when it introduced such games in 2001 at $20 apiece.
Previous industry concerns about the rampant Napster-like spread of pirated digital copies are also waning as copy-protection technologies improve.
When Macrovision Corp. spent $34 million in cash last year to acquire Trymedia Systems Inc., a specialist in copy-protection software for downloadable game providers, it cited the growing game download business.
"The accelerating change of technology — it's changing the way we shop and the way we play games," said NPD's gaming industry analyst Anita Frazier.