/ Source: The Associated Press
Like most small breweries, Gritty McDuff's went through a lull as sales of craft beer leveled off in the late 1990s. Now Gritty's and the craft beer industry as a whole are enjoying a resurgence, with sales growing at their fastest pace in a decade.
Production of craft beer — those specialty brews typically made in small regional or local breweries — grew by 9 percent last year, the biggest jump since 1996, when the microbrewery fad of the '90s was still going full tilt. Mainstream beer sales, meanwhile, fell slightly.
At Gritty McDuff's, production last year rose nearly 30 percent to more than 250,000 gallons.
Ed Stebbins, brewmaster and co-owner, said consumers are demanding more varied and full-flavored beers. At the same time, small breweries are putting out more consistent beers and are more business-savvy than a decade ago, learning how to better market and distribute their products, he said.
The 1990s were a boom time for the industry, with sales rising fast and even doubling in 1994. But growth slowed by the end of the decade, and hundreds of microbreweries and brewpubs went out of business.
The industry is growing again, but at more sustainable levels. Craft brewers, Stebbins said, don't need to grow at astronomical levels to be profitable.
"I think we've learned that the beer industry doesn't have to grow in leaps and bounds, that it will grow steadily and slowly," Stebbins said.
Americans last year bought more than 6.3 billion gallons of beer, dominated by pale, golden-hued varieties, according to Beer Marketer's Insights trade newsletter. The top five brands were Bud Light, Budweiser, Miller Lite, Coors Light and Natural Light.
But for consumers who demand more variety, there are craft beers. These beers, in general, are made with malted wheat or barley — without corn, rice or sugar adjuncts — and include ales, bocks, stouts, marzens, porters and other styles that can be light or dark in color and are typically more complex in taste.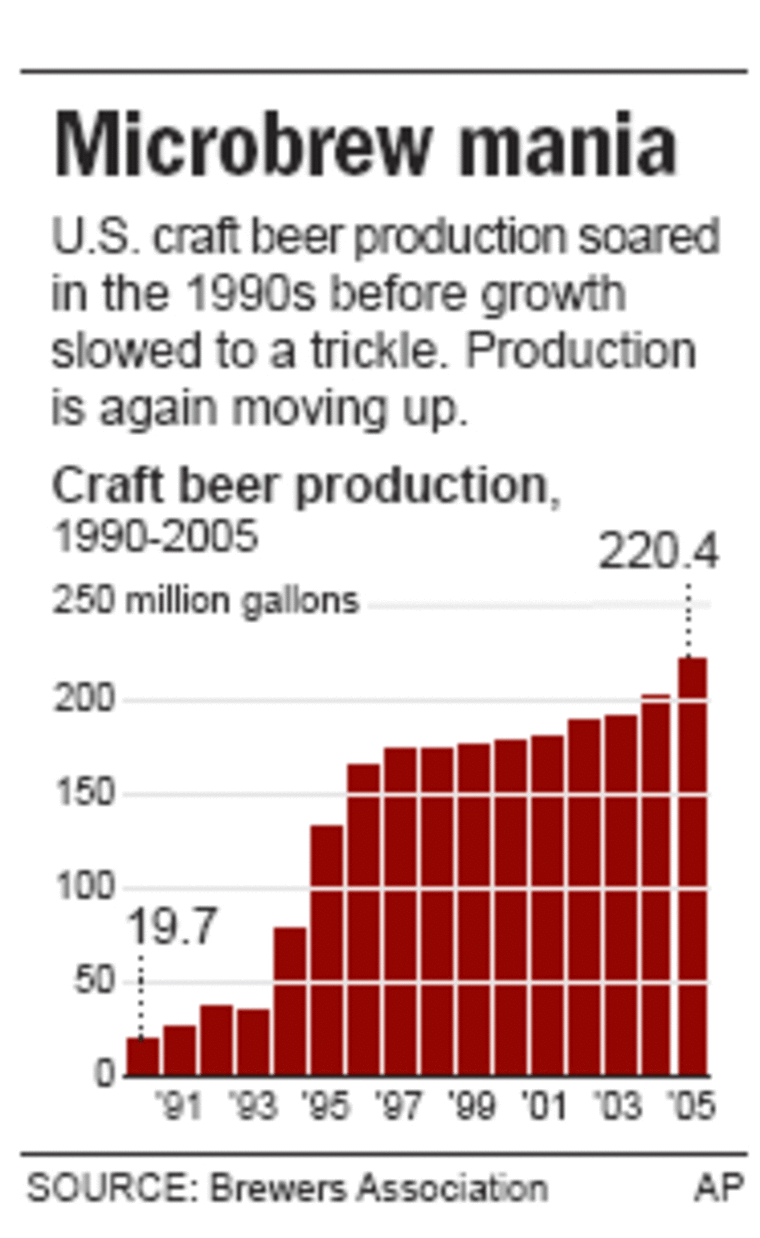 They are often made in small batches and are more expensive — sometimes double the price — than the best-selling brands. Gritty McDuff's six-packs, for instance, usually sell for $6.99 to $7.99 at supermarkets.
The best-known craft beers are national brands like Samuel Adams or Sierra Nevada, but there are hundreds of small breweries nationwide that distribute their own brews locally and regionally. As of December, there were 1,368 breweries and brew pubs making craft beer, according to the Brewers Association trade group in Boulder, Colo.
Craft beer accounts for just 3.5 percent of U.S. beer sales, and imports make up 12.5 percent, said Eric Shepard, executive editor of Beer Marketer's Insights. But those numbers are going up, while the market share of mainstream beers is declining.
"It was a good year for the high-end (beers), and we'll see where this goes," Shepard said.
In the 1990s, craft beer sales took off and the industry was filled with optimism. Many breweries aimed for rapid expansion, and the most hopeful thought the industry could claim 10 percent or more of the U.S. beer market.
But the market became saturated, growth stalled and craft beer production grew at rates from 0 to 4 percent a year from 1998 through 2003. More than 500 brew pubs and microbreweries closed between 2000 and 2004, outpacing the number of startups, according to the Brewers Association.
The business is now on an upswing, with production up by about 7 percent in 2004 and 9 percent last year, according to the association. Overall beer sales in 2005 fell 0.2 percent in volume, according to Beer Marketer's Insights. Sales of wines and spirits last year grew by less than 3 percent in volume, according to industry organizations.
In Seattle, Georgetown Brewing Co. doubled its production last year to about 186,000 gallons. Georgetown's beers, a pale ale and a pilsner, are sold at more than 380 bars and restaurants, or about double the number of a year ago.
Just like coffee drinkers, beer drinkers' tastes are changing, said Bret Chopp, operations manager and partner at Georgetown.
"I think it's a maturing of the customer base," Chopp said. "First of all people didn't know there was anything out there, and once they tried it they like it."
The aging of America helps to explain the market shift, said Ray Daniels, director of marketing for the Brewers Association. Baby boomers are edging up toward senior status, and the median age of the U.S. population grew from 32.8 in 1990 to 36.2 in 2004, according to the Census Bureau.
"I think ultimately as consumers get older their tastes are more sophisticated," Daniels said. "And that's a big part of the growing interest in the category."
Much of the craft beer growth is coming out of regional breweries _ rather than brew pubs that have tiny breweries on the premises. It's the breweries that produce the bottled beer and kegs for restaurants, bars and retail stores.
In Maine, more than two dozen companies of varying sizes brew their own beer. They made nearly 3 million gallons last year, a 30 percent increase in three years, according to the Bureau of Alcoholic Beverages.
Gritty McDuff's _ the third-largest brewer in Maine behind The Shipyard Brewing Co. and D.L. Geary Brewing Co. _ has most of its sales in Maine, but its out-of-state markets are growing. It now sells beer in 70 stores and bars in Massachusetts, up from less than 20 a year ago. This spring, its products will be sold in New Hampshire for the first time.
Distributors are taking greater notice of craft beers, Stebbins said, making it easier to get Gritty's beers on store shelves and in bars.
"They see the numbers. They see the trends," he said. "So they're planning their marketing around those trends."