In my years of being a hi-fi fanatic and listening to music in my home I've had the pleasure of listening to a number of amazing speaker systems. There have also been some clinkers.
I would say that among the best I've had the pleasure of hearing are the Cain & Cain Abbys, DeVore Gibbon 8s, Celestion 700s, Dahlquist DQ-10s.  Many were ahead of their time. As for the mainly forgettable ones: KLH 6s, Bose 901s and some others which I'd rather not think about.
I've just had the pleasure of listening to two brand new speaker systems which sound terrific, look great and are very affordable (though that's relative when it comes to high-end speakers).
Omega Speaker Systems is a small New England loudspeaker manufacturer. Over the years they've created some very nice affordable speaker systems. Their brand new Super 3 XRS is a whole lot better than very nice. It's terrific!
XRS stands for eXtended room system. That should mean it's good at reproducing all the sounds that come packed on a CD or LP or FM/satellite radio. These speakers, which go for $849 a pair, are capable of a lot more.
Each speaker measures 27 by 11 by 7.5 inches and weighs 35 pounds. They are made to order and can be finished in a number of nifty looking wood or laminate finishes. They come with magnetically-attached black grille cloths (not pictured).
The Super 3 XRS doesn't have separate woofers and tweeters. It uses only one element to play all the sounds — a 4.5" shielded Fostex ES full-range cone driver that's custom modified by Omega. This driver incorporates a very light cone (2.9 grams) and strong motor. There's also a 2-inch port on the back to help let the music out of the box. According to Omega, this produces high sensitivity plus incredible speed, transparency and detail. They ain't kidding.
The wooden box surrounding that driver is special, too. The wide baffle construction improves smoothness and tonality in the critical mid-range. The enclosure itself incorporates custom vibration damping techniques. That allows the speaker to interact with the room to extend the bass output. The built-in, adjustable tilt allows for even better sound staging.
Because the S3/XRS has that single driver it also acts as a perfect point-source and is phase correct. In other words, it's designed to sound bigger than it is. They're very efficient (93db) so you need only a few watts of power to power them.
But though small in stature, Omega's Super 3 XRS is one big sounding loudspeaker. Instruments and voices sound terrific — everything from cymbals to voices to bass guitars are reproduced in a realistic manner.
I want to particularly emphasize the bass coming from these speakers. It is utterly amazing.  It's difficult to believe that one 4.5-inch driver in a small box can produce real sounding, prodigious bass. In this case you better believe it! It's amazing!
I can highly recommend Omega's Super 3 XRS speakers. They look great and sound great. A pair would be great for a traditional stereo set-up. Two pair would be fantastic for home theater. I'm not even sure you'd need a subwoofer with four of these in the system.
Honey, somebody shrunk the Abbys
On the other hand, maybe you have a pair of great speakers for your front channels.  Maybe they're a pair of great sounding Cain & Cain Abbys. And maybe you'd like something to match for your back channels. Maybe you want to know about Terry Cain's latest — the Noogi.
Terry is a woodworker/artist by trade and a music lover/speaker tweaker/manufacturer.  His designs are all based on creating great looking, great-sounding one-driver speaker systems with beautiful cabinets.
The Abbys were his lowest priced music machines. At $1,500 a pair they were and are a bargain. But Terry realized that even $1,500 was too much money for some people who wanted small speakers for rear channels in their home theater set-ups.
So Terry shrunk the Abby. Not really, but he took the basic design and made it a lot smaller — so that he could get the most from Fostex's new 3-inch "full-range" FE87E driver.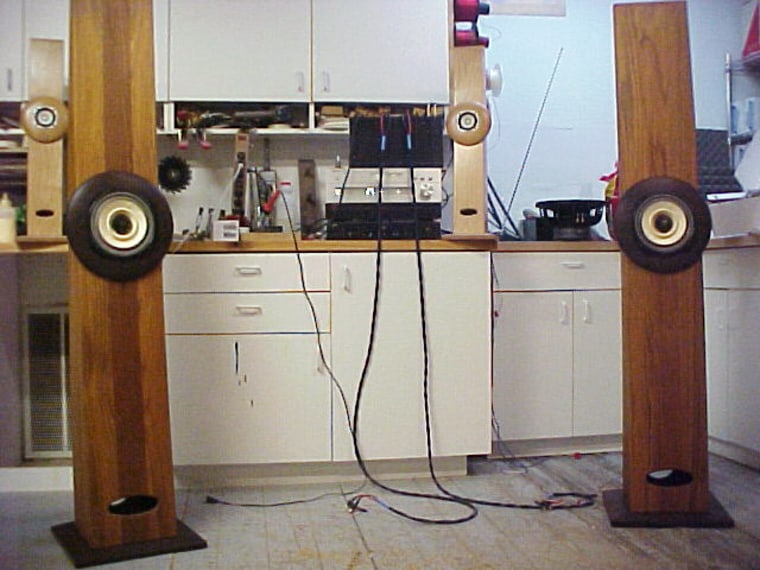 Each speaker is nearly 29-inches high and about 6-inches wide and deep tapering toward the top.  They weigh about 5 pounds each. My test pair was impeccably finished in a light wood stain.
Noogis retail for $475 a pair crated and delivered (FedEx Ground) to your door. And when I say crate — I mean heavy wooden crate. Wait until you try to open it!
As for the sound, I was pretty sure that even a man of Terry Cain's knowledge and skills couldn't get much deep bass from a very small driver in a very small enclosure. I was right. Forget about super-deep bass. It's a physical impossibility.  Terry says they're good from 100Hz to 30KHz.
But everything else sounds amazingly good. These speakers excel at midrange sounds (human voices and most instruments) and above. Their treble reproducing qualities are especially amazing — extending way past audibility. That helps with recreating ambience in your listening room.
Noogis are of average sensitivity (88db) and sound good with a maximum of 10 watts of very expensive electronics. Most people won't be spending tens of thousands on equipment to go with inexpensive speakers. But Terry designed them to sound terrific with today's multi-channel, home theater receivers. The first time I heard them was on an inexpensive receiver — and they sounded pretty incredible.
That's why I think Noogis are the perfect surround sound design. They don't look like the proverbial box speaker. They are little works of art. Plus, they reproduce sound in a manner perfect for side and rear speakers.
I'm hoping that Terry will make good on his threat to create an affordable, matching subwoofer to go with the Noogis. Four Noogis, a sub and a center channel would be the perfect match for many home theater systems. Highly recommended.