/ Source: The Associated Press
Four American troops were killed by hostile fire, while five others died and three were missing after their truck rolled over in a flash flood this weekend in separate incidents in western Iraq, the military said Monday.
In violence targeting Iraqis, a suicide truck bomb exploded Monday near a Shiite mosque in northeastern Baghdad as worshippers were leaving after evening prayers, killing at least 10 people and wounding 30, police said.
The U.S. military said it was "using all the resources available" to find the two Marines and a sailor who were missing after Sunday's accident, which occurred near the Asad air base in Anbar, near the Syrian border.
Five Marines were killed and one was injured when the seven-ton U.S. military truck rolled over in a flash food. The military said it appeared to be an accident and "not a result of enemy action."
Three Marines and one sailor also were killed by hostile fire elsewhere in the volatile province, the military said Monday, the largest number of American deaths in a single attack in more than a month.
13 U.S. deaths this weekend
The incidents raised to 13 the number of U.S. troops who died this weekend. At least 2,342 American service members have died since the Iraq war started in March 2003, according to an Associated Press count.
The explosion occurred about 8 p.m. near the al-Shroofi mosque in the predominantly Shiite neighborhood of Shaab, police Capt. Ali al-Obaidi said. The truck, which was carrying dates, was driven by a suicide bomber, he said.
Iraqi police also reported a dramatic attack on a Shiite family in Baghdad's Dora district, saying four gunmen charged into a home, lined up a brother, two sisters, and an uncle against a wall and shot them dead.
The father of the family, a grocery shop owner, had been killed six months earlier by gunmen in the same neighborhood, one of the most dangerous in the capital. The mother was visiting relatives when the attack occurred on Sunday, police said.
Sectarian violence has escalated since a Feb. 22 bombing of an important Shiite shrine in Samarra and reprisal attacks against Sunni institutions
U.S. Secretary of State Condoleezza Rice and British Foreign Secretary Jack Straw, meanwhile, urged Iraqi leaders to form a government as soon as possible to curb the bloodshed and rein in sectarian militias behind much of the violence.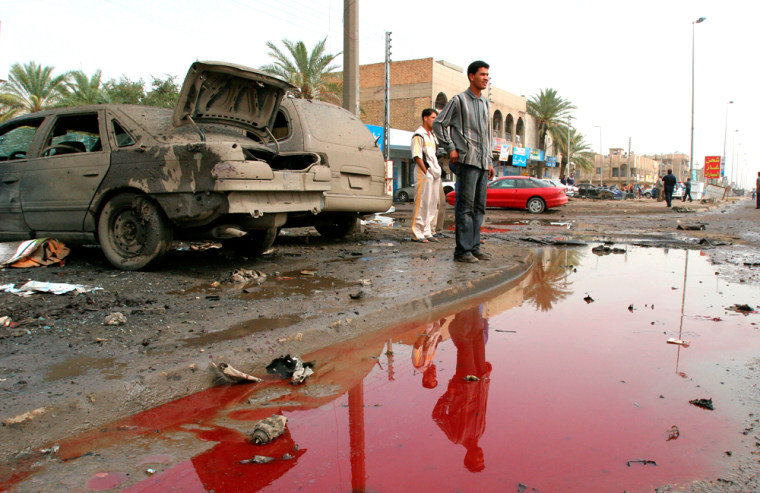 In northern Iraq, the regional government of Kurdistan released the Kurdish writer Kamal Karim just a week after he received an 18-month sentence for articles on a Kurdish Web site that accused one of the region's top leaders of corruption, said Mohamed Khoshnaw, a government spokesman.
The regional prime minister issued a pardon for Karim, citing international pressure to release the writer.
The U.S. military statement did not provide more details about the deaths of the U.S. troops in Anbar. It was the largest number of Americans killed in an attack since Feb. 22, when four soldiers were killed by a roadside bomb near Hawija, 150 miles north of Baghdad.
The U.S. military also said two American pilots were killed Saturday when their Apache helicopter crashed during combat operations southwest of Baghdad, adding that the aircraft was probably shot down.
Two soldiers also were killed by a roadside bomb late Saturday in central Baghdad, while another died of non-hostile related injuries suffered Thursday near the northern city of Kirkuk, according to the U.S. command.
Elsewhere, a car bombing in Baghdad's eastern Shiite slum of Sadr City on Monday killed at least two civilians and wounded six others, including a 9-year-old boy, while four people were wounded when a car bomb struck the central district of Karradah in the capital.
Drive-by killings
Six people — a navy officer, two policemen, two workers at an electrical plant and a boy — were killed by drive-by shooters in a market area of the southern city of Basra, police said.
North of the capital in Nibaie, gunmen killed two truck drivers and kidnapped another while they were carrying construction materials to the U.S. military base in Balad, police said.
Drive-by shooters killed a police captain outside his home late Sunday in Baghdad's Dora neighborhood, police said.
Police also discovered three bodies in eastern Baghdad neighborhoods. One in Mashtal was handcuffed and shot in the head, another in Baladiyat was strangled and covered with bandages, and the third was found in Sadr City, shot in the forehead.
Bombings in Buhriz also damaged several buildings including a barber shop and grocery store in a market district of the town, which is a former Saddam Hussein stronghold about 35 miles northeast of Baghdad, police said.
The visit by Rice and Straw comes at a time of uncertainty over the fate of interim Prime Minister Ibrahim al-Jaafari, the Shiite nominee for a second term but widely blamed for the deadlock in talks on forming a unity government following the Dec. 15 election.
Sunni and Kurdish politicians have called for the Shiite bloc to replace al-Jaafari as its nominee. Last weekend, two prominent Shiite politicians joined calls for the prime minister to step aside — a sign that al-Jaafari's support is cracking.
Faster resolutions in Iraq
Rice and Straw, who arrived Sunday for a surprise two-day visit, made clear they are frustrated with the slow pace of talks on a new government and said the country needs a strong prime minister as quickly as possible.
At a news conference before departing Monday, both Rice and Straw were careful to avoid specifically calling for al-Jaafari to be shunted aside. But Rice said the next prime minister must be a "strong leader" capable of unifying the people of this fractured land.
"We have emphasized, Secretary Rice and myself, time and again that who becomes nominated and elected ... including the prime minister is a matter of sovereign decisions by the sovereign parliament," Straw said.
But he added "somebody has to fill these positions and fill them quickly and we've urged those we have been speaking to do so."
Both Rice and Straw spoke of the need for the next government to curb the power of sectarian militias.
"You have to have the state with a monopoly of power," Rice said. "We have sent very strong messages" that there must be "a reining in of militias."
Rice and Straw said they set no deadlines, and there were no immediate signs of progress following the string of meetings the two held Sunday with Iraqi politicians and ethnic and religious power brokers.
Some Iraqi leaders said they welcomed the help from Rice and Straw.
"When this becomes so difficult and when the situation cannot wait, any intervention that serves the (national) interest and helps save the country from bloodbath ... could be useful," said Naseer al-Ani of the Iraqi Islamic Party.
Others called it meddling.
"I think that their interference is bad, and it further complicates issues because this is an Iraqi matter," said Mahmoud Othman, a Kurdish politician.