/ Source: The Associated Press
Alcatel SA will acquire U.S.-based Lucent Technologies Inc. in a $13.4 billion (11.1 billion euros) stock swap to form a stronger player in the fiercely competitive telecom equipment market, the companies announced Sunday. About 8,800 jobs will be cut.
The combined business, to be based in Paris, will make the most of fast-growing converged offerings such as "triple-play" Internet, phone and TV packages, the companies said. It will have annual sales of 21 billion euros ($25 billion) — ahead of LM Ericsson's 16.4 billion euros ($19.9 billion).
The tie-up will generate 1.4 billion euros ($1.7 billion) in savings within three years, the companies said. The savings will come from a 10 percent cut to the 88,000-strong combined global work force as well as from consolidated purchasing, support services and research and development.
The new Alcatel-Lucent — whose new name is to be announced later — should be better equipped to weather intense competition in the telecom equipment market.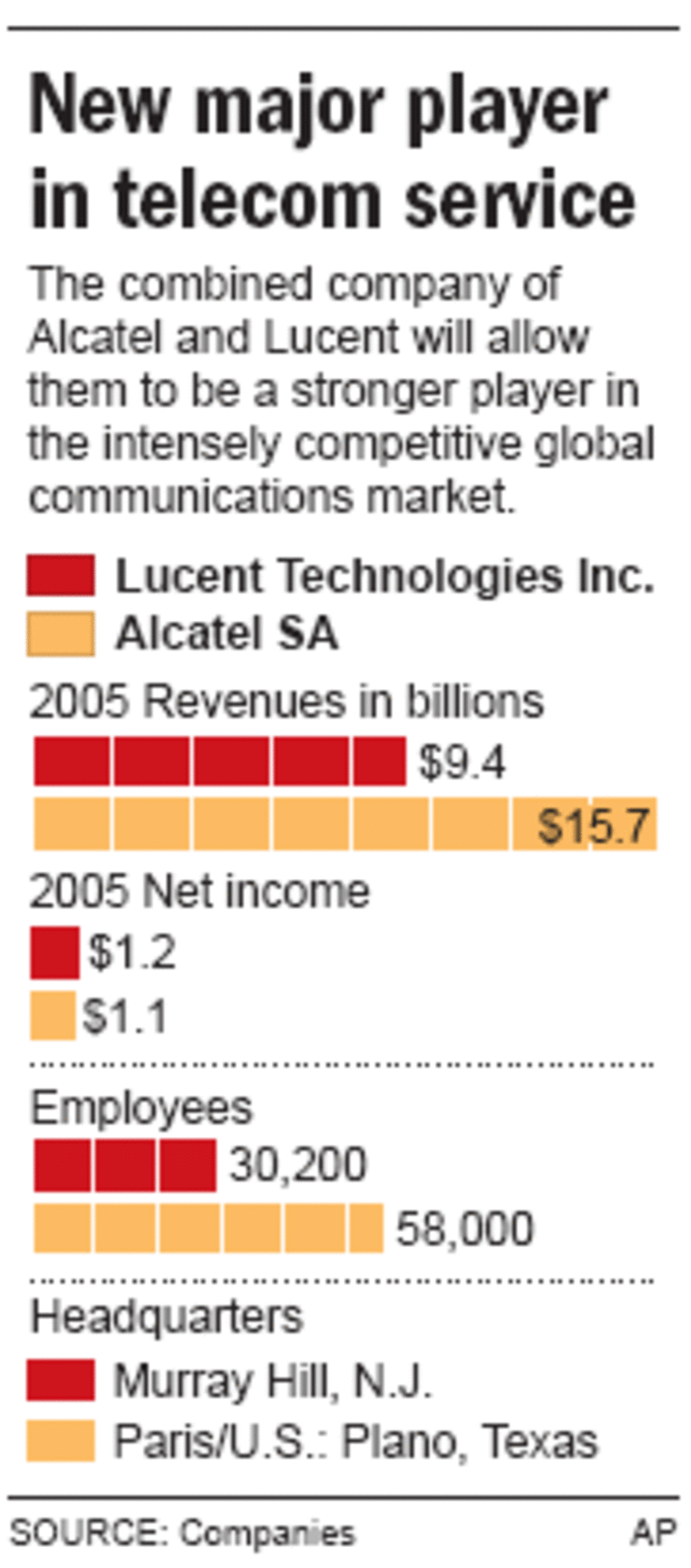 "The primary driver of the combination is to generate significant growth in revenues and earnings based on the market opportunities for next-generation networks, services and applications," the companies said.
'Merger of equals'
Analysts have said the tie-up is a good fit, as well as helping the combined company stand up to pricing pressures from larger telecom service providers emerging from a new wave of consolidation. Alcatel and Lucent had tried to merge once before, but talks ended without a deal in 2001.
The combined business will be led by Lucent CEO Patricia Russo, the companies said in a joint statement. Alcatel Chairman and CEO Serge Tchuruk will become non-executive chairman.
The 14-member board of directors will include Russo, Tchuruk, five of the current directors from each company and two new independent European directors to be mutually agreed upon, the companies said.
Though Lucent and Alcatel described the deal a "merger of equals," Alcatel shareholders will hold about 60 percent of the new company and Lucent shareholders 40 percent under the terms of the transaction.
Lucent shareholders will receive 0.1952 of an Alcatel American Depositary Share for each common share they own — worth $3.01 (2.48 euros) at Alcatel's Friday closing price of $15.40 (12.71 euros).
Lucent closed at $3.05 (2.52 euros) Friday, slightly above the offer value, but Chief Financial Officer John Kritzmacher said Lucent shares had risen recently on expectations of a deal.
"This is a very fair and equitable deal for Lucent shareholders and Alcatel shareholders," he said during a conference call.
Paris-based Alcatel has more revenues and employees, but Lucent, based in Murray Hill, N.J., is slightly more profitable. No details were given about where the job cuts would be, but Russo pledged to "take a fair and balanced approach as we manage our way through this."
The companies appeared to have resolved a standoff over Alcatel's satellite activities, which Alcatel had planned to transfer to Thales SA in return for increasing its stake in the French defense electronics company to about 25 percent from the current 10 percent.
The Thales deal, designed to answer French government concerns over sensitive military technologies, hit a snag when European Aeronautic Defence and Space Co. intervened to demand that its own Astrium satellite unit be included in the operation — with the reported backing of French President Jacques Chirac.
But the satellite deal between Alcatel and Thales is now poised to go ahead without EADS, a person familiar with the talks said, and Thales issued a statement to say it had called a board meeting Tuesday to examine "a project aimed at developing Thales and strengthening the existing partnership between Thales and Alcatel."
The person asked not be identified because the negotiations are confidential, and a government spokesman declined to comment.
Security concerns addressed
In a move to address U.S. security concerns about Bell Labs, the Lucent research arm that does sensitive work for the Pentagon, Alcatel and Lucent announced plans to form a separate, independent American subsidiary managed by a board of three American citizens vetted by the U.S. government.
Alcatel and Lucent had said March 23 that they were negotiating a merger. The deal has been approved by the boards of each company and requires regulatory and governmental reviews in the United States, Europe and elsewhere, as well as the approval of shareholders in both companies.
The deal is set to be completed in six to 12 months, the companies said.