/ Source: The Associated Press
A huge military cargo plane crashed shortly after takeoff at Dover Air Force Base on Monday, breaking apart in a belly flop that drenched some of the 17 people aboard with fuel but caused no fire or life-threatening injuries.
"It's a miracle. It's absolutely a miracle," said Lt. Col. Mark Ruse, commander of Dover's 436th Air Wing Civil Engineering squadron.
Military officials said the C-5 Galaxy, the military's largest plane at more than six stories high and 247 feet long, developed problems soon after taking off for Spain about 6:30 a.m.
It crashed just short of the runway while attempting to return to the base and broke in two behind the cockpit. The tail assembly landed several hundred yards away, and an engine was thrown forward by the impact.
"It looks like it kind of slid along the ground almost like a water landing of sorts," Ruse said.
Fourteen of the injured, taken to a Dover hospital, were covered with jet fuel and had to be decontaminated in the parking lot, but officials said none of their injuries was considered life threatening.
Three others were taken to Christiana Care in Newark, said hospital spokeswoman Sharon Justice. The hospital would not release further information, but the military said none of the crash survivors' lives was in danger.
The C-5 was being flown by a reserve crew from the 512th Airlift Wing, said Capt. John Sheets of the Air Mobility Command at Scott Air Force Base in Illinois.
Hazmat crews comb the wreckage
All flights from the base were suspended as emergency crews, some in hazardous materials suits, combed through the wreckage in a light rain under overcast skies. Some sprayed foam on the left wing, which had lost its engine, while others removed the remaining fuel from the plane.
Lisa Barrentine, who lives near the crash site and often hears military planes flying over her property, said she knew something was wrong when she heard the C-5 overhead around 6:30 a.m.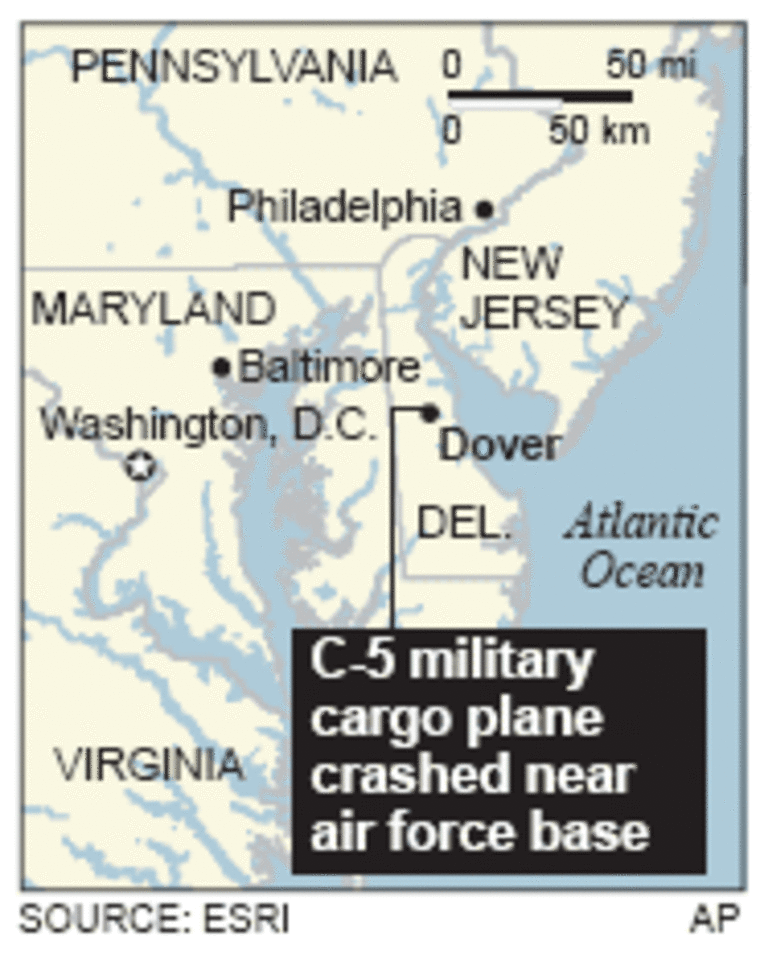 "It wasn't quite the rumble you normally hear, it was larger, and you could hear the windows shaking," she said.
Tech Sgt. Melissa Phillips, a base spokeswoman, said a board of officers investigate the cause of the crash.
Dover is home to the largest and busiest air freight terminal in the Defense Department, including the mortuary that processes bodies from the nation's wars.
The C-5 Galaxy cargo plane, made by Lockheed Martin Corp., is one of the largest aircraft in the world, according to the Air Force. Even with a payload of 263,200 pounds, it can fly non-stop for 2,500 miles at jet speeds.