/ Source: The Associated Press
Construction spending rose to a record level in February as home building hit an all-time high despite a weakening in home sales, the government said Monday.
The Commerce Department said Monday that overall construction spending rose to a seasonally adjusted annual rate of $1.185 trillion in February, a gain of 0.8 percent from the January level.
That was better than the 0.5 percent increase Wall Street had been expecting and demonstrated that construction should remain a source of strength for the economy in 2006 as private building of offices, factories and other projects takes up the slack from a cooling housing market.
"Today's report on construction spending shows the industry is hitting on all cylinders with strong, balanced growth," said Ken Simonson, chief economist for the Associated General Contractors of America, an industry trade association.
In other economic news, a closely watched gauge of manufacturing activity came in weaker-than-expected in March although it remained at a level indicating that factories would continue expanding production in the months ahead.
Manufacturing growth slows
The Institute for Supply Management said its manufacturing index dropped to 55.2 last month compared to a February reading of 56.7. Private economists had been expecting the index would rise to 57.7 in March. Readings above 50 indicate the manufacturing sector is expanding while a reading below 50 indicates manufacturing activity is shrinking.
The 0.8 percent increase in construction spending was led by a 1.3 percent increase in home and apartment construction, which rose to a record level of $665.7 billion at an annual rate.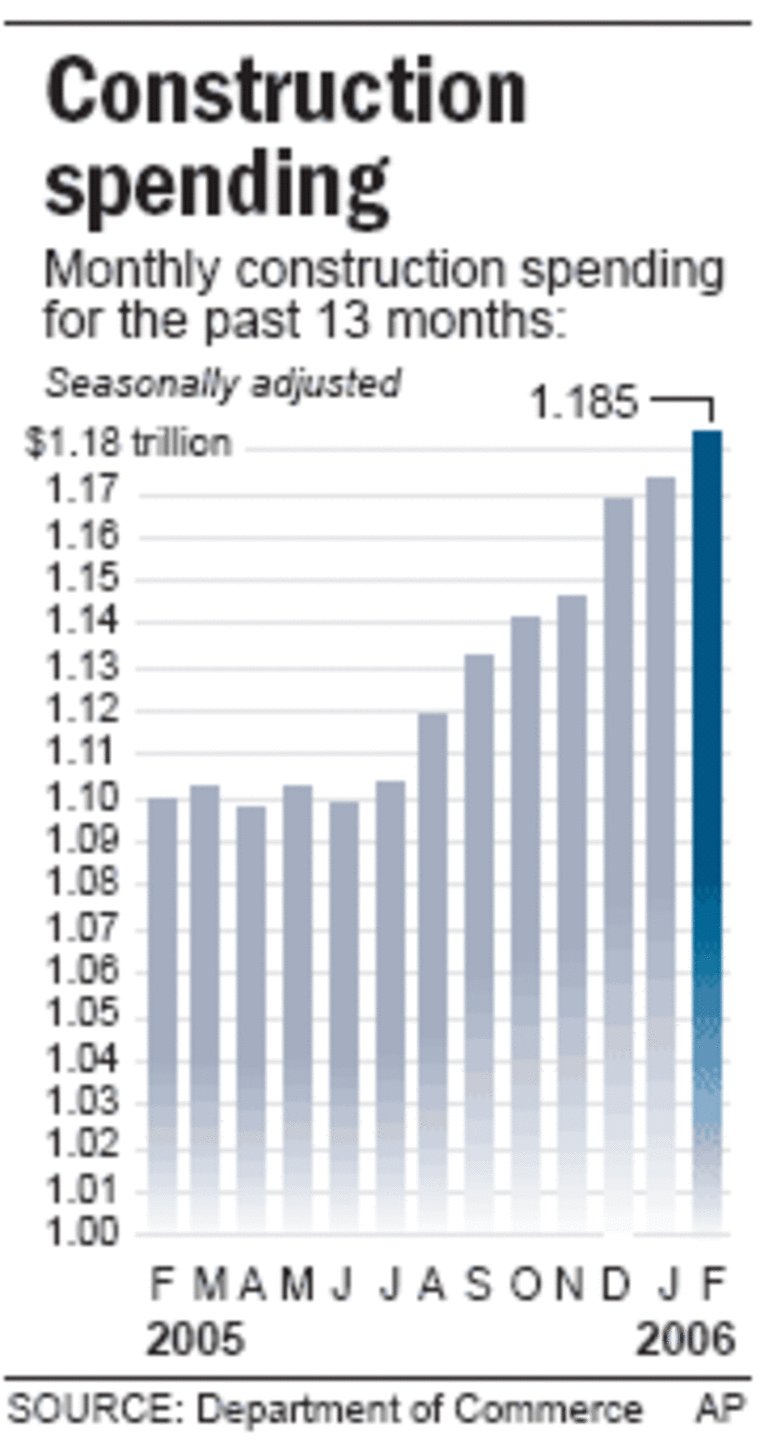 Economists believe the housing sector, which has been booming for the past five years, will slow gradually this year under the impact of rising mortgage rates and slowing sales. New home sales posted a big decline in February while sales of existing homes have been down five of the past six months.
Non-residential construction posted a strong 0.8 percent increase to an annual rate of $265.3 billion in February with gains posted in office buildings and hotels which offset a decline in commercial construction, a category that includes shopping centers.
The increase pushed activity in the non-residential sector to an annual rate of $265.3 billion, the fastest pace since October 2001. Economists are looking for business spending on construction projects to help bolster the building sector this year as housing slows.
Government construction edged down 0.5 percent in February to an annual rate of $254.4 billion. The decline reflected weakness in federal spending, which dropped 1.8 percent to a rate of $19.3 billion, and a 0.4 percent decrease in state and local construction spending, which dipped to an annual rate of $235.1 billion.